Obama's Response To Trump's Immigration Order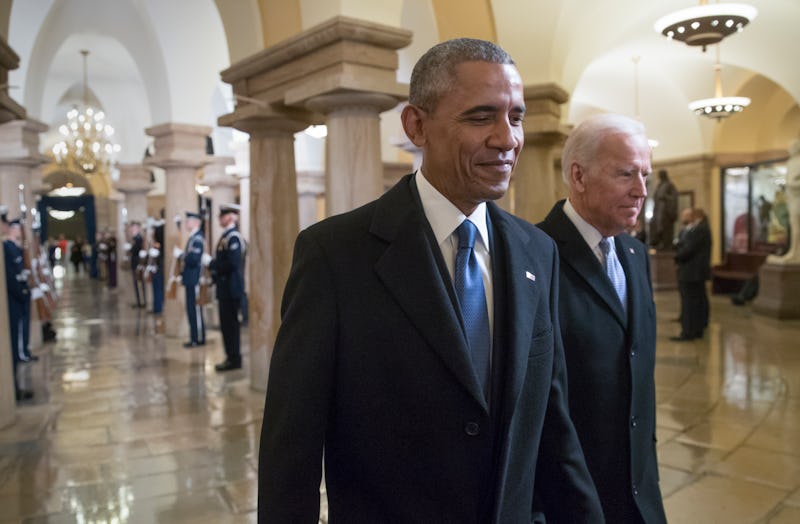 Pool/Getty Images News/Getty Images
After staying relatively silent since leaving office, former president Barack Obama weighed in on Donald Trump's executive order targeting immigrants and refugees from seven majority-Muslim nations on Monday. Obama's spokesperson, Kevin Lewis, released a statement that expressed Obama's disapproval of Trump's newly-imposed immigration restrictions. It also conveyed the former president's support for the protests that have been happening across the country in opposition to the executive order.
The statement addressed the comparisons being made between Obama and Trump's immigration policies dealing with the Middle Eastern region. Trump has said that his policy, which would ban immigrants from Iraq, Syria, Yemen, Sudan, Somalia, Iran and Libya, was based on a 2011 move by Obama to ban Iraqi immigrants after national security concerns emerged.
According to The Washington Post, former Obama administration officials have denied the administration ever stopped awarding visas to Iraqis, but that applications took longer to process after they were subject to more intense scrutiny. In the statement, Lewis said that Obama "fundamentally disagrees with the notion of discriminating against individuals because of their faith."
He also added that Obama stood behind the protests that have emerged in reaction to Trump's executive action, and that citizens are responding exactly the way they should, by exercising their Constitutional right to protest. The statement reads:
President Obama is heartened by the level of engagement taking place in communities around the country. In his final official speech as President, he spoke about the important role of citizens and how all Americans have a responsibility to be the guardians of our democracy — not just during an election but every day.
Citizens exercising their Constitutional right to assemble, organize and have their voices heard by their elected officials is exactly what we expect to see when American values are at stake.
With regard to comparisons to President Obama's foreign policy decisions, as we've heard before, the President fundamentally disagrees with the notion of discriminating against individuals because of their faith.
Some of the initial reactions on Twitter to the former president's statement seemed to be that of shock, surprised that he would weigh in on Trump's actions so soon into his presidency. Others, like Vox's Ezra Klein, surmised that it was an indication of how just how opposed Obama is to Trump's first actions as president, and how consequential they will be.
And it's not just Obama who is critical of Trump's actions. According to Gallup, Trump's approval numbers were at a dismal 45 percent on Inauguration Day, making him the first elected president to enter office with a sub-50 percent approval rating. In the barely more than a week since then, his numbers have fallen to 50 percent disapproval and 43 percent approval.
While there is a lot of confusion surrounding the specifics of Trump's order, and his administration members seem to be walking back certain parts, protesters will likely be emboldened by Obama's vote of confidence.