Obama & Biden's Friendship Deserves A Special Ode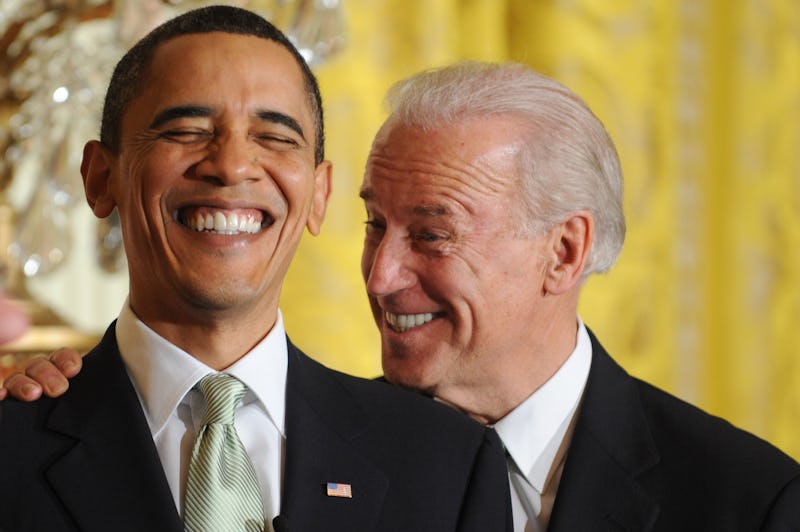 Pool/Getty Images News/Getty Images
The eight-year presidency of Barack Obama will be remembered for many things. The Affordable Care Act, a historic visit to Cuba, the election of America's first black president — these are only a few of the moments that will likely come to define, for better or for worse, Obama's time in office. But while it's unclear now how time and the distance of history will come to judge Obama's presidency, there's one legacy of Obama's White House that I know will survive the ravages of time — the friendship between Obama and Vice President Joe Biden. Throughout two presidential terms marked by bitter criticism and obstructionist policies, nothing inspired teamwork and brotherhood better than the bond between Obama and Biden.
Over the last eight years, Americans have watched Obama and Biden's relationship evolve from handshakes and back slapping at campaign rallies to a full on bromance within the halls of the White House. Their friendship has come to be the very definition of #FriendshipGoals. It has inspired jokes from their wives and a treasure trove of internet memes (bless those who've created Biden-Obama memes).
But Obama and Biden's friendship is more than simply fodder for viral jokes. It's an uplifting symbol of teamwork, a much-needed challenge to the constructs of male friendships, and an inspiration for BFFs everywhere.
There are the moments in which they freely declare their love for the other, unconcerned with archaic social ideas that manliness and male friendship can't go hand in hand. There was the time Obama sat down to craft "Barack" and "Joe" bracelets to mark their friendship, which were then featured in a birthday tweet from Biden months later. There was the heartfelt and personal eulogy Obama gave at Biden's son Beau's funeral, which demonstrated to the world how real and deep their friendship is away from the cameras.
To borrow a few words from Jack Nicholson in the movie As Good as It Gets, Obama and Biden's friendship makes me want to be a better friend, a better team player, a downright better human. I don't just want a pal trustworthy enough to tell me straight up which pair of aviators I should wear, I want to actually be that honest friend. I don't just want a friend who'll treat me to an ice cream cone after a busy day of getting things done, I want the joy of putting in a day's hard work alongside a trusted friend.
While it will take a few years to determine what impact Obama and Biden had on the country as leaders, their relationship was undoubtedly a lesson on true friendship.