Olive Garden Just Showed Up Trader Joe's With Its New Cookie Butter Cake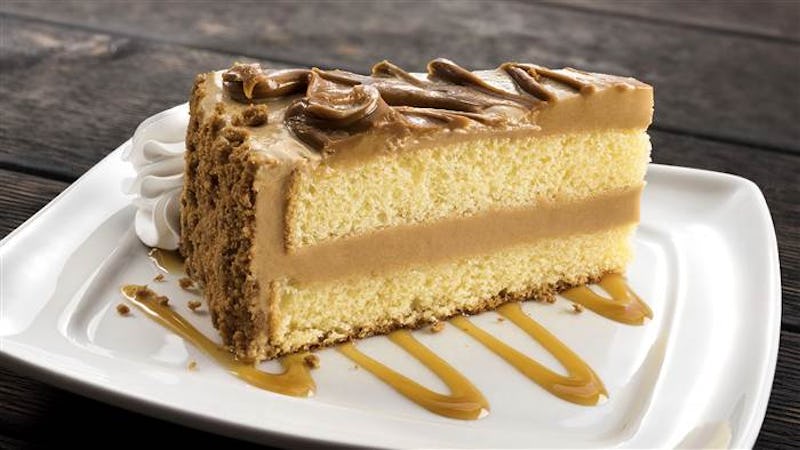 Olive Garden
In the endless battle between corporate giants, shots have been fired at Trader Joe's — and the bullets taste like cookies. And butter. And cake. Never let it be said that Olive Garden does things by halves. The chain recently announced it will offer a Cookie Butter Cake, so you no longer have to spoon your speculoos spread straight out of the jar, shamefully hiding in your apartment. Instead, you can proudly eat it in the form of a cake in full view of your fellow diners. What a time to be alive!
Originally a Belgian invention, cookie butter spread — see what I did there? —to the United States a few years ago. The specifics vary, but the general idea is this: Take a "speculoos," or spiced cookie, smash it into a bunch of tiny pieces, then add flour, fat, and tons of sugar until it turns into a smooth spread. Trader Joe's, the grocery chain beloved of health-conscious singletons everywhere, started carrying its own Speculoos Cookie Butter in 2012. Ever since, the spread has been a huge hit in the Instagrammable food category. Culinary geniuses have invented cookie butter ice cream, granola bars, and cookies. (Yes, cookie butter cookies exist. Don't question a good thing.)
On Tuesday, Olive Garden took things one step further with the Cookie Butter Cake. According to Delish, it consists of layers of vanilla cake coated with cookie butter frosting and cookie crumbles. In case you weren't already drooling, it's finished off with a drizzle of caramel.
"We wanted to create a flavor of comfort and crave-ability," an Olive Garden representative told the Today show. Given that the mere sight of the cake is enough to stir up cravings in this writer, I'd say they succeeded on that front. But before you pack up your stuff and hit up Olive Garden this very moment, you should know that the cake won't hit menus until Monday, Jul. 31. After that, though, you can give yourself as many cake-induced cavities as you desire.
The new cake flavor could be part of a grab at the good ole millennial customer base, whose weakness for delivery apps is only outweighed by its love of trendy foods. (Unicorn Frappuccino, anyone?) Earlier this year, the CEO of Darden, the restaurant company that owns Olive Garden, publicly proclaimed, "Believe it or not, millennials still want to come to restaurants." But just in case, Olive Garden has begun testing partnerships with third-party food delivery services, including Amazon.
I always assumed Olive Garden's appeal is the endlessly delicious bread sticks, but Cookie Butter Cake sounds like it could be a solid contender for most delicious thing on the menu. I guess the only way to find out is by comparing them in a single, carb-loaded meal.
There are worse fates.