Mo Farah's #MuslimBan Post Is Heartbreaking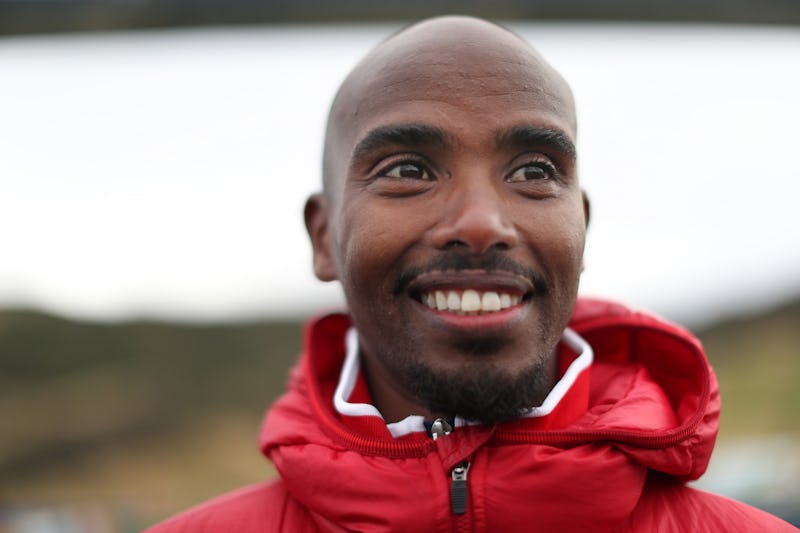 Ian MacNicol/Getty Images Sport/Getty Images
President Donald Trump's executive order temporarily banning immigration from predominantly Muslim countries has prompted backlash from many public figures, including some Olympians. British distance runner Mo Farah addressed the Muslim ban on Facebook, writing a heart-wrenching post about how he is now unable to return to his family in the United States, where he has lived for six years. Farah is originally from Somalia, which is one of the countries on the banned list, and the fact that he was training in Ethiopia at the time of the ban means that he will not be able to return home to his family for the 90 days the ban is in effect.
"It's deeply troubling that I will have to tell my children that Daddy might not be able to come home - to explain why the President has introduced a policy that comes from a place of ignorance and prejudice," Farah wrote on Facebook. Trump's executive order was apparently made with the intention of preventing terrorism, but its many critics have pointed out that most of the recent terrorist attacks in the United States would not have been prevented by the ban, and the fact that the order targets predominantly Muslim countries and makes an exception for Christians in those nations has earned it the label of a discriminatory ban targeted at the religion of Islam.
In his post, Farah documented his own journey emigrating from Somalia to Britain, making an important point about the social contributions of immigrants and refugees. The athlete moved to England from Somalia at the age of eight, and he later went on to represent Great Britain in the Olympics, taking home record-breaking numbers of medals and becoming the most decorated athlete in British history.
As he mentioned in his post, Farah was very recently knighted by the Queen of England. He spends most of his time in Portland, Oregon, where he lives with his wife and four children. Yet despite his fame and long history in the US, he has recounted multiple previous run-ins with United States customs officials because of his Somali origins. On one occasion, he even took out his medals to prove his identity.
Celebrities, civilians, and democratic politicians have rallied in support of the innocent people in similar situations to Farah — those detained in airports or stuck in other countries, many with refugee status in hostile and dangerous areas, trying to get into the U.S. Protests erupted at airports across the United States in response to the order, and the American Civil Liberties Union have temporarily blocked the ban for those detained at airports. As the fight continues, it's good, if heartbreaking, to see powerful people like Farah speaking out and making their voices heard.