One Of Arie's 'Bachelor' Contestants Insulted Him By Bringing Up Peter & It's So Harsh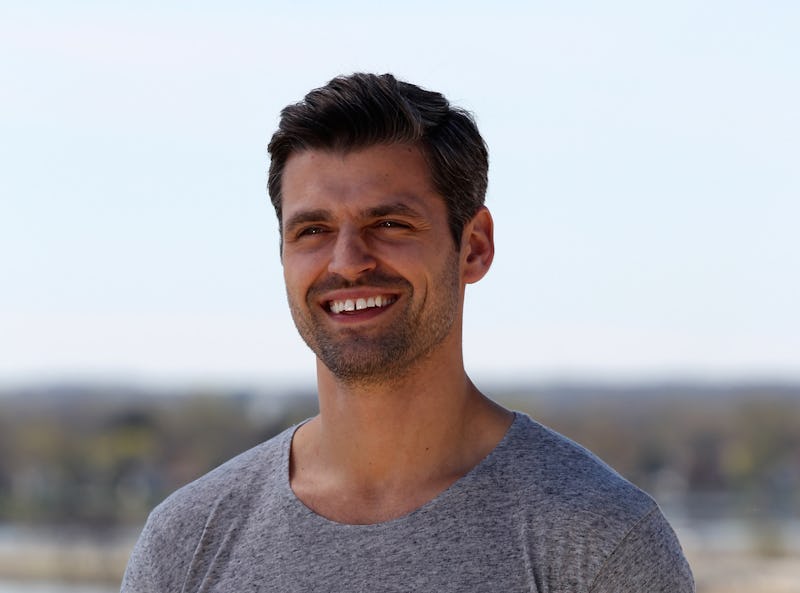 ABC/George Burns
Even though he isn't the star of The Bachelor Season 22, there are plenty of people who have a certain man from the latest Bachelorette season on the brain: Peter Kraus. And it sounds like Kraus is already a part of the drama on the next season, because one of Arie Luyendyk Jr.'s Bachelor contestants mentioned Kraus' name as a way to insult the Bachelor himself. No, there's no word yet on Rachel Lindsay's runner-up actually appearing on the show — even though that would make for amazing TV and provide endless meme content — but apparently he was mentioned by one of Luyendyk's love interests during a date.
This inside scoop was revealed by Robert Mills who is, in short, a Bachelor franchise insider. Technically, he is the Senior Vice President of Alternative Series, Specials, and Late Night Programming for ABC Entertainment, which is a big deal and also an indication that his Bachelor scoop is reliable. To prep for Luyendyk's Bachelor season, Mills and Entertainment Weekly Radio's Julia Cunningham have been re-watching and discussing Luyendyk's time on Emily Maynard's Bachelorette season in a podcast for EW. Before sharing their recap of one of the episodes during the Oct. 10 podcast, Mills spilled some major tea about Luyendyk's season, which is currently filming.
Mills revealed, "They're on the road now. We are finishing episode five. Now it's getting real. We had an incredibly dramatic group date last night." What does that really mean, though? This franchise uses the word "dramatic" very frequently and way too loosely.
Mills explained, "Not in a bad way, but I think that Arie wants to be inclusive of everyone. He wants to get to know everyone. I think that is getting him in... I wouldn't say 'hot water,' but it angers some of the girls." This is something that happens just about every season. Mills reminded podcast listeners, "At this point now, it gets competitive."
He elaborated on how the group date diverged from the typical "drama" and explained, "It starts to get angry. There was a little bit of anger. One of the women, I think, went really below the belt and referred to him as 'Hashtag not Peter.'"
Wow. It's unclear if the woman said this to his face or just to the cameras, but making fun of Luyendyk for taking the lead role over the guy pretty much every fan wanted to see on the show is not the best way to win him over. (To listen to the explanation, fast forward to the 8:58 mark, above.)
It will be interesting to see how this goes over with Luyendyk, the other women, and the viewers if/when this insult makes it into one of the episodes. Considering that someone involved with the show shared this comment, there's a very good chance that it will be a part of the story line.
This isn't the first time that Kraus' existence has infiltrated Luyendyk's Bachelor Season. Kraus' fellow contestants from Lindsay's season of The Bachelorette Dean Unglert and Alex Bordy trolled Luyendyk by crashing one of his public group dates on Sept. 28. There's no indication of the two interacting with Luyendyk or his suitors, but they did post about their visit (and avid love for Kraus) all over Instagram.
During his Instagram story, Bordy wore a "Peter Kraus" fitness shirt and he also zoomed in on the contestants while Unglert said, "Show Peter his girls."
Poor Arie. Then again, he is the star of a reality TV show and had the opportunity to date 25 women, so "poor Arie" might not be the most applicable description. Nevertheless, the trolling has to sting.
Unglert also posted a photo with host Chris Harrison captioned, "We were there for the wrong reasons."
Bordy posted some more photos from the date and wrote, "Good to see some old friends! Appreciate you guys being so accommodating of our trolling! Best of luck this season!"
Looking for love is hard enough and giving out roses on The Bachelor seems like a stressful way to find a wife. On top of all that, it has to be so awkward to hear about another man in the process. Luyendyk better be able to take a joke because it is very likely that this won't be the last mention of Kraus' name in association with his season.