'Only The Brave' Reminds Us Who Risks Their Lives During Natural Disasters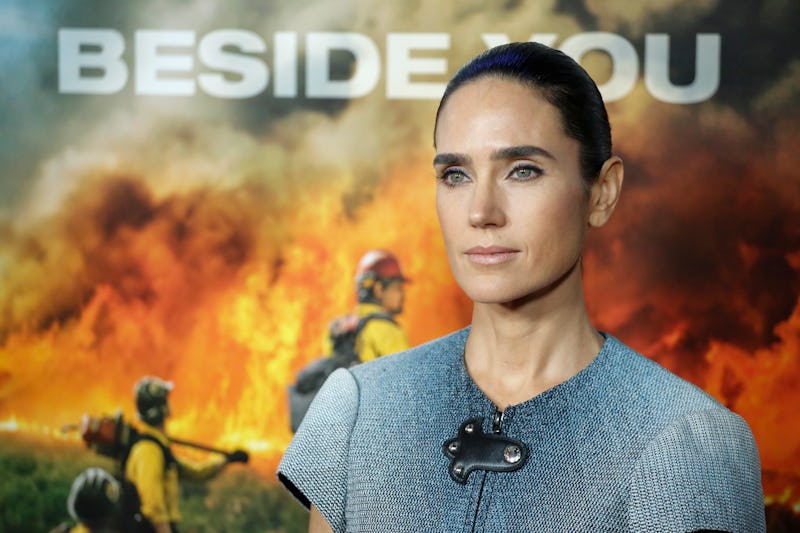 KENA BETANCUR/AFP/Getty Images
The death toll continues to rise as the effects of deadly wildfires in Northern California linger. Causing 42 fatalities, thousands of destroyed homes, and nearly 70 missing people, the mid-October fires have led to irreparable damage. Thankfully, the victims are getting the news coverage and respect they deserve. But like the NoCal fires, there tends to be a group of people who are overlooked in such natural devastations: the firefighters or other groups of people pledging their service to help. Jennifer Connelly's new film Only the Brave (out Oct. 20) chronicles the real-life story of the 19 Granite Mountain Hotshots who lost their lives in the Arizona Yarnell Hill Fire in 2013. Connelly explains the importance in giving these victims the recognition deserve — but don't always receive.
In tragedies such as these, firefighters, police officers, and others helping are often referred to as a whole. An example is this piece on the firefighters in the NoCal fires, which discusses the logistics but not the individuals braving the fires. The exception is this piece on the driver of a water truck who lost his life on Monday, but his name isn't even included in the story.
Connelly explains how Only the Brave gives faces, names, and depth to those who risk their lives saving others, and clearly deserve recognition.
The film not only makes viewers fall in love with the individual personalities of the Granite Mountain Hotshots, but their brotherhood. Connelly admits that being part of the film gave her an education on these brave men and women. "Now I have an awareness of what happens," she says during the Los Angeles press day for the film. The actor explains that before shooting, she had an idea of what the fires were like from the news, but learning about the specific people and their families who sacrifice so much was completely eye-opening.
"I have an understanding of... the incredible endurance of mind and body that goes into fighting that kind of fire," the 46-year-old explains. Showcasing these men humanizes such larger-than-life occurrences. "The movie chronicles the lives of extraordinary people... [who] were willing to put themselves on the line every day in a very real way." And by portraying such sacrifice, the cast, including Josh Brolin, Miles Teller, and Taylor Kitsch, makes the on-screen bond feel real.
"They formed an extraordinary brotherhood, they supported each other," Connelly continues. "I love that the movie doesn't only tell the story of what happened in that terrible incident, but it celebrates their lives, who they were, and what drove them to do what they did." Diving into their friendships is what makes this movie experience that much more heart-wrenching.
"It explores what they gave to each other. I love that about this film and I thought all the actors did such a good job of portraying the tenderness of those relationships," Connelly says. Because again, these specifics about heroes affected by natural disasters sometimes go unnoticed.
Connelly further explains how the film shines light on the families, spouses, children, and partners of firefighters. "There are good people everywhere," she says. "This movie really talks about that and explores families at home who support people who do these things and it honors them as well." Connelly creates sympathy for her character, Amanda, who loses her husband Eric in the fire. (Amanda and Eric Marsh were a real-life couple.)
This movie shows that there are brothers, sisters, partners, husbands, wives, and friends under each of those familiar uniforms, and people at home who support them. And as an audience it our job to support each and every one of them.