Oprah's New Book Club Pick Is A Must-Read If You Believe In Criminal Justice Reform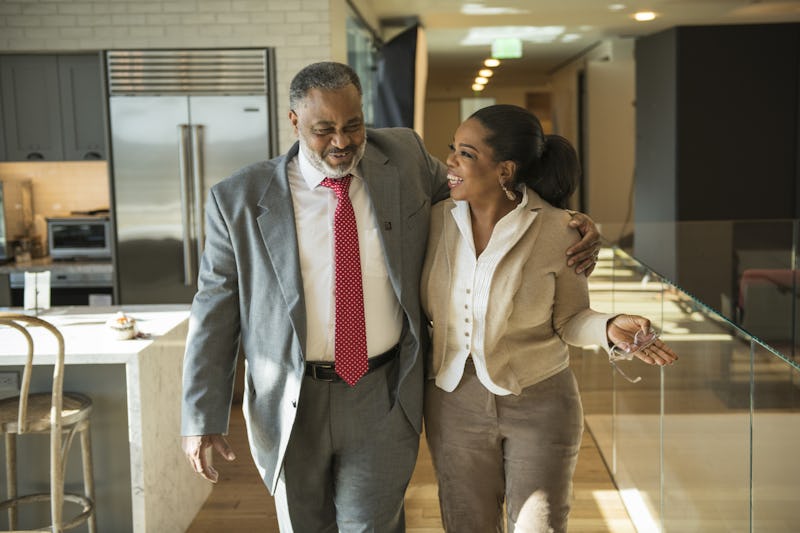 Harpo, Inc./Kwaku Alston
Oprah Winfrey, everyone's favorite celebrity bookworm, has recommended dozens of titles to her fans over the years, which is why you should definitely pay attention to her latest Book Club selection The Sun Does Shine, a must-read memoir about injustice in America by a former death row inmate who spent 30 years on death row for a crime he did not commit.
When he was just 29 years old, Anthony Ray Hinton was arrested in Alabama and charged with two counts of capital murder. Knowing he did not commit the crimes he was accused of, Hinton had faith that justice would prevail. That is, until he was convicted and sentenced to the electric chair, and nearly all hope was lost. For 30 years, an innocent Hinton sat in 5x7 cell on death row at Holman State Prison, watching as 54 of his fellow inmates were executed just down the hall. Despite his anger and despair, Hinton somehow managed to find the strength and spirit needed to persevere, to fight back against an unjust system for three decades until, in 2015 with the help of attorney and Just Mercy author Bryan Stevenson, he was released in 2015.
A powerful book about hope, love, and justice, The Sun Does Shine: How I Found Life and Freedom on Death Row is the story of Hinton's experience with wrongful imprisonment and a system designed to keep men like him behind bars. It is also an eye-opening look at racism, prejudice, the complicated nature of truth, and the absolute and urgent need for criminal justice reform in America.
The Sun Does Shine: How I Found Life and Freedom on Death Row by Anthony Ray Hinton with Lara Love Hardin, foreward by Bryan Stevenson, $19, Amazon
"There was a time I thought I'd never see the sun again," said author Ray Hinton in a statement announcing The Sun Does Shine as the next Oprah Book Club selection. "I really believe my mother prepared me, and she always told me to keep the faith. I worked really hard and tried to make a book that would inspire people to do better, learn how to forgive one another and move on. What happened to me, I don't ever want to happen to anyone else. I'm just trying to be a little tiny light in God's world."
One of the longest-serving condemned death row inmates in the United States to be eventually found innocent, Hinton is, according to Oprah's video announcing his memoir as her latest book club selection, "a man you should know."
"He is a remarkable storyteller, and when you read it, you will be swept away by this unbelievable dramatic true story," Oprah said. "And I am sure you will think alot, like I did, about how is it possible to find life and freedom on death row."
‌In addition to her regularly scheduled book club programming, Oprah will also air a special conversation with Hinton on Sunday, June 10 on OWN: Oprah Winfrey Network titled "Oprah's Book Club: Freedom After 30 Years on Death Row. The special will also be released as a two-part podcast via Oprah's SuperSoul Conversations. The first segment will be available Monday, June 11, followed by the second on Wednesday, June 13. In addition, the July issue of O, the Oprah Magazine will include a feature on The Sun Does Shine, and Oprah.com will feature video clips from the special interview, as well as a reading guide and quotes from the book.
Fans an Amazon users can find everything they need to follow along with this month's selection, including exclusive excerpts from the interview and a free sample of Hinton's book, online on their dedicated Oprah's Book Club page.