7 Organizations Providing Hurricane Florence Relief That Need Your Support Right Now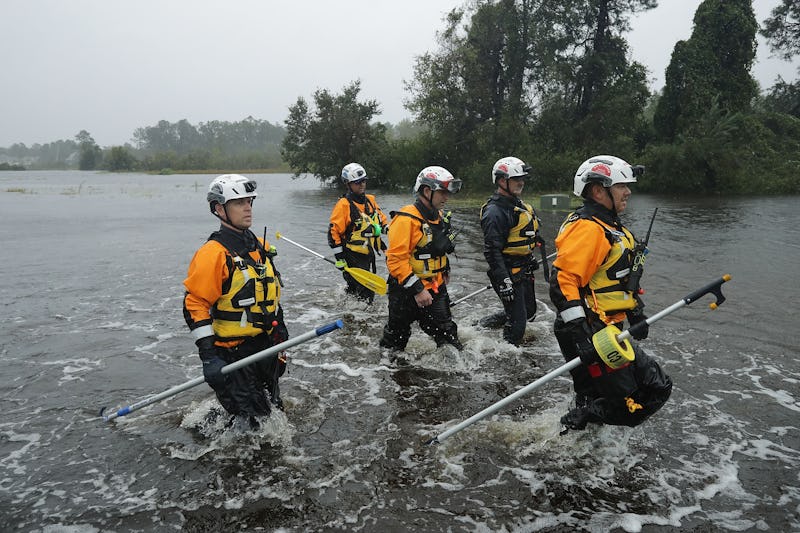 Chip Somodevilla/Getty Images News/Getty Images
Hurricane Florence has made landfall in North Carolina, where it is expected to linger for at least the next day or two. Four people in the state have already died as a result of the storm, The New York Times reported, including an infant. The areas and people affected by Florence will need significant assistance during and after the storm, and you can help. Numerous local organizations are helping Hurricane Florence victims, and could always use more assistance.
Officials in the region have referred to Florence as "the storm of a lifetime" as it causes storm surge, high-speed winds, and coastal flooding. According to CNN, the storm has already trapped people in flooded houses and caused power outages for 620,000 customers in North and South Carolina. And people are not the only ones at risk from the storm — animals are, too. Animal shelters along the southeast U.S. are trying to evacuate as quickly as possible, but many are quickly reaching capacity.
Although the storm is projected to cause significant damage, many local organizations are working to provide the necessary resources and assistance to those affected. In additional to larger international organizations like the Red Cross and Save the Children, the organizations listed are working with local communities to best assess their needs in light of Florence. Many of these organizations have also been vetted by charity assessment group Charity Navigator.