This GOP Senator Just Called Christine Ford An "Attractive" Witness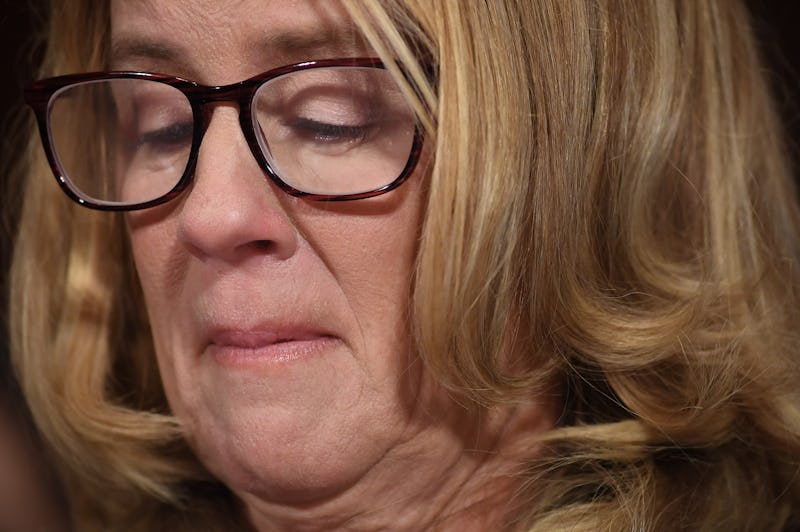 Pool/Getty Images News/Getty Images
On Thursday, just after the Senate Judiciary Committee broke for lunch during Christine Blasey Ford's hearing on her sexual assault allegation against Brett Kavanaugh, Utah Sen. Orrin Hatch told reporters that Ford was an "attractive, good witness." Hatch added that "it's too early to say" whether or not Ford is credible, but described her as "pleasing," per CNN.
"It's too early to make those kinds of determinations, but she's a good witness," Hatch told NBC regarding Ford's credibility. He went on to describe Ford as "articulate."
According to CNN, Hatch told reporters that he didn't think he had learned anything new during Thursday's hearing. He also reportedly said that he didn't have a strong impression of the testimony thus far, though he did say that the Senate Judiciary Committee might be ready to vote on Kavanaugh by Friday. He has been a staunch defender of Kavanaugh, who has denied Ford's allegations.
Hatch's comments quickly prompted backlash on social media, as well as from some reporters who heard his comments. Mic subsequently suggested that Hatch's remarks indirectly shed light on Republicans' decision to bring in Rachel Mitchell — an experienced prosecutor from Arizona — to ask Ford clarifying questions, rather than the men on the committee. According to the Los Angeles Times, Hatch told reporters that he would not second-guess Mitchell's line of questioning, and argued that the hearing had a "good format."
"We're in the early throes of this and it's pretty hard to make any kind of determination at this point," Hatch said. "I think all it's preliminary, I don't think it's gone very far so far. You have to get the preliminaries out of the way and it's taken a little bit of time to do that."
Following the controversy generated by Hatch's comments, his communications director, Matt Whitlock, took to Twitter to clarify what the senator meant when he described Ford as an "attractive" witness.
"Hatch uses 'attractive' to describe personalities, not appearances," Whitlock said. "If you search his past quotes you'll see he's used it consistently for years for men and women he believed has compelling personalities."
Thursday's hearing started off with Ford delivering her opening remarks while seeming to be on the verge of tears, CNN reported. In her opening statement, Ford said, "I am here today not because I want to be. ... I am here because I believe it is my civic duty to tell you what happened to me while Brett Kavanaugh and I were in high school."
Ford then went on to detail her allegations against Kavanaugh. She first spoke publicly about these allegations in an interview with The Washington Post, which was published on Sept. 16. On Thursday before the Senate Judiciary Committee, Ford again alleged that Kavanaugh sexually assaulted her during a party when they were both high school students, in the summer of 1982.
"I believed he was going to rape me," Ford told the committee. "I tried to yell for help. When I did, Brett put his hand over my mouth to stop me from screaming. This was what terrified me the most, and has had the most lasting impact on my life. It was hard for me to breathe, and I thought that Brett was accidentally going to kill me."
Kavanaugh has previously denied Ford's allegations, and stated that "he "did not do this back in high school or at any time." However, since Ford spoke out, two more women have presented the Senate Judiciary Committee with allegations against Kavanaugh. He denied these allegations as well.
If you or someone you know has been sexually assaulted, call the National Sexual Assault Telephone Hotline at 800-656-HOPE (4673) or visit online.rainn.org.