This Millennial Pink & Gen Z Yellow Workout Gear Is Made SPECIFICALLY For Runners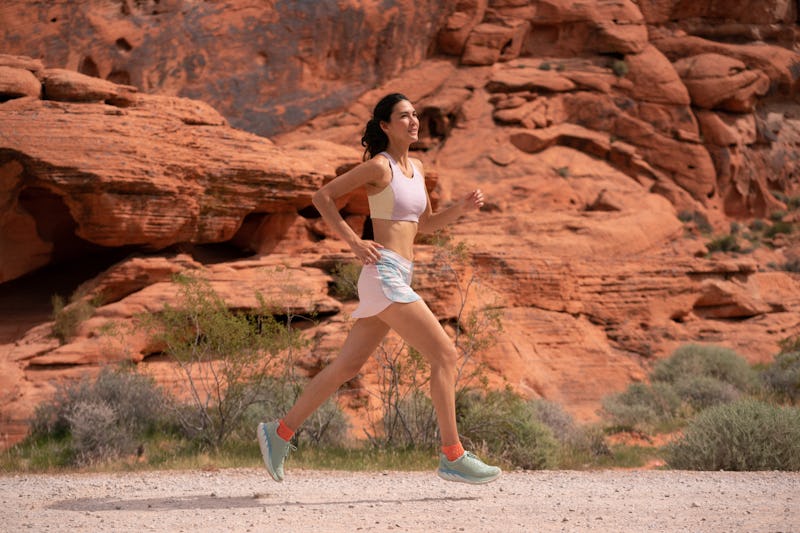 Courtesy Outdoor Voices
As the weather gets warmer, the idea of going for a run starts to sound slightly more appealing. And what better way to motivate yourself than with a sweet new set of gear? Instagram darling Outdoor Voices' new running collection just hit the internet, and it's beyond worthy of your feed. The line has all the things fans of the brand have come to love (comfy fabrics, trendy colors) with sweet upgrades made just for runners — including a very #fromwhereistand-friendly pair of HOKA ONE ONE shoes that come in pale pink, mint, and navy.
In addition to the kicks, the collection features five brand-new styles: a running skort, running shorts (Outdoor Voices founder Tyler Haney tells Bustle the shorts are one of the pieces she's "most excited about"), a tank top, and a T-shirt. All are made with wicked, comfortable, lightweight materials that dry quickly and almost completely banish any risk of chafing, aka probably the worst thing about running in the summer. Plus, they come in those aforementioned trendy colors: You can get the tees and tanks in a version of millennial pink and Gen Z yellow, or more classic navy and gray. The shorts and skorts come in four patterns that are more chic than wild, making them just as wearable for brunch as for a morning jog.
Haney tells Bustle that the entire collection was inspired by her own relationship with running: She grew up doing track, and still tries to find time to at least do a lap around the block every day. These fun, comfortable pieces are about "celebrating activity for the fun of it," Haney continues, whether you're an avid marathoner or a more casual runner. Rigorous testing by this Bustle editor showed that it's also fantastic for wearing to unpack a new apartment and drink a celebratory Bloody Mary.
In addition to all the aforementioned comfort and colorways, Haney says practicality was key for the new designs — but that the brand wanted to have some fun, too. "The collection is functionally designed with all the needs of a runner in mind — from highly technical materials, to pockets for keys and cell phones — but with playful elements like a skort silhouette, looped back bra, and colorful running shoes made in partnership with HOKA ONE ONE," she explains.
Haney says the OV team knew they wanted to launch "a full head-to-toe technical capsule designed for the runner" and decided HOKA ONE ONE was the perfect fit to complete the launch. The Clifton 4 model featured in the OV collection is super lightweight and has loads of cushion for support. The three, monochromatic(ish) versions available as part of the running collection are limited edition, which automatically makes them even cooler.
Perhaps the best part of the whole running line? Except for the $140 shoes, every piece is under $100, ranging from $40 to $70. One downside is the size range: Although Haney says "extended sizing is something we're working hard to incorporate in the coming months," the Running Collection comes in OV's typical XS to XL.
As for getting your hands on a fresh new skort or tee, the capsule launches April 24 exclusively on OV Trail Shop, an app that lets you order the clothes if you're nearby one of the company's favorite running spots across the U.S. Then, on April 25, the collection will be available online and in OV stores — just in time to hit the road (or treadmill or sidewalk to the coffee shop or your favorite mirror for taking outfit selfies) as the weather gets warmer.