This Parkland Dad Says Trump's SCOTUS Pick Refused To Shake His Hand & There's Video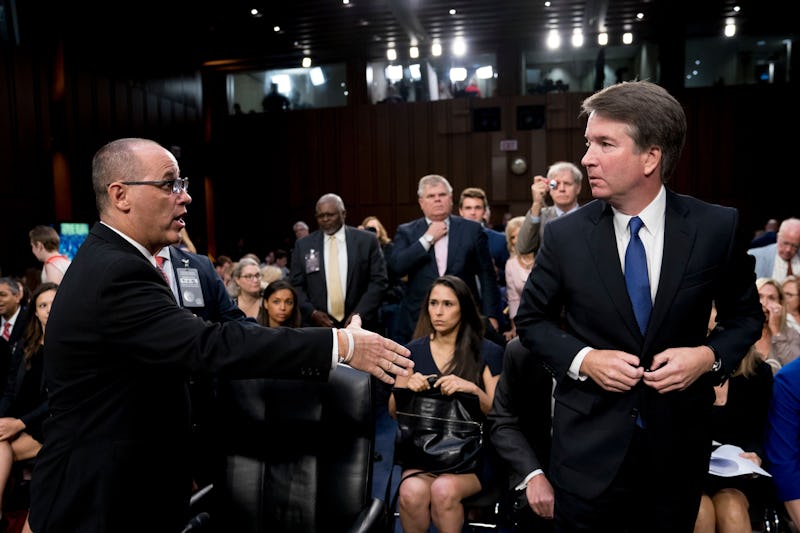 Judge Brett Kavanaugh's SCOTUS confirmation hearing began with what Republicans called "mob rule," and this morning's session may have ended with an unbelievable snub. When Senate Judiciary Chair Chuck Grassley (R-Iowa) called the the first break, Fred Guttenberg, the father of one Parkland, Florida, shooting victim, approached the nominee. Kavanaugh appears to ignore Jamie Guttenberg's dad, look at him with disdain, and turn away.
This was what Guttenberg himself claimed on Twitter. "Just walked up to Judge Kavanaugh as morning session ended," the Parkland father wrote. "Put out my hand to introduce myself as Jaime Guttenberg's dad. He pulled his hand back, turned his back to me and walked away. I guess he did not want to deal with the reality of gun violence."
A White House official responded on Twitter, arguing that security escorted the nominee away. "As Judge Kavanaugh left for his lunch break, an unidentified individual approached him," Deputy Press Secretary Raj Shah posted. "Before the Judge was able to shake his hand, security had intervened."
Video of the moment from various angles and media outlets, including The Washington Post and C-SPAN, don't make clear exactly the timing — whether Kavanaugh turned his back before or after the security guard steps in between them, you can check yourself.
Gun control was one of the main issues brought up by Democrats in their opening remarks on the judicial nominee — after their first attempt to adjourn and postpone the hearing until they have time to review more documents that were released Monday night.
The ranking member on the committee, Sen. Dianne Feinstein (D-California), in particular, mentioned Kavanaugh's views on gun control as one of her main concerns about his nomination. "I'd like to address the president's promise to appoint a nominee blessed by the NRA." She quoted his own words, arguing his views go "beyond pro-gun."
"In District of Columbia v. Heller, you wrote that 'unless guns were regulated either at the time of the Constitution was written or traditionally throughout history, they cannot be regulated now.'" Feinstein said in her opening remarks. She continued:
In your own words, gun laws are unconstitutional, unless they are quote 'traditional or common in the United States.' You concluded that banning assault weapons is unconstitutional because they have not historically been banned. And this logic means that even as weapons become more advanced and more dangerous, they cannot be regulated ... If the Supreme Court were to adopt your reasoning, I fear the number of victims would continue to grow and citizens would be rendered powerless in enacting gun laws.
Guttenberg's tweet was given voice by many prominent people on Twitter. Sen. Kamala Harris, who first pushed to postpone the hearing on Tuesday, wrote on Twitter, "If Kavanaugh won't even give him a handshake, how can we believe he would give gun violence victims a fair shake in court?"
Chelsea Clinton responded to Guttenberg, writing, "I am so very, very sorry Fred this happened."
David Hogg, one of Jamie Guttenberg's classmates who has become a gun control activist with the March for Our Lives movement, wrote, "We need judges to understand the reality of America today."
Guttenberg may not have been able to speak with the nominee, but Kavanaugh can't ignore the issue — whether or not he wants to acknowledge Guttenberg or not. Feinstein, and other Democrats, are sure to ask him about his views on the issue in the days to come.