Passengers On 2 Separate American Airlines Flights Got Sick With Flu-Like Symptoms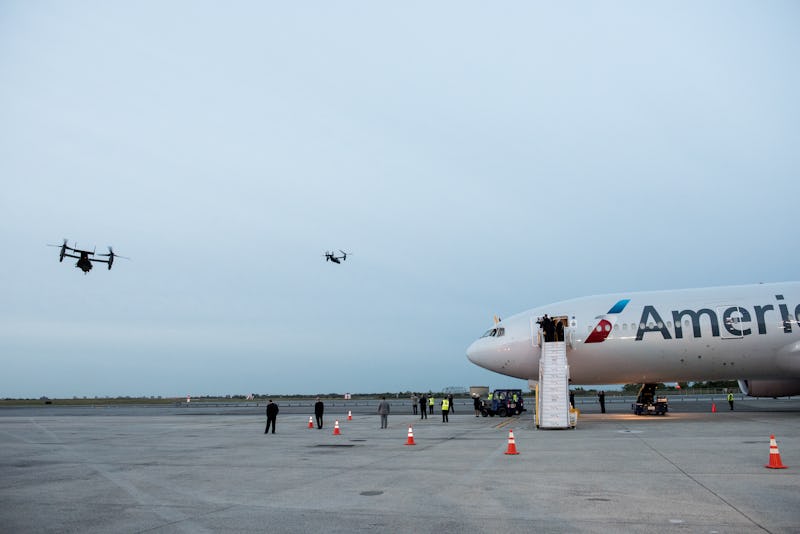 Andrew Renneisen/Getty Images News/Getty Images
One day after 11 passengers on a New York-bound flight from Dubai fell ill, 12 people on two American Airlines flights got sick with flu-like symptoms after flying in from Europe, Reuters reported Thursday. According to a spokesperson for Philadelphia International Airport, 250 passengers and crew were "held for a medical review" and screened for illnesses after flying in from Munich and Paris, respectively, and landing in the United States.
"Twelve passengers from the two flights reported sore throat and cough, none were identified with fever," Centers for Disease Control spokesman Benjamin Haynes said. "None of the passengers are severely ill, and they will be released and informed of test results in 24 hours."
He added that although the remaining passengers were screened, they were ultimately allowed to proceed to their final destinations. CBS 3 later reported that the 12 passengers who had flu-like symptoms were ultimately released as well. None of the passengers were quarantined, Time reports.
A day earlier, the CDC said that about 100 passengers aboard Emirates Flight 203, which landed Wednesday morning in New York City after flying out from Dubai, had complained of illness. The plane was quarantined, and the CDC later said that 11 passengers were ultimately hospitalized.
One of the passengers on that Emirates plane was singer Vanilla Ice. He told ABC 7 that he witnessed a hectic scene on the tarmac after the plane landed.
"When we started looking out of the windows we were like, this is much bigger than the pilot made it out to be, you know this is real serious," the rapper-turned-actor said. "At that point I was starting to worry."
Passenger Erin Sykes also tweeted about her experiences on that plane, calling it the "worst flight ever."
"Dubai to NYC; plane was basically a flying infermary [sic]," Sykes tweeted. "Many of these people should never have been allowed to board. Now sitting on the ground after 14 hour flight unable to leave." She later told CNN that it was "so obvious that a large number of people were ill well before takeoff," and that passengers on the plane "were coughing the whole time."
New York City's Health Department later said that the majority of sick passengers on the Emirates flight were diagnosed with common illnesses, and that all test for Middle East respiratory syndrome, or MERS, had come back negative. Dr. Oxiris Barbot, New York City's acting Health Commissioner, told reporters Thursday that the illness that befell the flight's passengers was "probably influenza," and this was seemingly confirmed by Eric Phillips, press secretary to New York City Mayor Bill de Blasio.
"Test results on the 10 hospitalized patients find influenza," Phillips tweeted. "Some tests came back inconclusive on other viruses, which is common. They'll be re-administered this morning. All 10 patients will be kept in the hospital as a precaution until we know those final results."
Diane Gerace, a spokesperson for the Philadelphia airport, said that no other operations at the airport were interrupted by Thursday's incident. The Philadelphia Health Department and the Philadelphia Fire Department aided the CDC in conducting medical evaluations of the passengers involved.