I Read This Book After Living In NYC For Years — & It Made Me Nostalgic For A City I Never Knew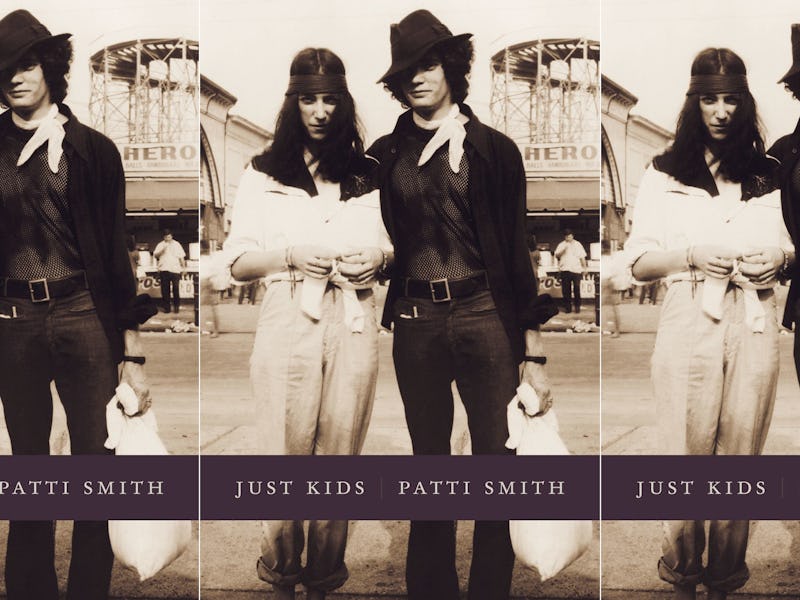 Harper Collins
A legendary rocker, artist, poet, and memoirist, Patti Smith has truly lived a life defined by art. In her first memoir, Just Kids, Smith transports readers to New York City during the late '60s and '70s, a time in which the city was a haven for creative thinkers, artists, writers, and musicians. The book begins when Smith first lands in NYC at the age of 20, and centers on her intimate relationship with an artist named Robert Mapplethorpe. It is, simply put, a beautiful book about one woman's creative and personal becoming.
My own biography is not dissimilar from Smith's, at least at first. Like her, I arrived in New York as a young woman, hoping make a life for myself as a writer. We each came to the city unemployed, and each found ourselves working in bookstores. Reading this book, I felt a deep connection with Smith. But, of course, the New York that greeted me in 2014 was far different than the city that welcomed Smith in July of 1967.
Smith's version of New York was fantastical and marvelous, but it certainly wasn't an easy place to live. Yet, she captures a sense of freedom in her descriptions of the thrumming city that I never experienced in my adventures in the city. She writes:
"One Indian summer day we dressed in our favorite things, me in my beatnik sandals and ragged scarves, and Robert with his love beads and sheepskin vest. We took the subway to West Fourth Street and spent the afternoon in Washington Square. We shared coffee from a thermos, watching the stream of tourists, stoners, and folksingers. Agitated revolutionaries distributed antiwar leaflets. Chess players drew a crowd of their own. Everyone coexisted within the continuous drone of verbal diatribes, bongos, and barking dogs."
Her descriptions of her creative process and finding inspiration are equally as stunning as her descriptions of New York City. Of course, for Smith, the city and the process are inextricably woven. Take for instance, this gorgeous paragraph:
"There were days, rainy gray days, when the streets of Brooklyn were worthy of a photograph, every window the lens of a Leica, the view grainy and immobile. We gathered our colored pencils and sheets of paper and drew like wild, feral children into the night, until exhausted, we fell into bed. We lay in each other's arms, still awkward but happy, exchanging breathless kisses into sleep."
Just Kids by Patti Smith, $7.27, Amazon
But while Patti Smith found artistic freedom in New York, I found the opposite. My first few years living in NYC could be summed up in one word: hustle. In order afford basic living expenses, I worked multiple jobs at a time and frequently asked my parents for help. My schedule during my early years in NYC was so jam-packed that I rarely had the time or energy to write for myself.
Smith hustled, too. She moved to New York with no place to stay, sometimes sleeping at work and sometimes sleeping outside. She landed a job in a bookstore, and supported both herself and Mapplethorpe on a meager salary, sometimes stealing the art supplies they needed for their creative work. But, as difficult a life as Smith depicts, the fact remains that her retail job was enough to support them and provided them space to work on their art; that would scarcely be possible today. According to Just Kids, Smith and Mapplethorpe's first apartment at 160 Hall Street in Brooklyn cost $80 per month in 1967, or about $600 today, factoring for inflation rates. Today, Zillow estimates the rent on that apartment to be $2,800 per month. According to Glassdoor, the average annual salary for a bookseller in NYC today is $21,752 — which is just about enough for half a year of rent and nothing else.
There is a difference, too, in the NYC arts scene that I discovered and the one Smith recounts. She recalls dozens of encounters with well-known artists: Allen Ginsberg buys her a sandwich, she sits outside during a party with Jim Morrison, and she spends hours hanging out with Janis Joplin. Smith and Mapplethorpe eventually find a home and artistic community at the Chelsea Hotel. In all my years living in New York, I've never encountered a place like it. In one passage from the book, Smith writes of seeing Joplin, Jimi Hendrix, and other famous musicians in the bar at the hotel:
"I stood there amazed, yet I didn't feel like an intruder. The Chelsea was my home and the El Quixote my bar. There were no security guards, no pervasive sense of privilege. [...] When I went back upstairs I felt an inexplicable sense of kinship with these people, they had no way to interpret my feeling of prescience. I could never have predicted that I would one day walk in their path."
The New York arts scene that I know is nowhere near as chill as the one Smith describes. I have always felt a clear separation between successful artists and people at the bottom of the ladder like myself. It's a separation created by both wealth and social power. I've been lucky enough to meet some of my idols. but never have I felt the permission to befriend them in the way that Smith did with the stars of her time. The scene that Smith describes has an openness to it, while the NYC I know is filled with gates and hurdles.
I hope that New York City will never become separated from the arts. No matter how crowded, expensive, or corporate it gets, New York has an energy that I hope will survive. As much as I love this city, I can't help but long for the New York of the old days — a New York I never had a chance to know. I'm grateful to Patti Smith for taking me there, if only for a few hundred pages.