Paul Manafort's Daughter Is Officially Changing Her Last Name — Here's Why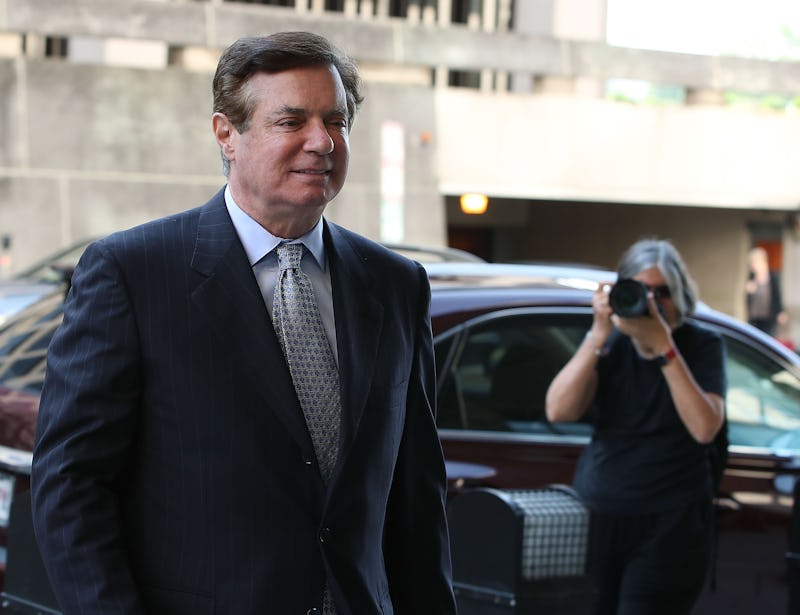 Mark Wilson/Getty Images News/Getty Images
In an effort to separate herself from her father, Paul Manafort's daughter filed paperwork to change her surname last week, according to several reports, and the decision has been at least several months coming.
"I would like my new name to be Jessica Anne Bond, in place of my present name," Jessica Manafort said in her court filing, according to the New York Post.
Jessica has been using the name Jess Bond as an alias since at least July, when she released the film Rosy, which she wrote and directed. The alias replaces her father's last name with her mother's maiden name, according to several reports.
"I am a passionate liberal and a registered Democrat and this has been difficult for me. Although I am 'the daughter of,' I am very much my own person and hopefully people can realize that," Jessica told The Los Angeles Times earlier this summer, when her film came out. She also told the paper that she was currently in the process of legally altering her surname at the time.
She further explained that she chose Bond as a last name "not to hide, but to separate myself from everything going on because it has nothing to do with me or my work."
In August, Jessica's father, the lobbyist and political consultant Paul Manafort, was convicted on five counts of false tax returns, four counts of failure to report foreign bank accounts, and nine counts of bank fraud and bank fraud conspiracy, according to Reuters.
Later this month, Manafort faces another trial, this time located in Washington D.C. There, he will be tried for charges of money laundering, conspiring to defraud the Treasury Department, failure to register as a foreign agent, and making false statements to federal agents. He has pleaded not guilty to all charges. Bustle has reached out to Manafort's lawyer for comment.
Manafort worked as Trump's campaign chairman from March 2016 to August 2016. After news broke about Manafort's relationship with Russia, Trump reorganized his campaign staff, giving Manafort a lesser role, according to Time. Manafort resigned from the campaign two days later.
Manafort's alleged ties to Russia have to do with Ukraine, where for almost a decade, according to NBC News, he was a political consultant for a pro-Russia political party. The party Manafort worked for was known for spreading anti-Western rhetoric, was backed by pro-Russia oligarchs, and opposed participating in NATO, NBC News reported. The money laundering charges Manafort faces later this month concern payments he allegedly received from that party, as well as the oligarchs.
Viktor Yanukovych, the Ukrainian president between 2010 and 2014, was a leader of the party Manafort worked for until he was ousted during the 2014 Ukrainian revolution. Yanukovych is currently in exile in Russia, and is wanted for treason in Ukraine.
Manafort has made headlines for his work for years, but attention has been especially consistent since news broke that he was facing criminal charges. That Jessica is opting to change her name suggests that the impact of Manafort's charges is affecting not just Manafort himself, but also those around him.