PETA Made A Grisly Don Jr. Halloween Costume And He's Not Happy About It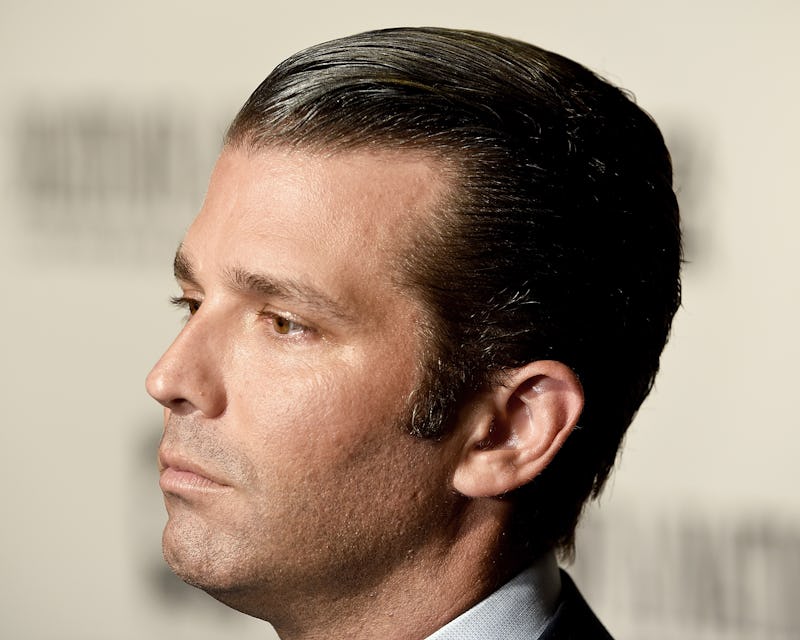 Shannon Finney/Getty Images Entertainment/Getty Images
Donald Trump has previously described trophy hunting as a "horror show," per The Guardian, but his sons are both big-game hunters and reportedly left the country during his presidential campaign to go on a hunting trip. On multiple occasions, People for the Ethical Treatment of Animals (PETA) has criticized Donald Trump Jr. in particular for his interest in hunting, but the group recently took its criticism one step further by releasing a Halloween costume mocking Trump Jr.'s trophy hunting. Bustle has reached out to Trump Jr. for comment.
The $169 costume, which is available for pre-order on PETA's website, features a leopard stuffed animal, a red cap, and a bloodstained camouflage jacket with the words "Half-Cocked" emblazoned across the front. The costume does not, however, come with a prop gun, the product listing clarified. PETA's president, Ingrid Newkirk, is quoted in the listing as saying that "there's nothing more frightful than an entitled ghoul who gets his kicks from gunning down wild animals."
Trump Jr. quickly responded to the PETA costume on Twitter, describing the organization as "hypocrites" and "literally an animal slaughter factory." He also attached a blog post alleging that "PETA has killed 29,426 dogs, cats, rabbits, and other domestic animals" in the past 11 years, even when the "animals are not suffering."
"Ironically, there are few orgs in world history that have as much animal blood on their hands as PETA," Trump Jr. tweeted on Thursday.
When asked for further comment, PETA directed Bustle to its response to Trump Jr.'s tweet.
"Thanks for pointing out that we'll always offer animals in desperate need a merciful release, free of charge to their less-fortunate guardians," PETA tweeted in response to Trump Jr. "We don't travel the world blowing animals away as you do."
PETA attached a video to its tweet detailing its provision of euthanasia services. It has also stated that the costume was "inspired by and is a twist on the trophy-hunting photo that showed the Trump brothers grinning over the body of a dead leopard," per The Hill. PETA was referring to photos from a hunting trip that Trump Jr. and his brother reportedly took to Zimbabwe in 2012.
This is not the first time PETA has criticized Trump Jr. for trophy hunting. Earlier this year, the group announced its plans to put up billboards along the U.S.-Mexico border featuring a photo of Trump Jr. holding a knife and the tail of an elephant he reportedly shot.
"Deport callous cheating opportunists now!" the billboard stated. "All nations have their undesirables. Kindness welcome."
In a statement about the billboard campaign, Newkirk criticized "cheating louts like Donald Trump Jr" for "flying to other countries to gun down living, feeling beings just for fun" while "people are fleeing to the U.S. to escape violence."
"PETA's border ad is a reminder that kindness is a virtue and that Central America doesn't hold all the cards when it comes to 'bad hombres,'" Newkirk said at the time.
The billboards were slated to appear in El Paso and Laredo, Texas — both of which are close to the U.S.-Mexico border.