Obama Photographer Pete Souza Wants A Kavanaugh Investigation For This Simple Reason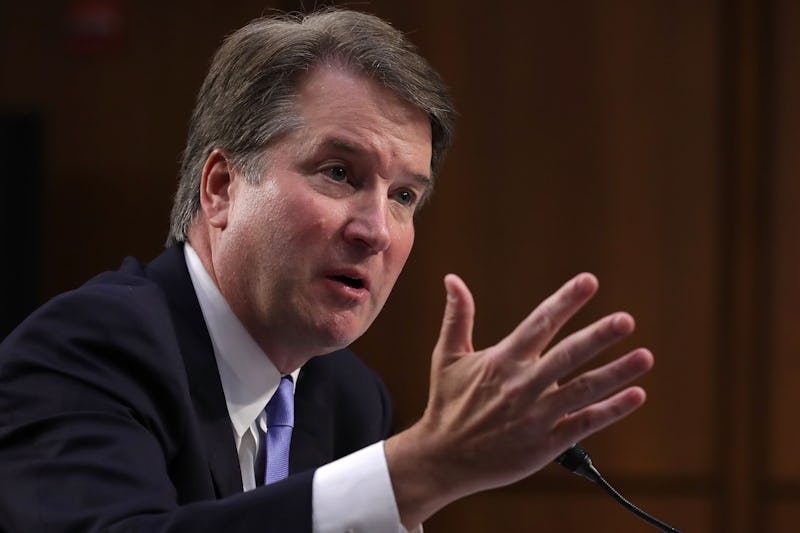 Chip Somodevilla/Getty Images News/Getty Images
President Donald Trump and Republican leaders in the Senate have said the federal government won't look into Christine Blasey Ford's allegations against Trump's Supreme Court nominee. But former White House photographer Pete Souza wants the FBI to investigate the Kavanaugh allegation for a very simple reason — it's right there in the agency's name.
"The 'I' in FBI stands for 'investigation,'" Souza pointed out in an Instagram post directed at GOP leaders on Wednesday. "Even I (and everyone that works at the White House) had two FBI investigations into my background as the White House photographer, though I had never committed a crime. So you don't want the FBI to investigate someone for the Supreme Court about a credible attempted rape allegation? Please explain."
Sen. Chuck Grassley (R-Iowa), chairman of the Senate Judiciary Committee, said in a statement on Tuesday that "nothing the FBI or any other investigator does would have any bearing on what Dr. Ford tells the committee," so there's no reason for the Senate to further delay Kavanaugh's confirmation hearing. The same day, President Trump told reporters that the FBI shouldn't investigate the allegation (which Kavanaugh categorically denies) because "this is not really their thing," as Reuter reports.
Souza disagrees.
"There is now a credible rape allegation against your Court nominee. For a lifetime appointment. Whose nomination has been open only for 71 days. And your plan is to rush a vote on his nomination without an FBI investigation into a sexual assault he may have committed?" Souza wrote in the post.
Ford alleged that Kavanaugh attempted to rape her at a party in high school. Ford told The Washington Post that she got away, but added that the alleged incident "derailed" her life for four or five years. Kavanaugh said in a statement released by the White House this week that "this is a completely false allegation." He added, "I have never done anything like what the accuser describes — to her or anyone."
Grassley invited Ford to testify before the Senate Judiciary Committee next week, but her lawyer told CNN on Tuesday that asking her client to testify with less than a week's notice is unfair. "If they care about doing the right thing here and treating this seriously as they have said, then they will do the right thing and they will properly investigate this," Ford's attorney said.
While calling for the FBI to investigate, President Barack Obama's former photographer also reminded Republicans of Merrick Garland — Obama's Supreme Court nominee whom the GOP successfully blocked from ever reaching a confirmation hearing. Souza said rushing Kavanaugh's confirmation vote is especially hypocritical given how Garland's nomination was received.
"Remember him. You held his Supreme Court nomination open for 293 days without a single hearing. During those 293 days, no one came forward with a shred of evidence about anything that would disqualify him," Souza wrote on Wednesday. "You just didn't schedule a hearing or vote for purely political reasons."
Of course, it's unlikely Souza's post will sway President Trump or Grassley to call for an FBI probe into Kavanaugh's alleged actions. Nevertheless it's hard to argue with his point that the "I" in FBI stands for "investigation."