You Need To Hear Peter Dinklage Tell The Story Of 'SNL's David S. Pumpkins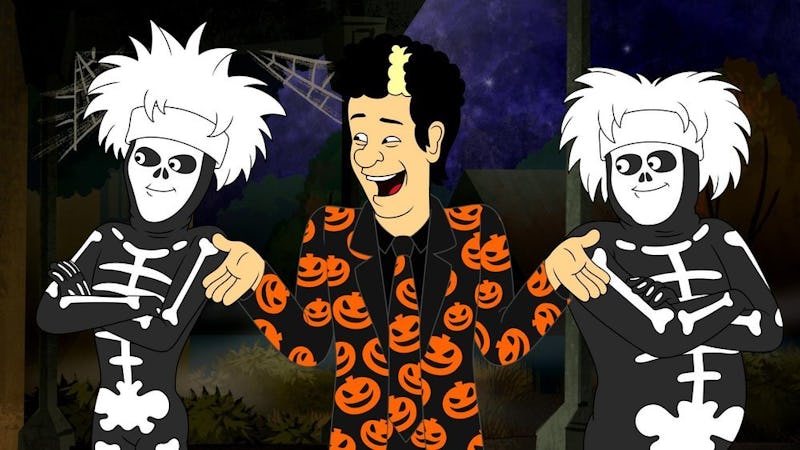 NBC
In 2016, Saturday Night Live introduced David S. Pumpkins (played by Tom Hanks) into pop culture and Halloween hasn't been the same since. On Saturday, Oct. 28, SNL bestowed David S. Pumpkins with his own animated Halloween special. Game of Thrones' Peter Dinklage narrated the SNL David S. Pumpkins special and it left Twitter in awe of his voice. Hanks lent his voice to David S. Pumpkins in animated form, while Dinklage voiced Kevin, the adult narrator who told the story of how he met the zany character as a child — and how they saved Halloween together.
The special cleared up some of David S. Pumpkins' backstory with fun facts, but also left many question marks, too. If you get the magic pumpkin, David S. Pumpkins is yours for Halloween. His skeleton-costumed sidekicks are named Skeleton Left and Skeleton Right (which could be a reference to Katy Perry's Left Shark from the 2015 Super Bowl). David S. Pumpkins drives a giant strawberry that he can also eat. He and the skeletons must return to the pumpkin patch by 10:30 p.m., because magic. Kid Kevin and his sister are puzzled and bewildered by David S. Pumpkins, but they enlist his help in defeating a lurking evil: the Raincoat Man, who steals Halloween candy from children.
Dinklage's grown-up Kevin tries to tell the tale in rhyme and fondly remembers the pumpkin print-suited hero, who gave Kevin a one-of-a-kind costume: a businessman named Carl Branley.
When they finally confront the Raincoat Man, they find a trio of Raincoat Men — the villain is actually the work of mean teens the Ditmeyer brothers. David S. Pumpkins makes them turnover their massive stash of Halloween sweets by not singing — an action so weird that it actually worked. The character then magically redistributes the candy to the whole neighborhood, restoring good spirits for Halloween. But since he ate his strawberry vehicle as a snack, Kevin takes a crowded bus to the pumpkin patch with Pumpkins and the skeletons. Dinklage's grown-up Kevin then tell the audience David S. Pumpkins' superpower: he can turn raisins into candy on Halloween. Any questions? I have a bunch, but I'm sure they can be answered next Halloween.
Hanks made a live action cameo in the special, but sadly, viewers only heard Dinklage's voice. But still, Twitter was super impressed by the Game of Thrones actor's surprise vocal appearance. It shouldn't be too shocking that Dinklage is a comedy pro — before playing Tyrion Lannister on GoT, the actor starred in films such as Elf with Will Ferrell, and The Pacifier with Vin Diesel.
Some Twitter users couldn't believe their luck and wanted more Dinklage in the special.
Other people on Twitter wanted to know how this happened. Any questions? Yes. So many.
These people were huge fans of Dinklage's voice in general.
But this fan was hoping for a cameo from SNL cast member Leslie Jones in the special. Maybe next year?
Another Twitter fan thought the narrator's voice might be a Dinklage impression from another SNL cast member.
Many Twitter users said their favorite part of the special was Dinklage.
Dinklage's smooth and Dr. Seuss-like narration was a welcome surprise for many fans watching the quirky animated special. Now if only David S. Pumpkins could take on Westeros next. Who knows? His not-singing talent might do wonders against the White Walkers. It could be a mashup for the ages.
For now, we do know that David S. Pumpkins is still our Halloween hero in 2017 — for making us laugh, for finding the missing candy, and for being is own thing.