Drake's Re-Bar Mitzvah Party Looks So Cool It Will Make You Actually Upset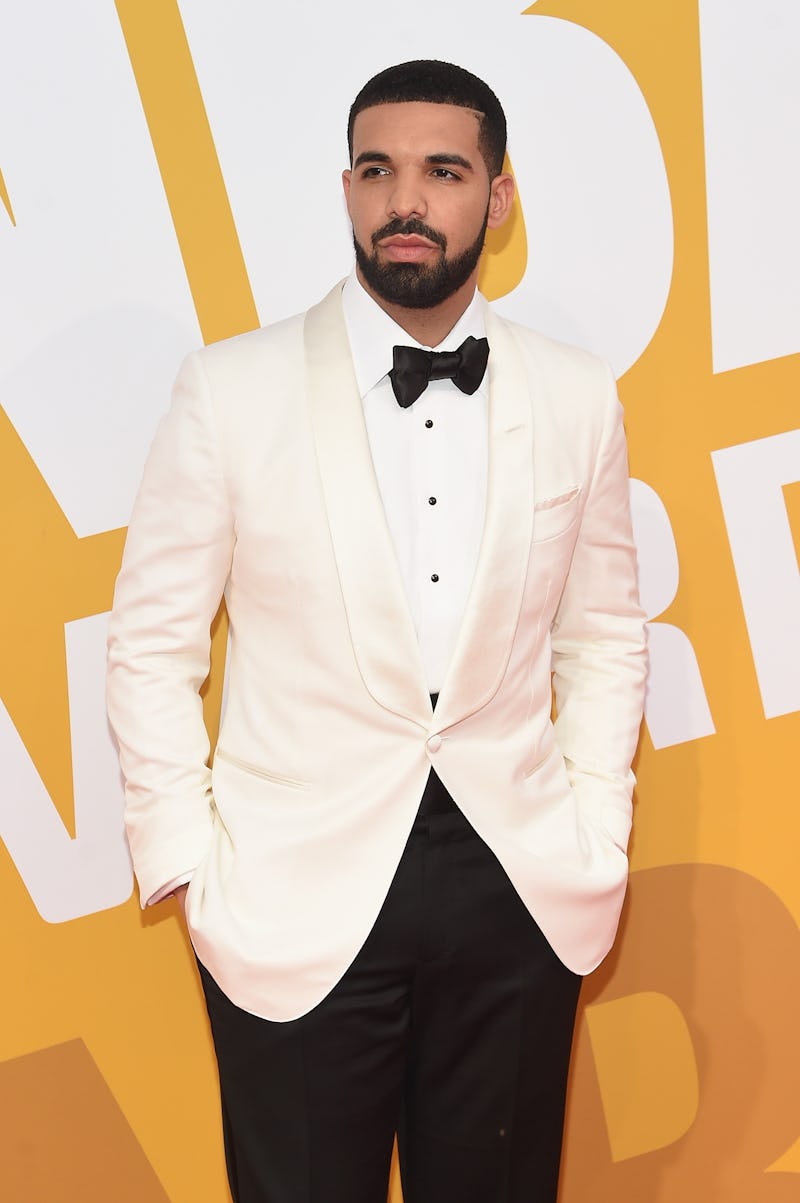 Jamie McCarthy/Getty Images Entertainment/Getty Images
There is now absolutely no room to debate who hosts the best parties, because "Drake" is the only correct answer. On Monday night, Drake threw a re-Bar Mitzvah 31st birthday party, and now that photos and details from his big night have surfaced, he clearly deserves some kind of award. Of course, Drake already celebrated his Bar Mitzvah when he was 13, but year 31 — which is really just 13 backwards — is a really good time to relive that day, right?
According to E! News, he started off the night having dinner at Los Angeles restaurant Catch before meeting up with his friends and partygoers at Poppy. At midnight, they all toasted to another year of Drake, including sparklers and a performance from his dad, Dennis Graham, who just so happens to be a musician like his son. And because this is Drake, of course he took turns DJing and bartending, which his guests must have enjoyed, because what would be better than birthday boy Drake mixing you a drink?
Before the festivities kicked off, Drake shared a photo of his Bar Mitzvah board from his party the first time around on Instagram, and it was seriously adorable.
Plenty of Drake's famous friends were on hand to help him celebrate, too. According to Us Weekly, the guest list included Leonardo DiCaprio, Halsey, Tracee Ellis Ross, Usain Bolt, and Kelly Rowland. And as if those names aren't enough reasons to send anyone into a serious case of FOMO right now, the rest of the details from the party will be.
Because according to Us Weekly, at one point, DiCaprio and Tobey Maguire were dancing and rapping along with "Watch Out" by 2 Chainz, something that really needed to have been filmed so the rest of us could have enjoyed it, too. And if that wasn't enough entertainment for Drake's guests, he also had Dippin' Dots, a candy station, and arcade games — basically a dream Bar Mitzvah situation for people of all ages. This party had something for everyone, including a basketball-themed photo booth where his guests could take pics to remember the evening. There were also dancers dressed as cheerleaders, light-up signs that said "Papi", and plenty of baby photos on hand to celebrate Drake's life so far.
And then, of course, there were custom Solo cups and pizza boxes featuring tiny Drake's face, which were too adorable for words.
So far, Drake has already shared several photos from his party on Instagram, and has a gigantic grin in pretty much any photo he was in. He had to have been the happiest man on Earth at the moment the following photo was taken:
And since it wouldn't be a birthday party without a rousing rendition of "Happy Birthday," of course, that happened too before his guests headed home around 2:30 a.m. — and unlike DiCaprio and Maguire's performance, this one was caught on video. Just look at that precious birthday boy.
It's great to see that he seemed to have a blast at his party — and that he's sharing his favorite photos with his fans. With all of the music, Degrassi episodes, and "Hotline Bling" memes he's brought into our lives since his birth, marking 31 years of Drake is an important moment for us all.
Maybe for next year, MTV could film his next shindig for some kind of "My Super Sweet 32" special?