It Sure Looks Like Ivanka Enjoyed Herself On Her Africa Trip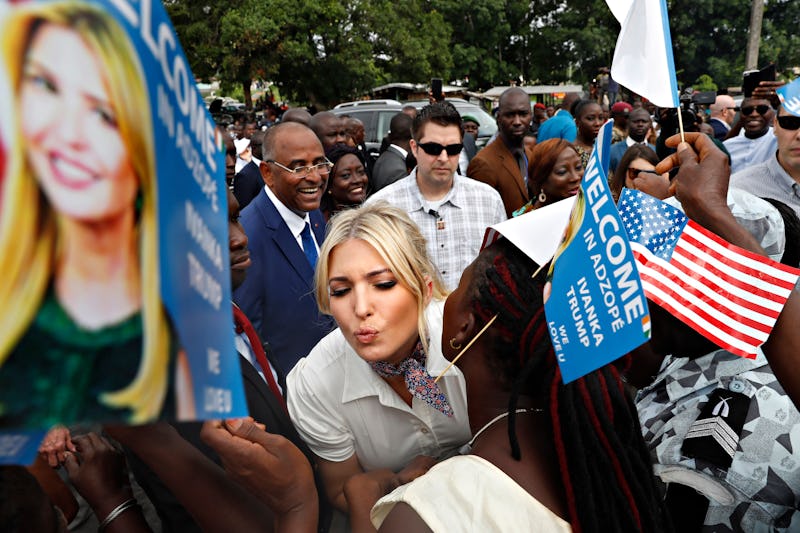 Jacquelyn Martin/AP/Shutterstock
The first daughter flew from Ethiopia to Ivory Coast on Tuesday for the second stop on her tour to promote women's economic empowerment in Africa. In Ivory Coast, she met with the vice president, pledged $2 million in aid, and visited a cocoa farm. And the photos of Ivanka Trump in Ivory Coast show her diplomacy in action.
Throughout the trip, Trump had been tweeting updates of her travels. "Next stop Cote d'Ivoire!" she posted Tuesday morning, writing the Ivory Coast in French. Later in the day, she met with Vice President Daniel Kablan Duncan at the presidential palace while the education minister signed a decree creating a "Gender Unit prioritizing women & girls' access to quality education & training," Trump posted.
On Wednesday, Trump visited a cocoa farm in Adzope with representatives from USAID. Before her visit, Trump posted statistics that say despite women owning 25% of cocoa farms in the country and making up 68% of the cocoa labor force, they get just 21% of the money the industry generates in the country.
Later, she posted a video at the cocoa farm and announced a $2 million public-private partnership between USAID and the World Cocoa Foundation to help women in the industry there. According to the AP, as of 2018, the World Economic Forum ranked Ivory Coast 131 out of 144 countries for gender equality. Trump's visit may start to change that.