Miley & Liam Just Made A Rare Red Carpet Appearance & People Are Shook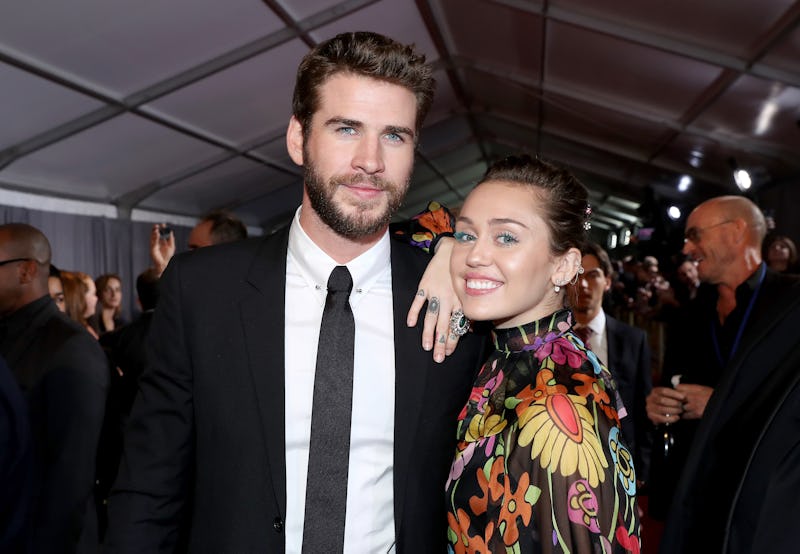 Rich Polk/Getty Images Entertainment/Getty Images
One of Hollywood's most talked about on-again, off again couples, Miley Cyrus and Liam Hemsworth, made a rare red carpet appearance at the premiere of Hemsworth's brother Chris Hemsworth's new Marvel flick Thor: Ragnarok on Tuesday evening. The couple rarely make public appearances together and the pair's photos from the premiere are causing all of their fans to swoon.
This red carpet appearance marked the first major public outing for the couple since the Variety Power of Women luncheon last year and, according to E! News, their first red carpet appearance together since the August 2013 premiere of Hemsworth's movie, Paranoia, shortly after which they announced the end of their engagement.
The appearance was even more of a surprise to fans of the couple because of an interview Cyrus did with Elle back in September 2016, when she announced her own personal red carpet ban:
"...I will never do a red carpet again. Why, when people are starving, am I on a carpet that's red? Because I'm 'important'? Because I'm 'famous'? That's not how I roll. It's like a skit — It's like Zoolander."
While on the carpet at the movie premiere, Chris spoke with E! News about having his brother and Cyrus supporting him at the event. "It's nice to have them together," Chris said. "They are busy, and any time the can get together is nice." However, when asked about the official engagement status of his brother, Chris added, "I don't know if they're engaged. I love them both."
According to Cosmopolitan, the couple first met back in June 2009 on the set of their movie, The Last Song, and made their red carpet debut as a couple in March 2010. The on-again, off-again pair officially split in September 2013 and were apart for nearly three years until reconciling, as People magazine reports, in fall 2016.
Cyrus recently sat down with Howard Stern and gave some insight into the pair's break up back in 2013. "I had to," Cyrus confessed. "I don't like when relationships are two halves trying to make a whole. I don't think I have that co-dependency."
She continued to explain to Stern how the breakup impacted her and allowed her to find herself, "You get time to be yourself," Cyrus explained. "You get time to grow up. I think if you're growing up attached to another person, you never get really solid as your own being."
Fans of the couple have been on cloud nine ever since the two got back together last year but, their lack of red carpet appearances have left fans hungry for more cute pictures of the pair. The photos from Tuesday's premiere show the couple together and looking happier than ever and fans' had all sorts of reactions on Twitter.
Some Fans Pointed Out Just How Adorable They Were Together
There's no denying that this is one good-looking couple.
Another Fan Looked To the Relationship As a Beacon Of Hope
To say that the past few weeks have been hard is an understatement, but at least the news that this couple is going strong can be a consolation.
One Fan Wanted To Join the Fam
Same, girl. Same.
Others Felt More Nostalgic
To see these guys come together as just two crazy kids, make it past everything they've been through, and still find each other will make anyone have feels.
Other Fans Just Rejoiced Over the Fact That the Couple Is Back Together
The pair has been back together for over a year now but it is not lost on fans how lucky they are that they reconciled.
Cyrus has yet to offer a reason for why she broke her own red carpet ban (it's possible she just wanted to show up to support Chris) or if she will appear on any other carpets in the near future, but judging by what fans were saying on Twitter, they are happy she decided to break her own rule, even if it is just this once. Cyrus and Hemsworth have been pretty private about their relationship since reuniting and the red carpet they walked on wasn't even for a movie that either one of them was in but, the photos of them together were so adorable that they caused all eyes to be on them.