Photos Of The DeploraBall Protest Show The Tension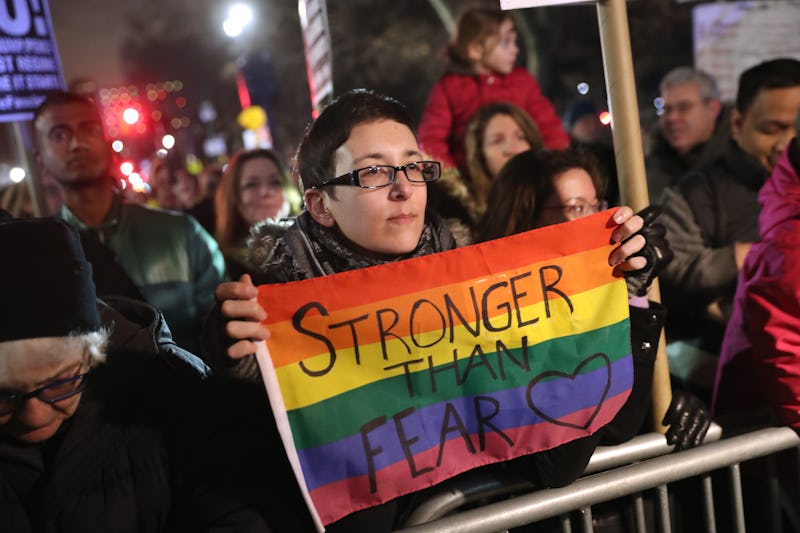 John Moore/Getty Images News/Getty Images
On inauguration eve, both Donald Trump supporters and protesters practiced for the big day by attending (or demonstrating against) the "DeporaBall." That's right, there was a celebration of Trump supporters named after the comment former presidential candidate Hillary Clinton made calling them a "basket of deplorables." And the photos and videos from the DeploraBall protest showed that there are deep emotions running on both sides.
Held at the National Press Club, the DeploraBall calls itself "the biggest meme ever." The website claims Trump supporters were insulted and harassed for holding views unlike the "elites," and that the DeploraBall was to celebrate the, ah, "historic" event of Trump's win. The events are for "the happy warriors who, without byline or book contract, advanced liberty across the country and the world via blogs, social media, guerrilla art, music, video, and good old-fashioned hard work," the website reads.
But like the DeploraBall attendees wanted a chance to celebrate, the protesters who are against what Trump stands for also wanted a chance to make their voices heard. This meant inauguration eve was as contentious as inauguration day is sure to be. Here's a look at the tensions that flared on Jan. 19 as the nation awaited the swearing in of Donald Trump.
A Large Showing
A Special Guest
Scuffle Between Sides
A Prepared Protest
Streaming Live
The Elephant In The Room
What It's Like
Police On Standby
"No Nazi USA"
What They're Chanting
A Pointed Pun
Bottles Being Thrown
Putting Out Firecrackers
Something's Set On Fire
Another Look At The Scene
The DeploraBall protests were just the start of inauguration weekend, and demonstrations like these are sure to continue.