Terrifying Photos Of The LIRR Train Crash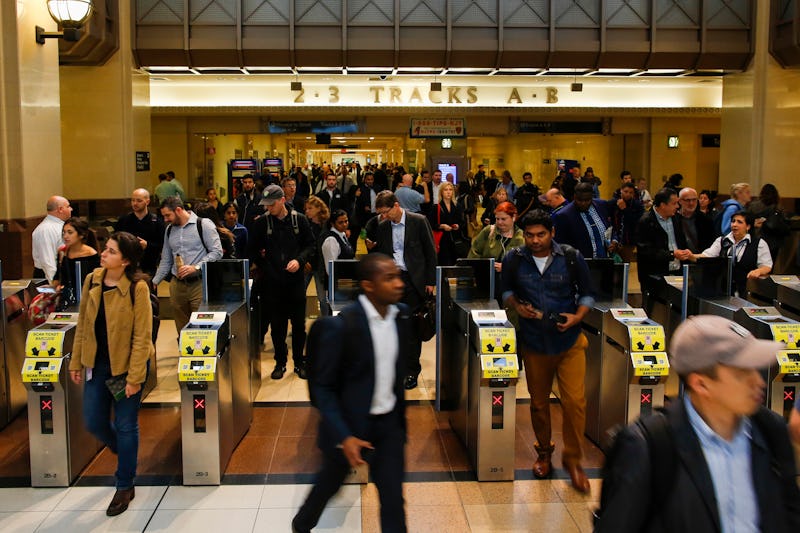 Eduardo Munoz Alvarez/Getty Images News/Getty Images
A commuter train traveling from the suburbs of New York City toward the city center derailed during peak hours Wednesday morning, injuring approximately 76 people. The Long Island Rail Road, one of the most heavily trafficked trains in the world, jumped the tracks at the Atlantic Avenue station in Brooklyn around 8:20 a.m., ensuring thorough social media documentation due to the unfortunate timing. Photos of the LIRR train crash are especially scary for the millions of Americans who rely on public transportation like the LIRR every day.
Current reports indicate that the train failed to stop properly as it pulled into the Atlantic Avenue station, resulting in a collision with part of the platform. According to the NYC Office of Emergency Management, the train was traveling at low speed when it hit either the platform or a bumper, causing it to then run slightly off the tracks. The train's slowing speed and relative containment within the station likely helped keep the number and severity of injuries sustained in the accident relatively low — according to Governor Andrew Cuomo, who arrived shortly after the derailment to investigate the scene, the worst injury was a broken leg. Had the train been on open tracks at high speeds, like the LIRR train that derailed in October, the situation could be much worse. Still, these photos are every New Yorker's worst nightmare, and a scary reminder for the millions who use similar commuter trains every day.
The Aftermath
Every Commuter's Worst Nightmare
The Damage
Governor Andrew Cuomo Showed Up To Inspect The Scene
This derailment is the latest in a series over the last several years to plague the Metropolitan Transit Authority, which operates all commuter services in the New York City area. Although some accidents are to be expected with the millions of trains and commuters using the city's hundreds of platforms each year, the news of each derailment can erode faith in the vital transportation provider. Maintaining the public transit system's reputation for safety and reliability is paramount to a successful economy in New York, but photos like these can make it difficult for commuters to trust in the trains. Luckily, no one died Wednesday morning and none of the injuries sustained have been reported as life threatening. Yet accidents like these are a reminder of how much still must be done to ensure fail-safes in transportation infrastructure, so that these dangerous and costly situations don't happen again.