Um, The "Shirtless Tonga Guy" Says He Already Has A Few Modeling Gigs Lined Up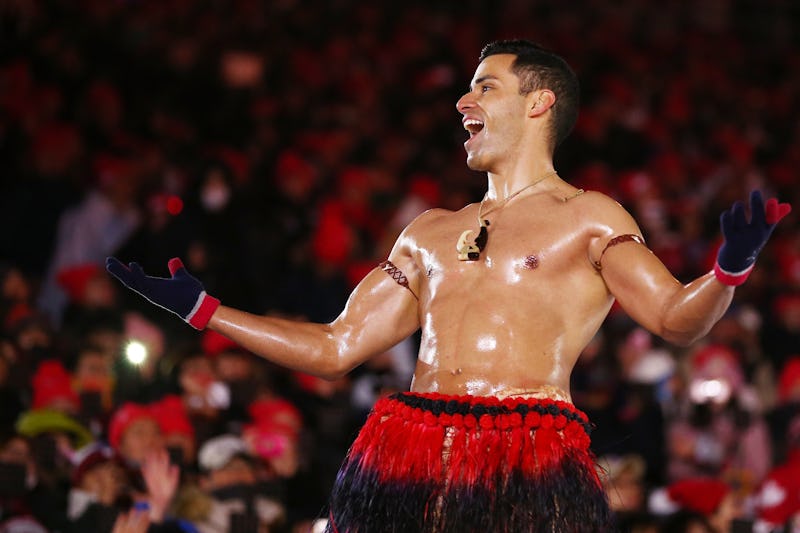 Dan Istitene/Getty Images Sport/Getty Images
In a plot twist everyone saw coming, the glistening pecs that stole our hearts during not one, but two Olympic Games, will morph into their final form: the pecs of a male model. That's right — the shirtless Tongan guy of international Internet fame told TMZ on Tuesday that he will embark on a modeling career now that the Olympics have finished up. If you already miss the influx of rippling muscles that graced our television screens for the past two weeks, this should tide you over until 2020.
For those more interested in his specs than his pecs, the shirtless Tongan guy is known by another name when he's not hypnotizing audiences with his greased-up chest. Pita Taufatofua made his first international appearance at the Rio Olympics in 2016, when he competed in Tae Kwon Do. During the opening ceremonies, he skyrocketed to fame when he carried the flag of Tonga clad in nothing but a necklace, tupenu, and a light slathering of oil. Naturally, the Internet responded with heaps of adoration for his rock-hard abs, and footage of the flag bearer during the ceremony went viral. (Something tells me Tae Kwon Do's audience also tripled in size that year.)
Although he lost in the first round against Iranian athlete Sajjad Mardani, Taufatofua's time in the spotlight was far from over. Later that year, he announced his intentions to compete as a cross-country skiier in the 2018 Winter Olympics, and sure enough, he managed to qualify for PyeongChang, where he was the only athlete to represent Tonga.
Once he was at the Olympics, Taufatofua proved that he knows what the people want. (Spoiler alert: It's to see his abs.) Even though the Winter Olympics are, obviously, pretty chilly — according to the New York Times, temperatures during the opening ceremony were around 28 degrees — he didn't bundle up like the other athletes. For the opening and closing ceremonies at PyeongChang, Taufatofua went shirtless once again. He may not have won any medals, but he won the collective heart of the Internet once again.
Luckily for his fans, we may not have to wait until the Summer Olympics in 2020 to bear witness to his physique. On Tuesday, TMZ caught the athlete (who happened to be wearing a shirt this time) at the Los Angeles airport. When they asked him what his plans were after the Olympics, Taufatofua said he may end up modeling.
"I've got a few things lined up. I've just got to see what eventuates," he told the reporter. "But at the end of the day, it's what can I do with it to encourage other people to do something positive in their life. I mean, I'm a happy person regardless." He added that he would prefer to work with brands that honor "social responsibility" and make their wearers feel better about themselves. Someone get me some smelling salts, because I feel a swoon coming on.
So he may not have a concrete modeling gig lined up, but Taufatofua is open to the possibility. Given how many athletes end up modeling or representing brands after they compete in the Olympics, I wouldn't be surprised to see Taufatofua's chiseled face (and biceps) on a billboard next year.
By the way, if you're wondering how Taufatofua managed not to freeze to death during the Winter Olympics, Insider has the answer. Apparently, his coach came up with a brilliant plan to keep a bag of warm clothes nearby. When the camera was on the athlete, he was the shirtless hunk we all know and love. Once it moved away, the coach handed Taufatofua layers to put on until the camera returned.
Now that is commitment to the bare-chested lifestyle. Clearly, Taufatofua is down to become international eye candy. All that's left is for a brand to give him the opportunity.