Pizza Hut Just Made Everyone's Dreams Come True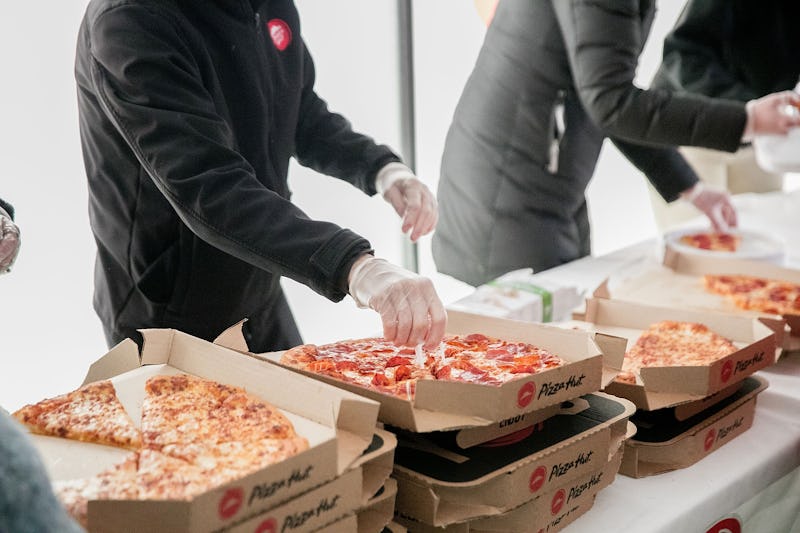 Jeff Schear/Getty Images Entertainment/Getty Images
Some days, you're committed to treating your body like a temple and filling it with kale and avocado toast and vitamins — and some days, you're willing to commit a mild to moderate crime for just one slice of pizza. Well, pizza thieves, someone in Britain has been looking out for you: Pizza Hut UK has debuted a mac 'n' cheese pizza. In other news: I'm starting a GoFundMe for across-the-pond delivery. Please donate.
In an announcement on Mon., Jul. 10, the pizza franchise introduced a limited run of two new pies: "The Classic One" and "The BBQ One." Although it's unclear what's "classic" about mac 'n' cheese pizza, I'm hardly complaining: with a béchamel base (think white sauce), macaroni, cheese sauce, triple cheese blend and crispy onions, this bad boy is the ultimate treat. Oh, and did I mention that it's a Stuffed Crust? Heck. Yeah. The BBQ One replaces white sauce with a barbecue base and adds a li'l barbecue drizzle on top of the mac 'n' cheese. I can't. My heart. It's stopping, partially from the pure decadence of this pizza but mostly because if this had debuted in the U.S. while I was in college I would have eaten three to four times a week.
I am in love.
Although Pizza Hut is one of those franchises that feels decidedly American, the Wichita, Kan.-based chain actually hopped the pond in 1973. Today, Britain hosts more than 700 Pizza Hut locations, and Pizza Hut UK is apparently responsible for the creation of both Stuffed Crust and Cheesy Bites. Which... again, feels so distinctly marketed at the American consumer? I guess two can play this game of "how many things can I cover in cheese and call a 'pizza'?"
For British readers and pizza-minded tourists, one of these mac 'n' cheese treats runs about £21.95 (approximately $28 USD). But can you really put a price on love?