Planned Parenthood's Federal Funds May Be Cut Soon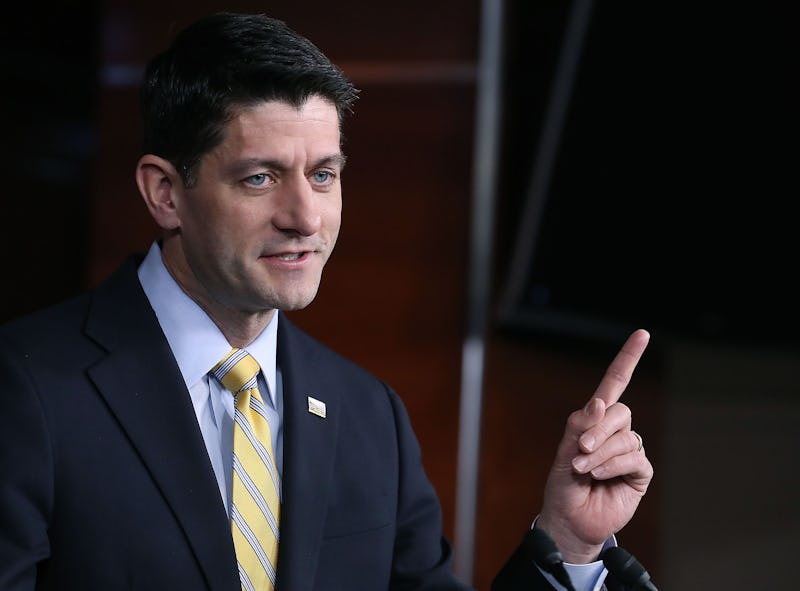 Mark Wilson/Getty Images News/Getty Images
According to House Speaker Paul Ryan, Planned Parenthood could lose its federal funding as soon as next month. In a news conference Thursday afternoon, Ryan said, "Planned Parenthood legislation would be in our reconciliation bill." The bill Ryan was referring to is part of Congressional Republicans' efforts to undo the Affordable Care Act.
The bill could be passed fast because the reconciliation procedure allows the Senate to bypass a filibuster. Instead, the bill's approval depends on a simple majority, instead of the traditional 60-vote supermajority in the Senate.
With Republican majorities in both the House and the Senate, the reconciliation bill is expected to pass next month, and that could be devastating for Planned Parenthood. The nonprofit, devoted to providing reproductive health services, estimated that it may lose up to 40 percent of its funding if such a bill becomes law, according to the Washington Post.
Since the initial passage of the Hyde Amendment in 1976, it has been illegal for federal funds to be used to cover the cost of abortions. However, Planned Parenthood has received federal funding for the many other services it provides, including mammograms, pap smears, UTI and STI treatment, and contraception counseling. According to its website, just 3 percent of all of Planned Parenthood's services involved providing abortions.
Planned Parenthood has denounced the Republican-led move to repeal Obamacare, and with it strip the nonprofit of its federal funds. "So let's call this attack what it really is: An attempt to shut down a health care provider for political reasons," read one of many tweets responding to the effort on Planned Parenthood's Twitter account.
Leading Democrats have been quick to criticize the move. Vermont Sen. Bernie Sanders tweeted, "House Republicans announced today that they will again attempt to defund Planned Parenthood. What an outrage. We need to fight back."
Senator Pat Murray of Washington state also tweeted that Planned Parenthood is "critical to the millions of patients who have trusted it for STD screenings, HIV tests, birth control, & more—for over 100 years."
Planned Parenthood self-reported receiving $553 million in federal funds in 2014. Cecile Richards, president of the organization, met with Democratic legislators on Capitol Hill Thursday, and vowed to fight the Obamacare repeal and the defunding effort. In a press release, Richards said:
Defunding Planned Parenthood is dangerous to people's health, it's unpopular, and it would leave people across the country without care. Two and a half million women, men and young people -- nearly half of whom are people of color -- come through our doors every year for lifesaving care like cancer screenings, birth control, and STI and STD tests, and they cannot afford to have basic reproductive health care attacked. Planned Parenthood has been here for 100 years and we're going to be here for 100 more. Women and men in this country won't let politicians like Paul Ryan and Mike Pence take us back decades.
In a press release, Kelley Robinson, who serves as the Deputy National Organizing Director of the Planned Parenthood Action Fund, said:
The fight starts today. Planned Parenthood health centers serve 2.5 million people annually. If Mike Pence and Tom Price had their way, millions of people across the country would be stripped of their access to basic health care.
In December, Texas booted Planned Parenthood from its state Medicaid plan. The move could potentially cost Planned Parenthood $3.1 million in funding and threaten the 11,000 low-income women in the state who rely on the organization for health services, as reported in the Texas Tribune.
In an interview with Rolling Stone, Richards called the Texas attack on Planned Parenthood "a cautionary tale for the rest of the nation." She was spot-on.