This Denim Thong Was Totally Made For Festival Season & Twitter Actually Isn't Mad About It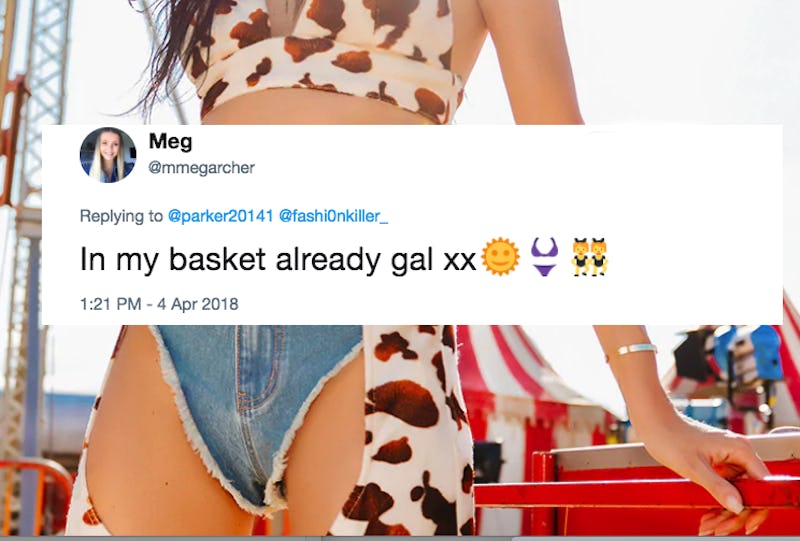 Pretty Little Things
Out-of-the-box denim trends are one of those things you love to hate, where designers pitch a questionable design and fashion lovers raise a brow at the weirdness of it all. But there's one denim look that has recently come out that's getting as much love as it is hate, much to the surprise of everyone. British fashion retailer Pretty Little Thing released a denim thong for festival season, and Twitter actually isn't too mad about it.
Dubbed the "Mid Wash Denim Knicker," the thong-shorts cost £15.00, or about $21, making it an affordable festival pick. The product description reads, "Dare to wear these fierce denim knickers girl. Featuring a denim material in a seriously flattering high rise style. Team these with some killer chap trousers and matching bralet for a show-stopping festival outfit that is gonna get you noticed for all of the right reasons."
Last year, ideas like clear panel mom jeans got people sneering. I mean, imagine the sweat rash from the plastic chafing against your skin. Clear jeans took the idea of plastic wrap and stuck a $50 price mark on it, while triple waisted jeans made you look like you were trying to avoid a baggage fee at airport security. All of these looks got a barrage of Twitter comments and jokes, where people poked fun at the attempt at creativity.
This festival season's denim thong come in a size range that spans from 4-16. But the item has proven to be so popular that it sold out. There are going to be a lot of denim-thong-wearing people out in the festival fields this year, so prepare to see plenty of cheek this summer.
Naturally, Twitter had a lot of thoughts about this. Some people weren't on board with the chopped up shorts-turned-underwear, wondering why the brand decided to take their denim line in this direction.
Others just couldn't see themselves paying good money to sport a thong in public.
Some were worried about the tan lines that would happen with such a piece. But when you actually think about, it would give you less of an offensive farmer's tan than real shorts.
But even though there were naysayers, there were just as many fans drowning out their protester's anti-panties mentality.
Some people admitted that at first they were ambivalent about the look, but the more they saw people hating on it on their timelines, the more they have grown to like it.
At certain points, friends started to tag each other as a joke, but it turned out that a lot of people were kind of tempted to buy a pair for their summer concert look after seeing them. "Honestly I'm really tempted to get a pair :/" one wrote.
Others joked that they were a little too long for their tastes, wishing there was less to the design.
And some just straight up loved them.
While unexpected, Twitter has seemed to embrace these denim thong pants — now lets hope that the brand brings them back in stock so more people could enjoy them.