Primark's New Alice In Wonderland Line Will Have You Grinning Like The Cheshire Cat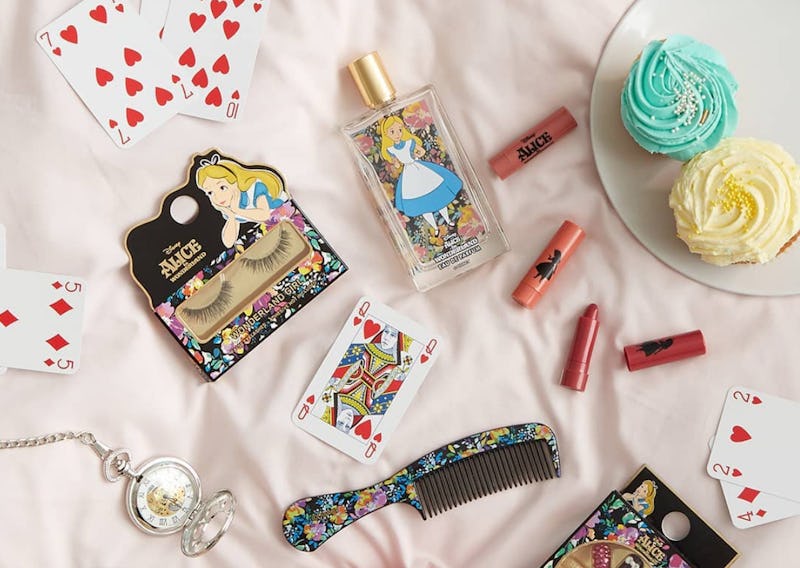 Primark/Twitter
Disney is always having a moment, I'm sure you'll agree. But Alice in Wonderland in particular is having a real moment right now with brands releasing collaborations left, right, and centre. Primark's Alice in Wonderland beauty collection, however, may just beat the rest.
The new range has been kept very quiet with Primark tweeting one photo of it on Tuesday. The picture shows an Alice-appropriate tea party laid out with several items including false eyelashes, a floral printed comb, a bottle of perfume, lipsticks in three shades, and a set of false nails that appear to have been inspired by none other than the Queen of Hearts.
The affordable high street brand announced that the collection will be in stores at the beginning of August with prices starting from just £3. Primark is still yet to confirm every item in the range but I wouldn't expect anything to cost you more than a tenner, making it ideal for any Disney fan on a budget.
In its Twitter post, Primark included the hashtag #CrueltyFree, suggesting that the range will not have harmed animals in any way. This comes with the recent news that Primark's own cosmetics range — which encompasses make-up, skincare, and haircare and is free from any form of animal testing — was awarded gold standard certification by Cruelty Free International.
Primark also revealed further items from the range in another tweet. So if you've always wanted to look like the Cheshire Cat when in the shower or while sleeping, you're in luck as the brand is selling a pink grinning shower cap and matching eye mask for £2.50 and £3.50 respectively.
Of course, lots of people are super excited by this latest Disney collaboration. "Oh my I need this in my life!" one fan tweeted. "All the packaging is too cute!!! I need the lipsticks!" said another.
Any diehard Primark fan will know that this is the retailer's second Alice in Wonderland collection to be released this year alone. In February, an entire accessories range hit stores. The collection featured several £5 purses in the shape of Alice's famous potion, the Cheshire Cat, and the Mad Hatter.
Primark is far from the only brand to take on the Lewis Carroll story. In May, Cath Kidston launched an Alice in Wonderland collection which saw the cartoon character printed on clothing, bags, and homeware. Naturally, that one was a little more expensive than Primark's offering.
US-based brand Flawless Lighting also recently released an entire brush set dedicated to Alice and co. The golden make-up brushes feature a different character or motif from the animated film and cost just over £30 for a set of five.
If you're more into OG Mickey Mouse, head to Primark for more Disney goodness. The store has just announced an entire womenswear range celebrating 90 years of the cartoon character.
The range is slightly more suited to winter with sweatshirts, tracksuits, and puffer coats all making an appearance. Prices start from £3 for a pair of Mickey-inspired earrings and go up to £25 for the coat.
It's likely that Primark x Disney could become a recurring thing. Hold onto your purses because being a Disney obsessive just got expensive.