Prince George & Princess Charlotte Looked Adorable At Pippa Middleton's Wedding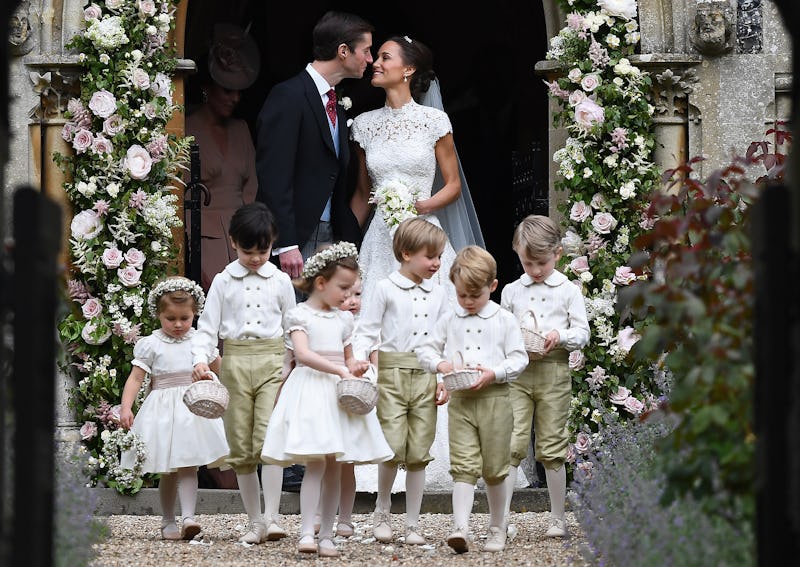 WPA Pool/Getty Images Entertainment/Getty Images
Pippa Middleton might have looked stunning for her wedding but two of her guests almost showed her and her new hubby up. No, I'm not talking about the Duke and Duchess of Cambridge — Prince George and Princess Charlotte attended Middleton's wedding in matching white outfits that were too cute. They also played a big role in the ceremony. The two looked sharp from head to toe and shared some heart-warming moments that you have to see.
Although her sister Kate and husband Prince William weren't technically in Middleton's wedding, two other royals did walk down the aisle. Prince George and Princess Charlotte were cast as page boy, which is similar a ring-bearer, and bridesmaid, respectively. They were accompanied by four other children for their aunt's big day. As Bustle previously reported, it's not uncommon for children to be bridesmaids in British culture.
George wore an adorable little white and gold button-down shirt with matching knee-high pants and white stocking. Charlotte matched the other bridesmaids in a white dress with a big, blush-colored bow on the back, plus matching pink shoes and a flower crown. The two were in charge of carrying a heart-shaped Baby's Breath bouquet down the aisle, which was almost too adorable for words.
If you're looking to dress up your little boy or girl to match the brother-sister combo, then you're in luck — the adorable little white dresses and khaki-colored pants that the mini-royals were wearing came from Pepa & Co, according to E! News. The exact replicas are not currently on the website, but there are a whole lot of other looks from the Spanish label that come close.
Like I said, Kate wasn't in the wedding, but she did match her blush-colored Alexander McQueen dress to the bridesmaid dresses. She did play a big role in getting the page boys and bridesmaids ready to walk down the aisle — this photo of her and the children before the wedding has become one of the most memorable moments from the day.
Honestly, I don't know who looked better. Yes, it was Middleton's day, but these kids are so darn cute! I'm not the only one who thinks so, either.
They really are!
Too cute for words.
Tears of joy all around.
And so well-behaved!
GOAT.
Agreed.
I feel the exact same way.
Who's day was it again? Just kidding, but Prince George and Princess Charlotte did look absolutely adorable.