Prince Louis Wore The Exact Christening Outfit His Siblings Wore When They Were Baptized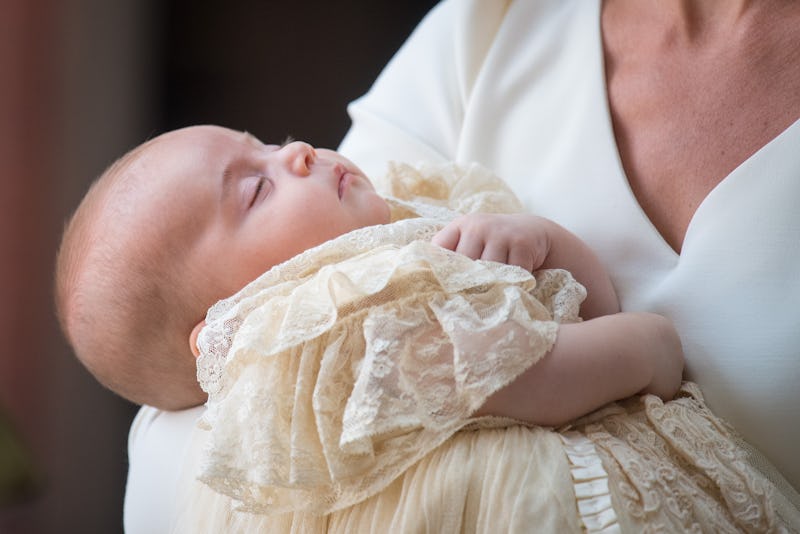 WPA Pool/Getty Images Entertainment/Getty Images
Prince Louis was just baptized on July 6 at the Chapel Royal in St. James's Palace, making him an official part of the Church of England. And while there were big fashion-hitters at the occassion, including his mom, Duchess of Cambridge Kate Middleton, and aunt, Duchess of Sussex Meghan Markle, what Prince Louis wore to his baptism was big news. He was, after all, the star of the show.
But instead of splurging on a new ooutfit, Prince Louis carried on tradition and wore the exact same outfit that his siblings, Prince George and Princess Charlotte, wore to their own christenings.
But these aren't just family hand-me-downs. Instead, the gown holds a long family history spanning back decades if not centuries. The lacy white gown that he donned was made back in 2004 on the request of Queen Elizabeth II, and it was created as an exact replica of a baptismal gown used for royal christenings since 1841. Meaning, the dress style has been in the family for 177 years.
Made from satin and Honiton lace — which was made popular in 1840 by a young Queen Victoria when she requested to have it decorate her white wedding dress, sparking the white wedding dress trend — the robe was made to mimic the original baptismal gown exactly.
The original christening dress from the 19th century was first commissioned by Queen Victoria for her first daughter and child, Victoria Adelaide Mary Louisa, to wear on her own christening. Even more memorable, the Princess Royal was baptized in the Throne Room of Buckingham Palace on her parents' first wedding anniversary, and the frock was inspired by the Queen's own wedding dress.
And just like the Queen's wedding gown, it was designed in mind with helping the struggling industries of England. The reason why the queen regnant went with a white wedding dress instead of an elaborate fur trimmed, bejeweled, dyed number — which was the norm for royals back then — was because of failing counties. Lace artisans that have been honing their craft for centuries were going out of business thanks to the Industrial Revolution and the introduction of machines. Specifically, Spitalfields in London where silk was made, and Honiton in Devon where the lace was handmade — and predominantly hired women — couldn't keep up with the demand and efficiency of factories and were beginning to close up shop.
Knowing that her dress would be photographed and written about widely and across continents, the Queen believed that if she incorporated the lace she could save the industry and bring its people much needed business. Her plan worked, and so she did the same with her baby's christening gown.
And in case that wouldn't be enough to help put Devon and Spitalfields back in front of the public eye, the Queen also wore leftover lace from her wedding on her own christening outfit dresses, with the intention that would catch the press' eye.
The original frock was worn by over 60 royal children, and five monarchs have been baptized in it, making it a historically significant article of clothing. This includes Queen Victoria's and King Albert's first son, who was born right after Victoria and eventually became Edward VII, as well as Queen Elizabeth herself.
The dress is a traditional, lace-heavy number, featuring not only cap sleeves, but also a long hem with layers in it that allow one to show off the intricate and delicate lacework.
You can see Prince George wearing the dress first in October 2013, showing off the ornate, Victorian-like aesthetic.
Then Princess Charlotte had her moment in July of 2015.
One can be sure that this dress will see another hundred years worth of royal babies, and document history just like the last.