Prisons In Hurricane Florence's Mandatory Evacuation Zones Aren't Moving Inmates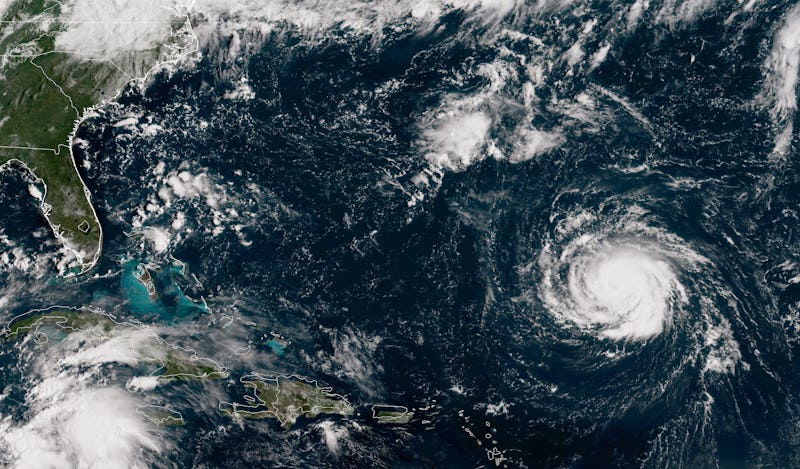 Handout/Getty Images News/Getty Images
As the East Coast braces for Hurricane Florence, some prisons in mandatory evacuation zones aren't moving inmates out of the area, Mother Jones reports. Officials warned more than one million people in North Carolina, South Carolina, and Virginia to go further inland when Florence was upgraded from Category 3 to 4 earlier this week. Yet at least two prisons and multiple city jails haven't ordered staffers to transport inmates to a different location.
"We're not going to gamble with the lives of the people of South Carolina," Gov. Henry McMaster said at a Monday news briefing. "Not a one."
South Carolina hasn't evacuated a prison during a hurricane since 1999, Vice News reports — and that stat could remain unchanged despite Florence's threats. The roughly 650 men currently held in the MacDougall Correctional Institution in Ridgeville, South Carolina — which lies within one of five counties McMaster placed under mandatory evacuation order Tuesday morning — won't be evacuated. South Carolina Department of Corrections spokesman Dexter Lee told Vice News that corrections officers will also have to remain in the county to work their scheduled shifts.
"We're monitoring the situation," Lee told Vice. "Previously, it's been safer to stay in place with the inmates rather than move to another location."
Ridgeland Correctional Institution in Jasper County also won't be evacuated, as the governor lifted the mandatory evacuation order for the county during a Tuesday press conference due to changing forecasts. The State noted that an inmate died at Ridgeland Correctional Institution when Hurricane Matthew hit the state in 2016, but Nikki Haley — who was South Carolina's governor at the time and now serves as U.S. ambassador to the United Nations — said the death wasn't related to the storm.
Two states over, multiple Virginia city jails located in mandatory evacuation zones plan to wait out the storm, according to Mother Jones. About 1,100 inmates will stay in the Norfolk city jail, prompting the sheriff to order 3,200 gallons of fuel and two weeks' worth of food and medicine, as well as print out inmates' medical records in case the power goes out. Other jails that don't plan to leave the evacuations zones include the Chesapeake City Jail, which also holds roughly 1,000 inmates, and the Portsmouth City Jail, which holds about 240 people, the magazine reports.
"It is unacceptable for a state to gamble with the lives of those in its care," the Southern Poverty Law Center tweeted on Tuesday.
Virginia officials did evacuate the Indian Creek Correctional Center on Monday in response to the governor's mandatory evacuation order, Vice reports. Though prison officials explained that it's expensive and tricky to move hundreds of inmates, they ultimately decided that it was necessary in this case.
"We're moving inmates and staff because of what we feel is safety concerns based on the information we have. It's safer to move operations away from the storm," Jerry Higgins, communications officer for prisons at North Carolina's Department of Public Safety, told Vice.
The risks involved in evacuated prisons aren't small — in 2017, 13 inmates escaped from a Puerto Rican prison when a facility housing 900 people was evacuated during Hurricane Maria, according to Vice. But Texas inmates who stayed put during Hurricane Harvey reported overflowing toilets, as well as food and water shortages.
Meteorologists expect Hurricane Florence, which the National Weather Service predicts could be "the storm of a lifetime," to make landfall early Friday morning.