Priyanka Chopra's Wedding Dress Was Designed By Ralph Lauren & The Reason Why Is So Romantic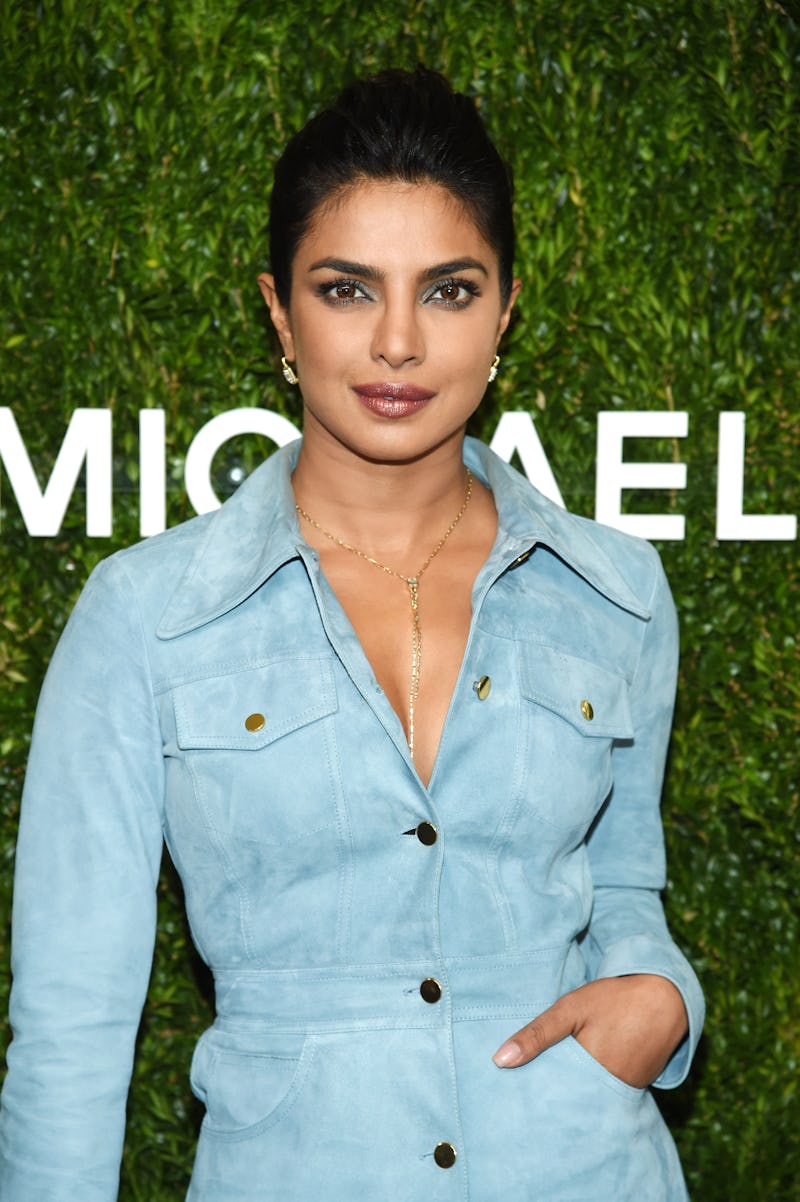 Dimitrios Kambouris/Getty Images Entertainment/Getty Images
When it comes to weddings, there's a lot to be excited about. What kind of cocktails will be served in mason jars, what kind of flowers will decorate the tables, and what will the dessert table hold? But the number one question that people ask is what the bride will wear, and Priyanka Chopra's wedding dress won't disappoint. It was just announced in an interview with Vogue that Ralph Lauren will design Chopra's wedding dress, and there is a lovely story involved behind why the iconic designer was selected. Chopra is the cover of Vogue's January issue, and so details about her upcoming wedding were touched on — including who she has entrusted to create her momentous wedding dress.
While Lauren designs everything from ready-to-wear collections to handbags, "wedding dress maker" is not a regular part of his resume. Lauren has only made three wedding dresses in his career: one for his daughter, one for his daughter-in-law, and one for his niece. Which means that so far his wedding dresses were a gift of love and have been a family affair. But he went to Chopra personally with sketches, wanting to be part of the momentous day.
But Lauren's involvement in the couple's story doesn't begin with this wedding dress. In fact, he invited Chopra and Nick Jonas to the 2017 Met Gala together, not knowing that they were already engaged in a month's long texting flirtation.
The two took Lauren up on his offer, and they walked the red carpet together as Lauren's guests, wearing custom outfits made by the designer and tackling their first public appearance together. (They decided to meet up for the first time a week prior to the gala, grabbing drinks at the Carlyle hotel in New York.)
The Ralph Lauren wedding dress won't be the only outfit change during Chopra's and Jonas's wedding celebration, which will take place in Jodhpur, India. She has mentioned that she will probably have several gowns (and hinted in the Vogue interview that more than one might be designed by Lauren himself,) while Jonas will dress traditionally, wearing a turban, sword, and will ride in on a horse. They will have both an Indian and a Christian wedding, giving her plenty of opportunity to switch up her frocks.
While no sketches have been leaked yet, Chopra hinted about what her gown might look like back in October, giving fans clues on what to expect. While speaking with ET at the Golden Heart Awards earlier last month, she mentioned that she had two specific points of criteria.
"I always believe that anything and everything I wear, I have to be comfortable and cute," Chopra explained. "So it's going to be cute and comfortable."
For Chopra's Indian wedding ceremony, it is expected that she will wear Indian designers that are the usual go-to for Bollywood stars, like Sabyasachi and Khosla Jani. But nothing has been confirmed yet about all her other outfit options. Whatever she picks, it will be a beautiful wedding for a gorgeous bride.