Puerto Rico's Governor Ripped Trump For Escalating His Feud With The San Juan Mayor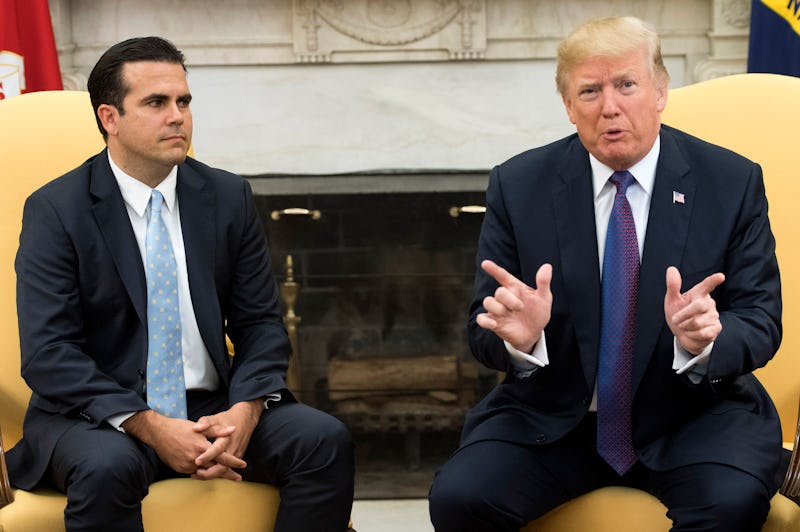 Pool/Getty Images News/Getty Images
President Trump is feuding with Puerto Rico officials again. In a prerecorded interview aired on Monday, Trump said he was against the U.S. territory's statehood as long as San Juan Mayor Carmen Yulín Cruz was in office; they initially clashed during Trump's ineffectual response to Hurricane Maria. Now, the Puerto Rican governor has waded into the fight, defending Cruz. In a statement on Monday, the governor criticized Trump for dismissing Puerto Rican statehood as a possibility.
"With the mayor of San Juan as bad as she is and as incompetent as she is, Puerto Rico shouldn't be talking about statehood until they get some people that really know what they're doing," Trump had said in an interview with Geraldo Rivera on Cleveland's WTAM, according to The Hill.
Then, Cruz responded to his comments. "Trump once again accuses me of telling the truth. Now he says statehood won't arrive because of me," Cruz tweeted on Monday morning.
Now, Ricardo Rosselló is calling Trump's consideration of Puerto Rican statehood "unfortunate" and "insensitive."
"The President said he is not in favor of statehood for the people of Puerto Rico based on a personal feud with a local mayor. This is an insensitive, disrespectful comment to over 3 million Americans who live in the U.S. territory of Puerto Rico," Rosselló said in a statement.
In June 2017, 97 percent of ballots cast in the non-binding referendum were in favor of statehood, according to The New York Times. (The newspaper also reported that only a small portion of registered voters cast ballots: 23 percent.)
In November 2012, 61 percent of ballots were cast in favor of statehood for Puerto Rico, according to CNN.
Rosselló's statement specifically mentioned voting and the importance of democratic representation for Puerto Ricans. "Equality for the U.S. citizens of Puerto Rico is the biggest civil rights issue in the U.S. Americans in the island cannot vote for their President and do not have voting representation in Congress yet are subject to federal laws. This undemocratic relationship has gone on for over 100 years," Rosselló said in a statement.
In June, Trump joked with Puerto Rican leaders that statehood could be achievable feat if they could guarantee the election of Republican senators. "If Ricardo can guarantee us two Republican senators it can be a very quick process," Trump said, according to NBC News.
Despite Trump's jokes, statehood has yet to make progress on his legislative agenda.
Rosselló also said Puerto Ricans serving in the American branches were should have the same democratic rights as their fellow service members. "Since World War I, Puerto Rican soldiers have fought hand in hand in all major military conflicts on behalf of our nation, the U.S., yet our servicemen and women have no say in the government that sends them to war and cannot elect their Commander in Chief," Rosselló said in a statement.
Rosselló's statement closes with an invocation of Trump's coming United Nations address on Tuesday, according to Axios.
"How can the U.S. make the case for democracy at the United Nations this week, when they have under their flag the most populous colony in the world? I urge all political leaders in the nation to define their views towards our quest for equal treatment for the U.S. citizens in Puerto Rico," Rosselló said in a statement.