Queen Elizabeth Reportedly Has Someone On Staff Who Breaks In Her Shoes Before She Wears Them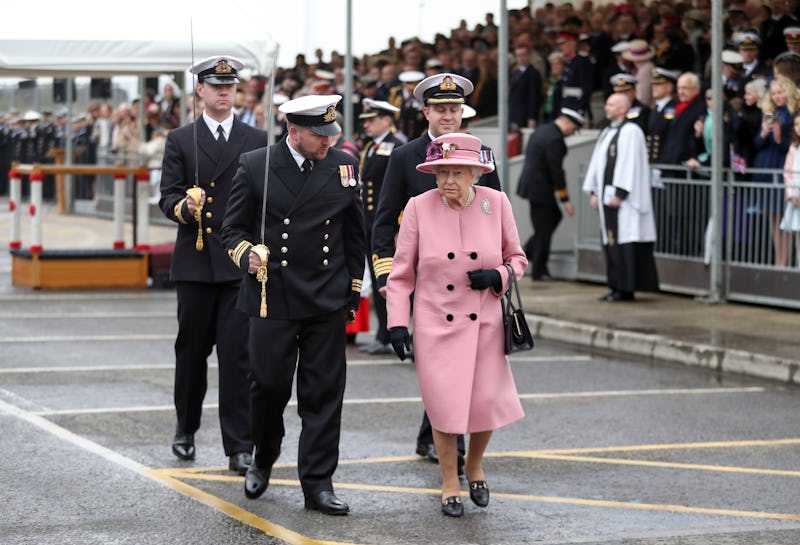 WPA Pool/Getty Images Entertainment/Getty Images
According to There are royal fashion rules that you wouldn't imagine, but people go above and beyond to make sure the According to the Evening Standard, The Queen reportedly has someone break in her shoes before she wears them. Apparently there are major perks to being royal that you've never even though of.
It's no secret that the Royal Family has some serious shoe game. You might have even gawked over Meghan Markle and Kate Middleton's matching navy pumps. But it's Her Majesty that you should really be envious of, because hers never cause her blisters.
According to Stewart Parvin, who has designed the Queen's wardrobe for over a decade, there is someone on staff who breaks in every single pair of shoes that the Queen owns. The idea is that she should be comfortable at all times, no matter what.
"The shoes have to be immediately comfortable," Parvin told the Evening Standard in 2017. "She does get someone to wear them. The Queen can never say 'I'm uncomfortable, I can't walk any more."
Let's be honest, you would probably love that kind of pain-free shoe wearing too. There's nothing worse than wearing a pair of heels or loafers and having them bite into the back of your heels until it bleeds.
"[The Queen] has the right to have someone wear them in," Parvin added in the interview.
Queen Elizabeth has been ruling since June 2, 1953, which means people were probably breaking in her shoes from the very beginning. Let this one sink in — the Queen likely hasn't had a blister in about 65 years. No wonder she has so much fun dressing in different colors and accessories every day.
There's no word on who actually wears the actual shoes or for how long. Although the Daily Mail states that Angela Kelly, her personal assistant, has been known to wear them around to break them in as well. The Evening Standard did mention that each pair of shoes is "rigorously broken in before they end up on Her Majesty's feet."
The Evening Standard also made it sound like this is the person's sole job. While that might be a slightly painful gig, there's a good chance that it pays fairly well.
There were some specifics when looking for a member of the new royal fashion clan. According to the Telegraph, the Queen wears a size four shoe. So if you see someone stomping around the royal garden that has very small feet, you know what she's doing.
The Queen has been wearing the same shoe brand for 50 years now. According to The Daily Mail, West London shoemaker Anello & Davide made the shoes, and she calls them her "work shoes." As PopSugar points out, they look eerily similar to the Gucci ones that have become popular as of recently.
Each shoe is reportedly handmade, which apparently doesn't mean that they don't need to still be broken in. Don't think that this is just one pair though. The Daily Mail reported that she has worked her way through hundreds of identical heels in her years as Her Majesty The Queen and even has varying heel sizes depending on whether she's walking on even or uneven surfaced.
If you're looking at buying a pair for yourself — sans the royal shoe breaker-inner — you'll have to visit Anello & Davide by appointment only. You can head to the website and fill out a enquiry form or email them personally. You'll also have to take a trip across the pond to actually get them made.
There is no word on whether or not someone wear Kate Middleton's shoe around for her. I'm going tot go out on a limb here and say that the Queen is the only one that gets this kind of royal treatment.