Read Ashley Judd's Troubling Claims About Producer Harvey Weinstein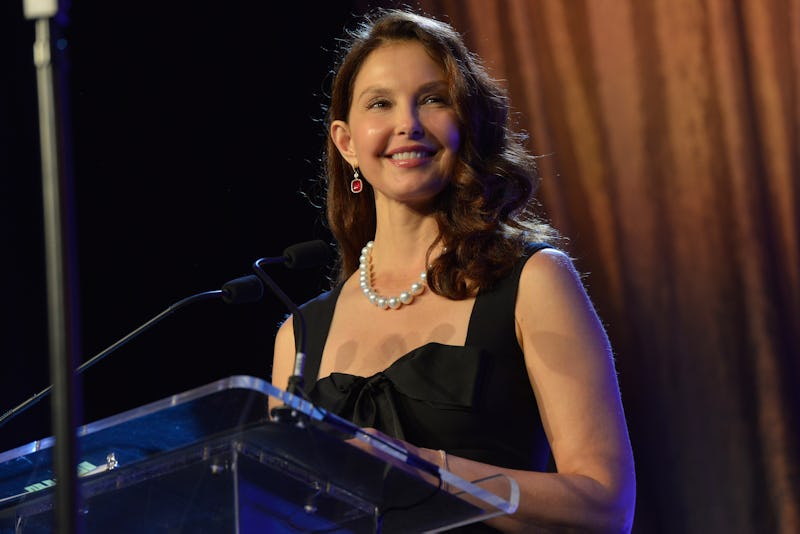 Duane Prokop/Getty Images Entertainment/Getty Images
Harvey Weinstein is a Hollywood legend, a highly influential film producer and studio executive whose career began over three decades ago. After founding Miramax Films in 1979, he soon became an important figure in Hollywood, but now, a new New York Times investigation reveals that he has been the subject of a plethora of sexual assault allegations spanning the course of his career. Included in the accusations against Weinstein are quotes from Ashley Judd, who describes an incident in which Weinstein allegedly asked her to perform inappropriate tasks in a hotel room, 20 years ago.
UPDATE 1: According to The Hollywood Reporter, attorney Charles Harder says Weinstein is planning to sue the New York Times. The statement reads,
"The New York Times published today a story that is saturated with false and defamatory statements about Harvey Weinstein. It relies on mostly hearsay accounts and a faulty report, apparently stolen from an employee personnel file, which has been debunked by 9 different eyewitnesses. We sent the Times the facts and evidence, but they ignored it and rushed to publish. We are preparing the lawsuit now. All proceeds will be donated to women's organizations."
UPDATE 2: Weinstein's lawyer, Lisa Bloom, also shared a statement with Bustle. In part, it reads,
"Harvey Weinstein and I have had many wide ranging conversations over the last year about rumors and allegations against him. He denies many of the accusations as patently false. Nevertheless, I have explained to him that due to the power difference between a major studio head like him and most others in the industry, whatever his motives, some of his words and behaviors can be perceived as inappropriate, even intimidating."
Bloom also adds, "He has been working on his temper for over ten years and is chagrined the issue still plagues him. He recognizes he needs time off to focus on this issue and has much to learn."
EARLIER: A statement from Weinstein's lawyer to the Times states, "He denies many of the accusations as patently false," but Weinstein also told the Times that "I appreciate the way I've behaved with colleagues in the past has caused a lot of pain, and I sincerely apologize for it. Though I'm trying to do better, I know I have a long way to go." Weinstein added that he will be taking a leave of absence from the Weinstein Company to deal with his issues, which he says he's been tackling for "10 years."
According to The New York Times, Judd recounted an event when Weinstein allegedly invited her to meet him at a hotel for breakfast, presumably to discuss her career. Judd claims that the incident occurred when she was in her 20s, and busy with filming the 1997 film, Kiss the Girls. Much to Judd's surprise, as she claims in the exposé, she was allegedly sent to Weinstein's room where she claims "he appeared in a bathrobe and asked if he could give her a massage or she could watch him shower."
Judd's claims describe a phenomenon that's all too common among women in the workplace who feel uncomfortable with saying "no" to people with greater power — to requests they shouldn't be asked in the first place. In recounting the alleged incident, Judd told The New York Times she thought at the time, "How do I get out of the room as fast as possible without alienating Harvey Weinstein?"
For a young, up-and-coming actor, saying no to a big name executive in the industry would be a risky move, as the potential for repercussions could be severe. Weinstein's company, Miramax, had just been bought by Disney for an amount between $60 and $80 million in 1993, and he was already one of the most influential people in the film industry. In that hotel suite, Judd allegedly mustered up the courage to deny his requests, which allegedly started off with a massage. "I said no, a lot of ways, a lot of times, and he always came back at me with some new ask," Judd claimed to The New York Times. "It was all this bargaining, this coercive bargaining."
This is not the first time Judd has alleged that inappropriate incidents occurred. In 2015, the Double Jeopardy star gave an interview to Variety in which she recounted the same alleged event mentioned in the Times piece, but kept Weinstein's name out of the piece, instead calling the unidentified man a "mogul." She told Variety that at the time she didn't quite understand what was happening in that hotel room. "It took years before I could evaluate that incident and realize that there was something incredibly wrong and illegal about it," Judd said of the alleged incident.
It turns out, Judd's claims about her time with Weinstein allegedly echoed that of some other young actors and employees who'd worked for Weinstein at the time. New York Times reporters have investigated the many allegations and found legal records, internal documents, and emails, at both of Weinstein's businesses, Miramax and the Weinstein Company, that the outlet claims backs up these claims. News broke Wednesday that Weinstein has hired a team of attorneys to handle these accusations, many of which his lawyers have reportedly previously dismissed.
Weinstein is undoubtedly a powerful force in the film industry, and the accusation that he could have allegedly used his power to manipulate and coerce women into performing sexual favors against their will over all these years is huge. For Judd and all of these alleged victims to step forward and face the risks that accusing a powerful figure of sexual assault present is a step that no woman would take lightly.
If you or someone you know has been sexually assaulted, call the National Sexual Assault Telephone Hotline at 800-656-HOPE (4673) or visit online.rainn.org.