The First Woman To Accuse Larry Nassar Spoke Out On The Kavanaugh Assault Allegation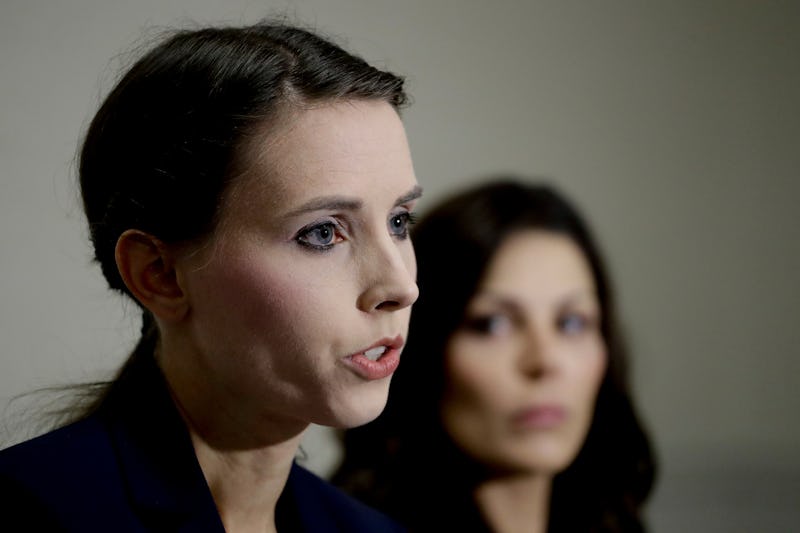 AP/Shutterstock
Another voice has chimed in about a sexual assault allegation against Brett Kavanaugh, the current Supreme Court nominee, who has denied the accusation made against him. In a series of tweets on Monday, Rachael Denhollander backed Kavanaugh's accuser, Christine Blasey Ford, writing that she personally understood the cost of coming forward.
"If my alleged abuser was named Kavanaugh, not Nassar, what would you have said to me?" Denhollander wrote on Twitter. Denhollander was the first woman to publicly accuse disgraced athletic doctor Larry Nassar of sexual abuse.
Denhollander was responding to allegations made by Ford, who told The Washington Post on Sunday that, when they were in high school, Kavanaugh sexually assaulted her. According to Ford, she was 15 at the time, and Kavanaugh was 17. Kavanaugh has repeatedly denied these accusations. "This is a completely false allegation. I have never done anything like what the accuser describes — to her or to anyone," Kavanaugh said in a statement, per NBC News.
As is often the case when a person comes forward with allegations of abuse, Ford has faced a lot of backlash, especially from those who want to see Kavanaugh confirmed. This, in particular, is what Denhollander was responding to when she began tweeting. Denhollander, who is a self-identified conservative Evangelical Christian, directed many of her comments to that community, specifically.
"For years I watched family and friends eviscerate sexual assault victims who spoke up against a candidate, team, pastor, ministry or local friend they liked, and I got the message loud and clear," she wrote. "And that showed me what they REALLY thought about abuse and what they REALLY thought about victims, when sexual abuse wasn't an easy thing to condemn. I knew it meant if faced with a choice between a survivor and their favorite 'whatever,' they'd attack the survivor."
Ford's allegations against Kavanaugh have provoked a particularly tense debate surrounding how to respond to claims of sexual abuse because of when they were made public. As of Monday afternoon, the Senate Judiciary Committee was still scheduled to vote on Kavanaugh's nomination on Thursday. And if that were to remain the plan, the whole Senate could vote on his confirmation as early as next week.
"I watched them denigrate the victim's character, motives, truthfulness, and value some political, sport or ministry goal more than the truth," Denhollander wrote on Twitter. "Completely blinded to even the possibility it could be true. It felt like a knife wound every time I saw it."
Speaking to conservatives, Denhollander contended that if they wanted to be the party to represent "family values," then they needed to also take sexual abuse allegations seriously. "Otherwise, you are part of the cultural problem," she wrote.
President Trump said on Monday that he wouldn't mind delaying the vote, if need be. "We want to go through a full process ... and hear everybody out," he told reporters, according to Reuters, reportedly adding that he wished the accusations had come out sooner.
As for Denhollander, her words of support were clear: She wants conservatives to listen to what Ford had to say. "What you do when it's in your own community is what makes the difference," she said.