A Staggering Percentage Of Staffers Who Work For House Lawmakers Are White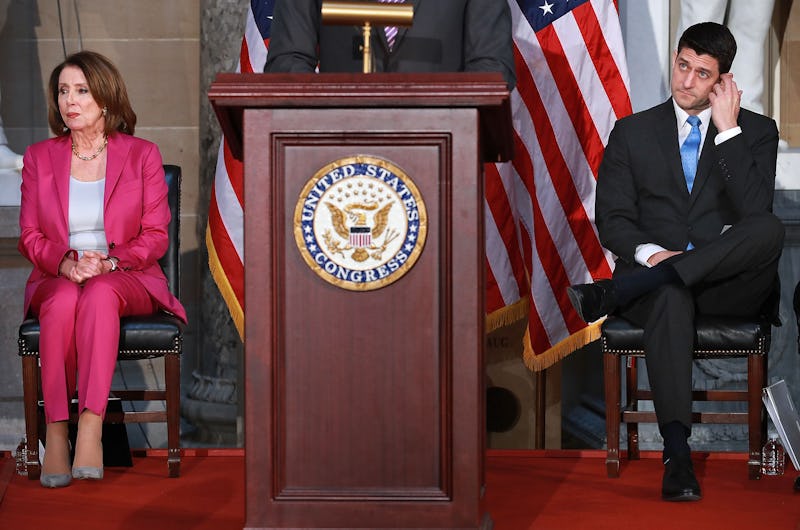 Chip Somodevilla/Getty Images News/Getty Images
There is another diversity issue facing Congress — and it's not just among the politicians. A new study by the Joint Center for Political and Economic Studies shows that House lawmakers' top aides are over 85 percent white, which is even less diverse than the lawmakers themselves. And, racial representation in Congress is a problem not solely for Republicans but one that actually transcends party lines.
The numbers are clear, compared to the U.S. population — which is 38 percent people of color — congressional aides of color make up just 13.7 percent of the total.
And of all the House members working on the hill, almost three-quarters do not have even one top staffer who isn't white. That's 313 total reps with no minority top staffer. Some 114 of those House members represent districts where a third or more of the population is a minority.
"This is not a party issue. It is not an individual member issue. This is a structural issue," Spencer Overton, the president of the center that authored the report told The New York Times. "The House of Representatives cannot effectively create public policy that benefits all Americans if the people making policy decisions do not look like all of America."
For minority women, the representation is even bleaker — at least among some groups. Of the minority staff members, women make up the majority only among black staff members, at 61 percent. Latina women are just under 45 percent of the Latina/o top staff. Among Asian American and Pacific Islanders, only 31 percent are women.
While diversity is a problem in both white Democrat and Republican offices, the numbers for Republican top staffers is slightly lower. White Democrats' top staffers are made up of less than 8 percent who are people of color, whereas among the top staff of white Republicans, just 3 percent are people of color.
A joint statement from the Congressional Asian Pacific American Staff Association, the Congressional Black Associates, the Congressional Hispanic Staff Association, and the Senate Black Legislative Staff Caucus offered to help any House member who is looking to increase the diversity on their staff.
They also expressed alarm about the report:
This disconcerting report clearly shows that members of Congress must do more to increase diversity and inclusion in their offices. The 115th Congress set a historical record for racial and ethnic diversity among Members in both chambers of Congress. It is imperative that the composition of Congressional staff reflects the changing demographics of our country.
When it comes to the House members who are most inclusive in their hiring, that designation goes to the members of the Congressional Black Caucus. In their offices, just over 63 percent of top staffers are minorities.
Hispanic and Latino members of Congress in both parties rate lower. Among Democratic Congressional Hispanic Caucus Members, just 28 percent of top office staff are Latina/o. Republican Congressional Hispanic Conference members do slightly better — 29 percent of top staff are Latina/o.
Asian American and Pacific Islander members mostly hire white staff members — some 77 percent. Just 20 percent of top staff are Asian American and Pacific Islanders, whereas 3 percent are Latina/o.
The influence on policy, which many top staff develop, is likely significant.