Read 'Bright Lines' With Bustle's Book Club This September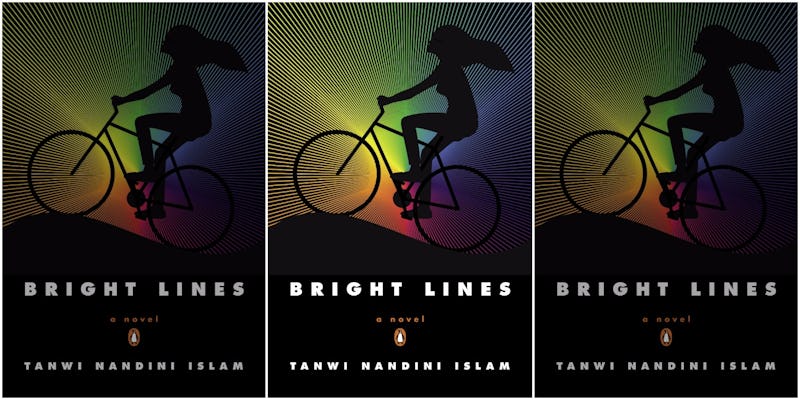 It's that time of the month! Bustle's American Woman Book Club returns in September with an all-new reading selection for your enjoyment, Tanwi Nandini Islam's debut novel, Bright Lines. This tale of love and pain follows a family of Bangladeshi-American Brooklynites as their nearly empty nest refills over the course of one summer. It's the perfect pick for Bustle's American Woman Book Club, which is all about bringing you the best, most diverse reading options.
Tanwi Nandini Islam's Bright Lines centers on the Saleems, Anwar and Hashi, as well as their daughters, Ella and Charu, and their new houseguests, a recently divorced brother-in-law and a young woman hiding from her overbearing father. Technically her aunt and uncle, the Saleems adopted Ella from Bangladesh after the deaths of her parents. Anwar and Hashi's marriage isn't doing as well as they'd hoped, but there are more important things to deal with, like the aftermath of his brother's divorce.
Returning home from college, Ella feels more out of place than ever, especially now that she must confront her not-quite-sisterly feelings toward her cousin. Charu can't wait to leave for college after the summer is over, but for the moment, she must focus on helping her best friend Maya navigate her own path to adulthood.
Bright Lines is a powerful story that weaves together an LGBTQ coming-of-age story, immigrant experiences, religious traditions, and non-traditional family life. But you'll have to grab a copy for yourself to see just how poignant Islam's debut novel is.
Bright Lines by Tanwi Nandini Islam, $10, Amazon
You can follow Bustle's American Woman Book Club on Goodreads to discuss this and other books!