Read The Resignation Letter Robert Mueller's Boss Just Submitted To Trump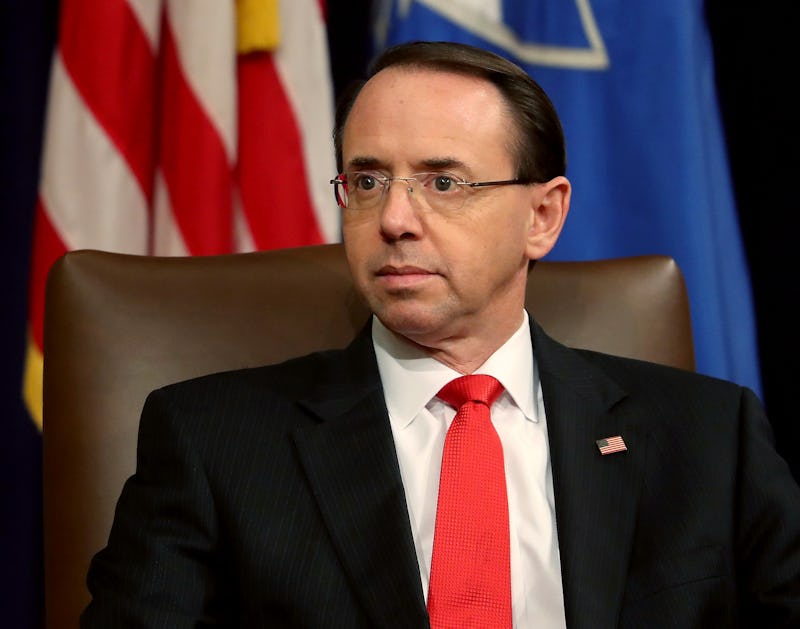 Mark Wilson/Getty Images News/Getty Images
On Monday, less than two weeks after Attorney General Bill Barr released a redacted version of the Mueller report, Trump's deputy attorney general resigned from his position at the Department of Justice. If you're curious what Robert Mueller's boss had to say to Trump about his departure, you can read Rod Rosenstein's resignation letter for yourself. It states he'll be leaving his post on May 11.
CNN correspondent Laura Jarrett, who covers the Justice Department, posted a copy of Rosenstein's letter to Twitter. In his letter addressing Trump, Rosenstein wrote that the Justice Department had succeeded at law enforcement duties such as "reducing violent crime, curtailing opioid abuse, protecting consumers, improving immigration enforcement, and building confidence in the police while preserving national security and strengthening federal efforts in other areas."
Furthermore, Rosenstein added that the department had dedicated itself to "make America great" with the help of its "skilled and principled leaders." At one point in his letter, Rosenstein said, "By consulting stakeholders, implementing constructive policies, reducing bureaucracy, and using result-driven management, we maximized the public benefit of our $28 billion budget. Productivity rose, and crime fell." Here's the deputy attorney general's resignation letter for the president.
In his letter, Rosenstein — who began working in the capacity of the deputy attorney general in 2017 — briefly mentioned the issue of foreign interference in American democracy, including cyber attacks. It's not clear if Rosenstein was indirectly referring to the Mueller report, which gives a detailed look into Russia's attempt to influence the 2016 American presidential election. Although it does not conclude that Trump's presidential campaign members and Russian officials collaborated, the Mueller report still did not exonerate Trump.
In his resignation letter, Rosenstein wrote that the average professional tenure of a deputy attorney general was "16 months." He wrote to Trump that he was thankful for the chance to work in such a role and added that he appreciated the president's "courtesy and humor." Additionally, Rosenstein thanked Trump for the "goals you set in your inaugural address: patriotism, unity, safety, education, and prosperity because 'a nation exists to serve its citizens.'"
According to The Los Angeles Times, Rosenstein was reportedly set to leave his position in March but ended up extending his stay for the completion of the Mueller probe. Wrapping up his resignation letter, Rosenstein placed emphasis on the needed for impartiality in government politics. "The Department bears a special responsibility to avoid partisanship," he wrote. "Political considerations may influence policy choices, but neutral principles must drive decisions about individual cases."
At various points in his write-up, Rosenstein quoted former attorney generals like Robert Jackson, Edward Levi, and John Ashcroft on the need for fairness and equality in the Department of Justice. It's toward to the very end of his resignation letter that Rosenstein detailed the purpose of why the Justice Department existed in the first place, in his opinion. "We ignore fleeting distractions and focus our attention on the things that matter because a republic that endures is not governed by the news cycle," he wrote.
Signing off, Rosenstein wrote, "We keep the faith, we follow the rules, and we always put America first."