Christine Ford's Classmates Wrote This Powerful Letter To Congress & You Need To Read It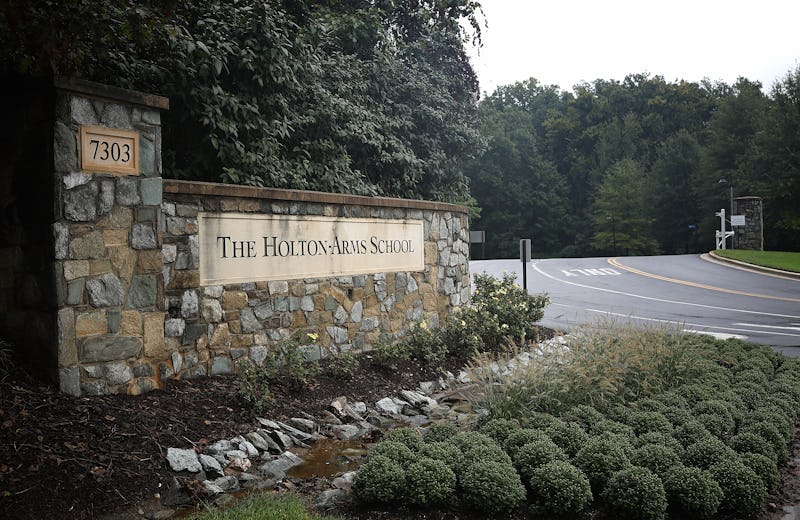 Win McNamee/Getty Images News/Getty Images
As the Senate Judiciary Committee remains embroiled in a controversy surrounding Supreme Court nominee Brett Kavanaugh, who has denied a sexual assault allegation made against him, another group of people have stepped forward to support his accuser. The correspondence has been posted online so that the public may read the letter Christine Ford's classmates wrote asking Congress to take what she has to say seriously.
Kavanaugh denies sexually assaulting Ford, who came forward with her allegation on Sunday via The Washington Post. "This is a completely false allegation. I have never done anything like what the accuser describes — to her or to anyone," Kavanaugh said in a statement, according to NBC News.
The letter was written and signed by alumnae from Holton-Arms, where Ford attended high school at the time of the alleged assault. Ford claims that Kavanaugh sexually assaulted her when they were both high schoolers. Per Ford, she was 15 at the time, and Kavanaugh was 17.
Following reports that Ford has faced an intense amount of criticism from those who wish to see Kavanaugh confirmed expeditiously, alumnae from Holton-Arms have written two separate letters asking that she be taken seriously. The first letter was written by hundreds of Holton-Arms alumnae; the second by Ford's own graduating class.
The letter released by her graduating class vouched for Ford's character, and it did not mince words:
To the United States Congress:
We, of the Holton Arms Class of 1984, are writing on behalf of our friend and classmate, Dr. Christine Blasey Ford, to attest to her honesty, integrity, and intelligence; and to contend that her decision to provide information pertaining to a sexual assault is not a partisan act. It is an act of civic duty and the experience she described in her letter needs to be seriously considered. We represent all political parties and we support Christine bringing this matter forward.
Christine has had to weigh the personal cost of sharing her experience against her own conscience. We recognize that this has been an extraordinarily difficult decision and admire her courage for being willing to speak her truth when it would have been easier to stay silent.
As sexual assault violates a woman's most fundamental rights, it must be considered a failure of character at any age—regardless of the subsequent accomplishments and power attained by the offender. It should not be dismissed as youthful bad judgment, however aberrant it may be.
In light of Christine's experience, we hold our elected officials responsible for conducting a more thorough and comprehensive review of this Supreme Court nominee. Having taken this courageous step, Christine deserves your due consideration on this serious matter.
We stand with our friend Dr. Christine Blasey Ford and admire her honesty and resolve on behalf of our nation.
Nearly two dozen members of the graduating class had signed the letter by Tuesday evening. Congress has not yet publicly responded to it.
Originally, Kavanaugh was scheduled to receive a confirmation vote before the Judiciary Committee on Thursday, though that has since been postponed to next week. Meanwhile, both Kavanaugh and Ford have been asked to testify before the committee on Monday. However, on Tuesday, Ford's lawyers said that they did not want to her to testify until there is an FBI investigation into the alleged incident.
Republicans have pushed to confirm Kavanaugh to the court by the end of the month, but given the delay and ongoing debate about how best to proceed, it's not entirely clear whether that can still happen.