Read The Letter Christine Ford's Lawyers Sent On The Issues With This Hearing Process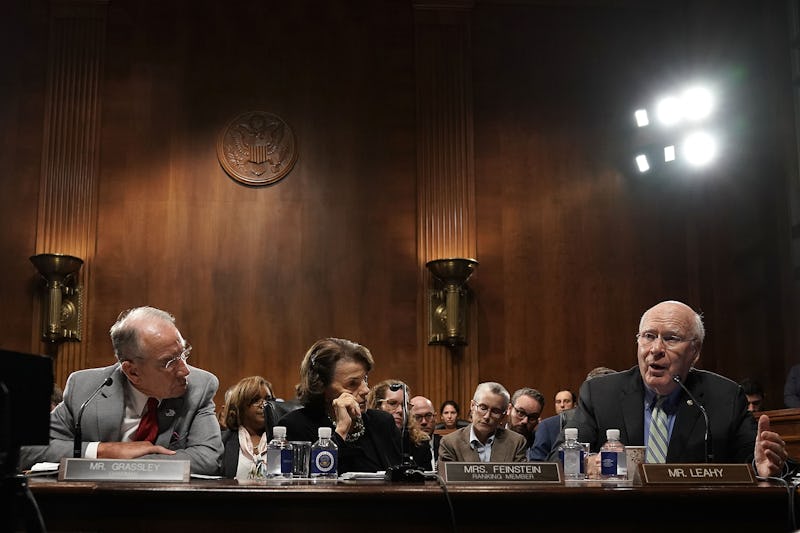 Alex Wong/Getty Images News/Getty Images
For anyone who wants to read the letter Christine Ford's lawyers sent to Sen. Chuck Grassley officially requesting a full investigation by the FBI before a Senate hearing, it's available in PDF form below. The letter was sent by Debra Katz and Lisa Banks to Sen. Chuck Grassley, the chairman of the Senate Judiciary Committee, then obtained by CNN on Tuesday evening. It answered the question of whether or not Ford would show up to the scheduled Senate hearing on Monday, and explained the trauma she's had to go through since going public with her identity.
The letter reads in part, "An FBI investigation of the incident should be the first step in addressing [Ford's] allegations...[to] ensure that the crucial facts and witnesses in this matter are assessed in a non-partisan manner, and that the Committee is fully informed before conducting any hearing or making any decisions."
This request by Ford's lawyers comes at a time when the Senate Judiciary Committee has requested that both Kavanaugh and Ford appear on Monday to testify. Previously, Katz had confirmed that Ford was willing to testify before the SJC. And to be clear, Ford is still willing to testify — Katz and Banks are just requesting that an investigation take place prior to any Senate hearing.
Ford's lawyers also pointed out in the letter the horrific experiences Ford and her family have endured since she decided to go public with her identity. What's more, they noted how harrowing it might be for Ford to stand before several senators who have publicly cast doubt on her allegation.
Ford's lawyers wrote, "Ford has been the target of vicious harassment and even death threats. As a result of these kind of threats, her family was forced to relocate out of their home. Her email has been hacked, and she has been impersonated online."
They then went on to question the expectation of having Ford sit next to the man she has accused of "attempted rape" during the hearing, in addition to answering to senators who have spoken out on their doubts regarding her story.
The letter says,
While Dr. Ford's life was being turned upside down, you and your staff scheduled a public hearing for her to testify at the same table as Judge Kavanaugh...the hearing was scheduled for six short days from today and would include interrogation by Senators who appear to have made up their minds that she is "mistaken" and "mixed up."
In that section, Katz and Banks are referencing Sen. Orrin Hatch, who has spoken out on multiple occasions about his doubt over Ford's allegation.
As for Kavanaugh, he has maintained his innocence throughout the previous week. He has also offered up his willingness to testify before the Senate regarding these claims. In a statement at the White House on Monday, Kavanaugh said,
I have never done anything like what the accuser describes -- to her or to anyone. Because this never happened, I had no idea who was making this accusation until she identified herself yesterday. I am willing to talk to the Senate Judiciary Committee in any way the committee deems appropriate to refute this false allegation, from 36 years ago, and defend my integrity.
Trump has since defended Kavanaugh. At a White House conference on Tuesday, the president confirmed that he supported a delay in the Senate hearing but felt bad for Kavanaugh, saying, "I feel so badly for him that he's going through this ... This is not a man that deserves this."