Trump Supporters Are Trolling 'Reading Rainbow' Host LeVar Burton Instead Of LaVar Ball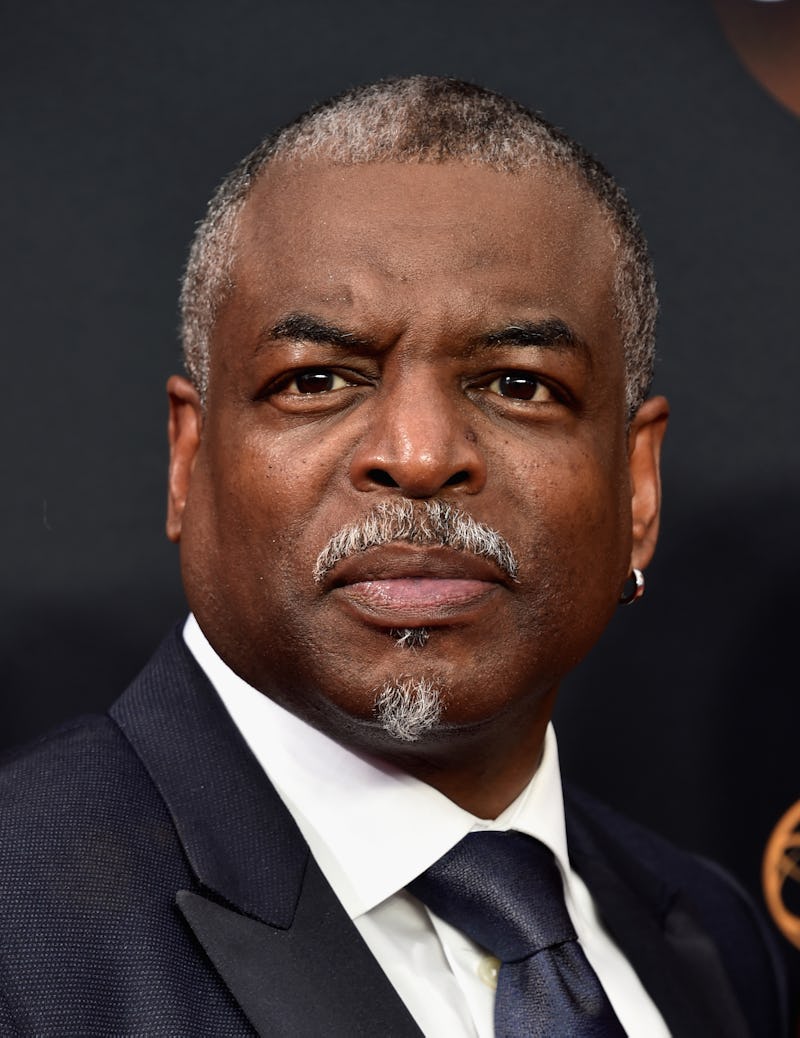 Alberto E. Rodriguez/Getty Images Entertainment/Getty Images
Twitter is a uniquely powerful platform that allows everyday users to speak out directly to their favorite actors, musicians, authors, and politicians, but the online interactions don't always go as planned. Take this week's latest edition of "Things Online Trump Supporters Get Wrong," where the president's base recently took to Twitter to express their anger towards basketball dad LaVar Ball for his recent negative comments about The Donald on CNN. The only problem? Reading Rainbow host LeVar Burton is being trolled instead. If only they watched his iconic children's show about books, they would have known that reading is, in fact, fundamental, even when it comes to trolling.
As book-lovers well know, LeVar Burton is a famous actor who cemented a place in the hearts of millions of young Americans with his iconic PBS show, Reading Rainbow. The celebrity bibliophile spent more than two decades teaching young people to read and love books on his program, but this week, we were all reminded that not everyone learned the crucial skill when angry Trump supporters took to twitter to attack Burton, mistaking him for another black man named LaVar: LaVar Ball
In an interview with CNN on Monday, LaVar Ball, the father of Los Angeles Lakers rookie Lonzo Ball, tried to rebuff host Chris Cuomo's implications that the president helped free his son, LiAngelo Ball, and two of his fellow UCLA basketball players after they were arrested for shoplifting while traveling recently in China. In the interview, Ball explains:
"I don't have to go around saying 'thank you' to everybody. He didn't call me. I didn't shake his hand. He didn't have to say nothing, but I'm just saying. I have to know what somebody is doing before I say 'thank you.' I'm not just going to go around saying thank you."
For nearly 20 minutes, Ball and Cuomo argued back and forth over the role Trump played in freeing the basketball players, but Ball was insistent that the president's intervention had little to do with his son's freedom, saying "I don't have — no doubts about what he did. I got doubts about what he didn't do."
Following Ball's comments on CNN Monday, Trump supporters took to Twitter to defend the president's honor and attack Ball for being ungrateful. The only issue? They began tweeting at LeVar Burton instead, confusing the two men that share the same first name, but different spellings.
According to the now-controversial interview, Ball does not use Twitter himself (although he does have a verified account), to the dismay of users around the world who would love to engage the bold personality online. LeVar Burton, however, used his personal account to address the mix-up himself, saying "One of the many sleights I am having to endure these days."
Fans of the Star Trek actor and legendary book-lover were also quick to defend the star and literary legend online. Some even pointed out the irony of misspelling the two men's names, and the inherent racism of confusing two black men who are nothing alike.
Not to left out of the conversation, Trump took to Twitter early Wednesday morning to express his thoughts on the role the he played in getting Ball's son out of prison, calling LaVar "a poor man's version of Don King" and an "ungrateful fool." Unlike his supporters, Trump threw his shade at the right LaVar.
While it is likely we have not seen the end of this feud — the last year has proved that Twitter fights, especially those involving the president, have a long lasting shelf life — we have hopefully seen the end of Burton's wrongful harassment. First, he was personally sued for using the Reading Rainbow brand and catchphrase. Now, he is being trolled by angry Trump supporters online who, of all things, can't spell. It's been a tough year for the star, but you don't have to take my word for it.