The New 'RHONJ' Star Has A Very Unique Reason For Why She Wears Pigtails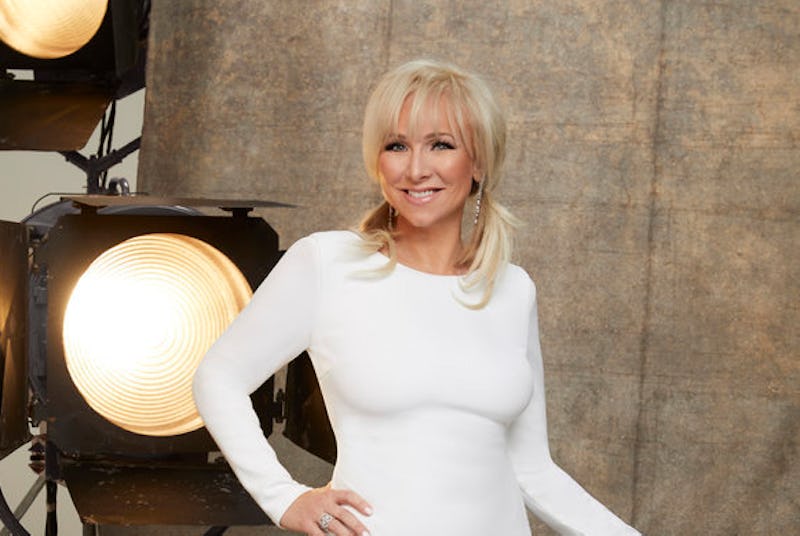 Rodolfo Martinez/Bravo
Real Housewives of New Jersey Season 8 won't only see the return of Danielle Staub, but also the addition of RHONJ's newest star, Margaret Josephs. The latest addition is a self-proclaimed "Powerhouse in Pigtails," because, well, she's a powerful businesswoman who wears pigtails.
"It's disarming and it's also takes everybody's guard down," she says about why she's chosen this particular hairstyle. "People can underestimate a girl in pigtails and then you can just come in and takeover. So, I think that's what it is. It's also entertaining, there's a little charm to it. But, people learn to fall in love with the pigtails."
She first started wearing them as a young girl, but as she got older, she gave them up. But, she decided to bring back the pigtails and according to Josephs, "Everybody became obsessed with [them]." The 50-year-old is clearly doing something right, because, ever since the trailer for the new season was released, her pigtails have definitely attracted attention.
Still, viewers shouldn't let them serve as a distraction, because there's more to Josephs than her hair. She has quite the impressive business background. Per her official Bravo biography, she graduated from the Fashion Institute of Technology with a degree in Marketing and Fashion Design. After working as a dress designer in the New York Garment Center, in 1999 she launched her own line of home accessories, Macbeth Collection, which has since turned into a global lifestyle brand.
One of the reasons she joined RHONJ was because her "life has always been like a big reality series," but she also hopes to inspire other women. "I thought it'd be great for people to see a real-life girl's self-made success story," she says. "I'm a strong businesswoman. To be strong in business doesn't mean that you have to be a wicked b*tch, because I'm not." She even likes to refer to herself as a "rough tough cream puff."
Even though she is massively successful and lives a luxurious life, Josephs wants others to know that she worked hard to get where she is today. "I think what will surprise viewers the most about me is that everything doesn't come easy to me — or women, in general." She continues, "Maybe [the viewers will] see that I [do] get knocked down, but get back up again."
Her determination is something she wants others to recognize, not only in herself, but also in her co-stars. "We're all strong women," she says. "I think everybody thinks everything is handed to us and nothing is handed, nothing comes easy, everything is hard work."
As serious as she is when it comes to her business, you will also see Josephs' comedic side. "I am witty, funny, [provide] comic relief in a different way, [and have] a strong personality." She adds, "I just take it one day at a time, I'm one of those girls who flies by the seat of her pants [and is] a little spontaneous." According to her, she puts "the 'fun' in 'dysfunction.'" She's also a big believer in that humor can make most situations better and that "everything in life isn't so serious." She says, "I think I have a lot to teach people."
It definitely sounds like Josephs is bringing a lot to the RHONJ table, including her friendship with Staub. Thanks to the series, these two formed an extremely close bond. "We're very much BFFs," she reveals, before admitting, "I was actually afraid to meet her at first, but you know, she's extremely therapeutic and we bonded amazingly well. We're very much on the same wavelength."
And Staub had nothing but wonderful words to say about Josephs while chatting with Bustle. "I'm obsessed with her," Staub says. "I love her so much, I really do. She's a good human being [and a] very good person … I have a very open mind and I think one of the things I love most about Margaret is so does she. She's also really savvy, strong — she's a powerhouse in pigtails, let's face it."
Although, Staub confessed she went into the series with nothing but distaste for Josephs. She explains, "Actually, I was so upset to hear there was a new girl coming on and I'm fighting for my spot and I did all that little high school drama sh*t, and I said to her face after we met, I was like, 'I did not like you, didn't want to like you, and then five minutes after meeting you I was cuddling with you.' It's the strangest thing what the universe throws at you."
The same can't be said for Siggy Flicker, who, as seen in the trailer for the new season, threatens to pull on Josephs' pigtails and yells at her, "You are one of the ugliest human beings in the world for making fun of me."
In response to their drama, Josephs says, "I live in the same town as Siggy and that's how I got on the show, we have mutual friends." She continues, "Sometimes the person you know you [actually] don't know as well. So, I think her and I had some combustion. She wants to rip out the pigtails, she doesn't want to braid them, so there's definitely a little controversy there."
It sure sounds like Josephs' first season as a Housewife is going to be a memorable one — and not just because of her distinctive look.
The RHONJ Season 8 premieres Wednesday, Oct. 4 at 9 p.m. EST on Bravo.