Reese Witherspoon's Sexual Assault Story Is Just One Of So, So Many Ways She Helps Women Every Day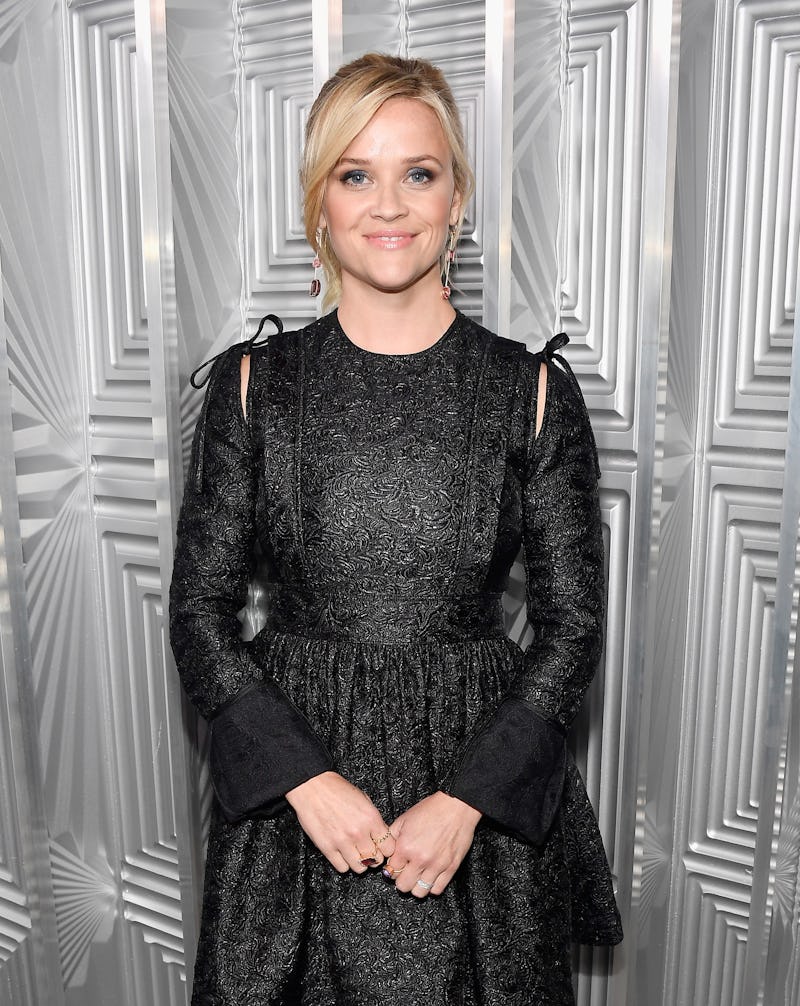 Frazer Harrison/Getty Images Entertainment/Getty Images
Inspired by the many brave women who came forward with sexual harassment allegations against Harvey Weinstein, Reese Witherspoon shared her own story of sexual assault at the Elle Women In Hollywood event on Monday night. In a speech given to a room full of mostly women, Witherspoon revealed she had been sexually assaulted by a director when she was 16 years old. Her hope was that by telling her story, it would keep this from happening to someone else in the future.
Witherspoon has always been outspoken about Hollywood's treatment of women, mainly, that it could be much better. It's why, for the last six years, she's been trying to change the film and TV world by creating better roles for women with her production company, Pacific Standard. Witherspoon has never been afraid to speak out against the Hollywood system, but to talk publicly about her sexual assault took some extra courage.
"This has been a really hard week for women in Hollywood," Witherspoon said, one that's forced many women, like herself, to "remember and relive a lot of ugly truths." Witherspoon, who was there to honor her Big Little Lies co-star Laura Dern, said hearing other women talk about the sexual assault and harassment they've endured in the workplace got her thinking about what happened to her. It was something that wasn't easy, but she says was necessary.
"I found it really hard to sleep, hard to think, hard to communicate. A lot of the feelings I've been having about anxiety, about being honest, the guilt for not speaking up earlier or taking action," Witherspoon said. "True disgust at the director who assaulted me when I was 16 years old and anger that I felt at the agents and the producers who made me feel that silence was a condition of my employment."
In front of all these women, Witherspoon had the courage to not only tell her story, but make the case that this is a systemic problem. The person who commits the assault is to blame, but there are others that should also be held accountable for aiding, and often profiting off, this behavior. In her case, Witherspoon said there were others that knew of her assault and decided to silence her instead of helping her. She was left feeling guilty, but now feels empowered knowing that she's not alone — in fact, she never was.
Last week the New York Times and The New Yorker broke stories that included reports from multiple women that Harvey Weinstein allegedly raped, sexually assaulted, and harassed them over the last three decades. This include allegations from Gwyneth Paltrow and Angelina Jolie that Weinstein harassed them early on in their careers and actor and director Asia Argento who accused Weinstein of forcibly performing non-consensual oral sex. (A spokesperson for Weinstein told both publications, "Any allegations of non-consensual sex are unequivocally denied by Mr. Weinstein. Mr. Weinstein has further confirmed that there were never any acts of retaliation against any women for refusing his advances.")
Since then, other women have begun to tell their stories using the hashtag #MeToo, which got a boost when Alyssa Milano posted "Me too" on her Twitter profile with an explanation: "If all women who have been sexually harassed or assaulted wrote 'Me too' as a status, we might give people a sense of the magnitude of the problem." In the last two days, Milano's tweet has been responded to 59,000 times showing just how pervasive this problem is in and outside of Hollywood.
It's something Witherspoon made note of in her speech. "I wish I could tell you that that was an isolated incident in my career," she said of the sexual assault. "But sadly, it wasn't."
Witherspoon, who brought her 18-year-old daughter Ava to the event, said she's "had multiple experiences of harassment and sexual assault" over the course of her nearly 30-year career that she doesn't often speak about. That is until now.
"After hearing all the stories these past few days and hearing these brave women speak up tonight, the things that we're kind of told to sweep under the rug and not talk about, it's made me want to speak up and speak up loudly because I felt less alone this week than I've ever felt in my entire career."
Like many other women, Witherspoon has found strength in numbers. Seeing how many women feel comfortable speaking up about the harassment they've faced is certainly empowering. There is now a community which is willing to stand up together and speak out against this demonstrable abuse of power because they know first-hand the pain, guilt, and frustration that comes with silence.
This is a community that is ready to hold abusers accountable and also make sure those that allow this destructive behavior to continue are also punished. Witherspoon believes this movement of women speaking out against sexual assault and harassment will "encourage a new normal" for the next generation of women. "For the young women sitting in this room," she said, "life is going to be different for you because we have you, we have your back. And that makes me feel better because, gosh, it's about time."
To help make sure this "new normal" happens as soon as possible, Witherspoon said women need to not only speak up, but take action. She suggested that when signing on to new projects women should ask the heads of production companies about who there top female executives are and how many women are on the board of their company. It's something that may help in making sure that allegations from women are taken seriously. (In a statement to Variety, the all-male board of the Weinstein Company said they were "shocked and dismayed' by sexual assault allegations, but the New York Times later reported the board knew of payoffs to alleged victims since 2015.)
She suggest asking whether these women have the power to greenlight projects and "how many women are in a key position of decision-making at your company?" By asking these kinds of questions, the women in Hollywood are making it clear that they need more women to be in these positions of power to help them work better.
Witherspoon, of course, knows this first-hand through her own work. She produced and starred in Cheryl Strayed's Wild. She brought Gillian Flynn's Gone Girl to theaters, and with Big Little Lies she did something that seems nearly impossible in Hollywood: produced and starred in a show that featured five female leads. Why did she do all this? "Because you can either complain about a problem or you can be part of the solution," Witherspoon told The Hollywood Reporter back in June.
Witherspoon has become part of the solution by being part of projects that empower women both in front of and behind the camera. Next she'll star in A Wrinkle In Time directed by Ava DuVernay, who, with this picture, became the first woman of color to direct a $100 million movie. Witherspoon will also team up with Jennifer Aniston for an HBO show, that they'll both produce and star in, about morning TV show hosts slated to hit the small screen in 2018.
"If we can raise consciousness and really help create change," Witherspoon said to end her speech, "that's what's going to change this industry and change society. So I'm so sad that I have to talk about these issues, but it would be, I would be remiss not to."
Hearing Witherspoon say that together women can change Hollywood's problem should be a comforting message because she's already changing the film and TV business through her own actions. She's proving that when women work together, they can change things for the better.
If you or someone you know has been sexually assaulted, call the National Sexual Assault Telephone Hotline at 800-656-HOPE (4673) or visit online.rainn.org.