A YA Fan Favorite May Be Coming To Movie Theaters & We're So Excited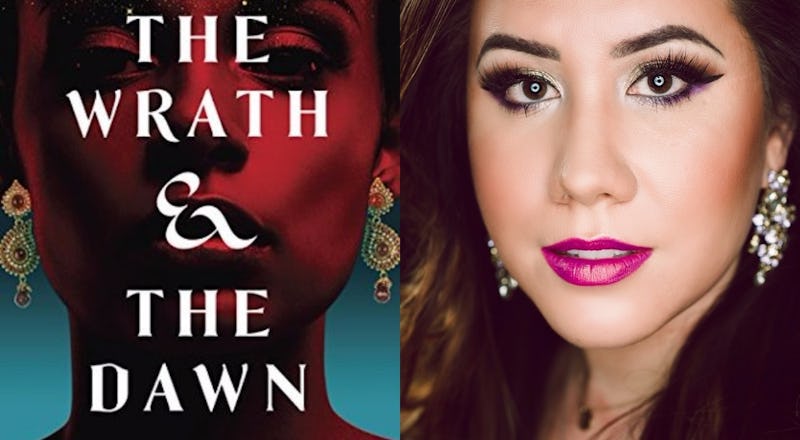 GP Putnam & Sons
Diversity within publishing and literature has been a well-documented problem for decades, which is why we're so excited to hear that We Need Diverse Books movement member Renee Ahdieh's 2015 powerhouse book, The Wrath and the Dawn, is coming to the big screen. A young, Persian heroine out for blood and fighting against patriarchal power structures? Uh, yeah. We can get behind that.
In Renee Ahdieh's best-selling YA retelling of Arabian Nights, 16-year-old Shahrzad's land is ruled by a murderous boy-king. Every night, the 18-year-old Caliph of Khorasan, Khalid, takes a new bride. Every morning, the bride is found dead, a silk cord wrapped around her neck. When the fate that has befallen scores of girls claims Shahrzad's best friend, Shiva, Shahrzad embarks on a journey of revenge. She volunteers to be the Caliph's new bride, with one goal in mind: end the cycle of killing by exacting a murder of her own.
She does not come unprepared. Each night, Shahrzad weaves stories together — fables, fairy tales, folklore and parables — avoiding sleep and capturing the Caliph's attention. But as their relationship progresses and Shahrzad starts to see the Caliph's true character, she begins to wonder: Is Khalid really the monster? Are things really as they seem within the palace walls? And what about love? Is falling for Khalid, responsible for death after death, at its core a betrayal?
Written in the tradition of A Thousand and One Arabian Nights, a thousand-year-old compendium of primarily Middle Eastern and Indian stories told within a frame story (also featuring a murderous ruler and his determined new wife, Scheherazade), The Wrath and The Dawn covers both a singular love story (well, love-ish), as well has a host of both contemporary and traditional tales influenced by Persian storytelling traditions.
On Tuesday, Nov. 14, Ron Howard's Imagine Entertainment, which has specialized in action-packed adult fare like Apollo 13 and Cowboys & Aliens, announced that they had optioned the rights to The Wrath and the Dawn. Erica Huggins, who was named president of Imagine Entertainment in 2013, will be heading up development. Huggins has previously produced such blockbusters as The Heart of the Sea, starring Chris Hemsworth, and Get On Up, the James Brown biopic led by Chadwick Boseman.
Imagine, too, has worked on its share of book-to-movie adaptations, notably the film series based on Dan Brown's The Davinci Code and its sequels, the aforementioned The Heart of the Sea, Friday Night Lights, and children's books, such as How The Grinch Stole Christmas and Curious George.
Though no additional details have been given at this time, including release date or whether author Ahdieh will play a role in script development, both Imagine Entertainment and Huggins' own filmography imply that this adaption will be an aesthetic powerhouse of a movie. We'd expect nothing less for such a fierce lead character.