Why Renée Zellweger Says Stepping Away From Hollywood Saved Her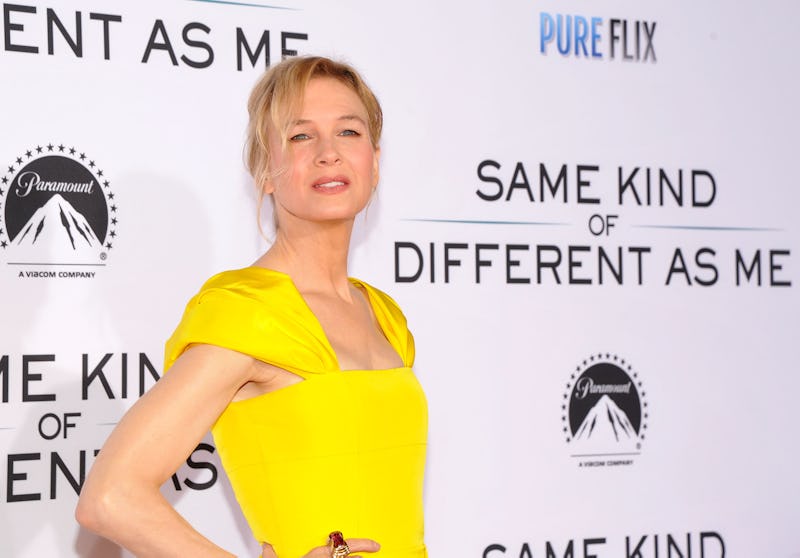 John Sciulli/Getty Images Entertainment/Getty Images
An inspiring story that's headed to the big screen depicts the greatness that can come from taking risks and welcoming disruptions in everyday life. The upcoming film adaptation of the 2006 book Same Kind of Different as Me (out Oct. 20) is based on a true story. In the film, Renée Zellweger plays Debbie, a woman who befriends a seemingly violent homeless man (Djimon Hounsou) alongside her husband Ron (Greg Kinnear). The impactful and unexpected experience not only gives Debbie a new lease on her troubled marriage but also on her life. And this is something Renée Zellweger is familiar with.
In Sept. 2016, Zellweger returned to the Hollywood scene for Bridget Jones's Baby after a six-year hiatus from acting. Because of her experience, she too is familiar with what it's like getting a new lease on life in middle age. "It's empowering," Zellweger says, recalling how she felt when she returned to Hollywood after her much-needed break. "My professional commitments dictated my choices," she says. "I wasn't making them at all, they were being made for me."
The greatest joy of Zellweger's break from Hollywood was experiencing the smallest things she couldn't when she was in the spotlight. These are things she says, "[y]ou cannot experience when you have a public persona that enters every room before you do." Even if it would be something as small (but "exciting," to her) as getting a cup of coffee:
"To just go into a coffee shop and order a coffee and have the girl who's having a bad day right there in front of you. It's not altered in some way. I [had] genuine experiences with people again."
Taking such an extensive break from her occupation is certainly a luxury. But Zellweger doesn't apologize for it, nor does she take it lightly. She talks about the importance of embracing all of the layers, personal and professional, that come with taking a leap of faith and risking it all.
But Zellweger didn't experience one single life-altering moment that led to her break. She recalls experiencing a "series of several little wakeup call moments," rather than one big revelation. "Some of them I was wise enough to pay attention to and some I had to learn the same lesson further down the road," she says. "Unexpected things that shifted [my] values again." That said, Zellweger admits she is far from knowing it all.
The actor jokes that age and experience has ironically taught her how little she knows. "The older I get, the less I know," she says with confidence. "Wisdom looks more like humility as you get older." She now practices that humility in the form of giving back.
Zellweger takes community work and helping those who are less fortunate very seriously (and even took part in the ALS Walk in LA the day after this interview). "It feels like there's this blanket over the idea of what being a famous person is," she says. "There's this misconception that to be a famous person, somehow equals frivolity or superficiality because what you see is glam and pretty and fun."
She lists off famous friends like Sean Penn, Matthew McConaughey, and Harry Connick Jr., who go to the soup kitchen, volunteer, and have started their own foundations. "They don't talk about it because it's a personal experience and their reward comes from being in that room and making a human connection," she says. "Just because you don't see it every day doesn't mean they're just writing checks."
Overall, Zellweger proves that self-discovery is a personal and ongoing process, and that there's beauty in not having all the answers but trusting the process.