The Lawmaker Christine Ford Talked To Explains How The Kavanaugh Accuser Came Forward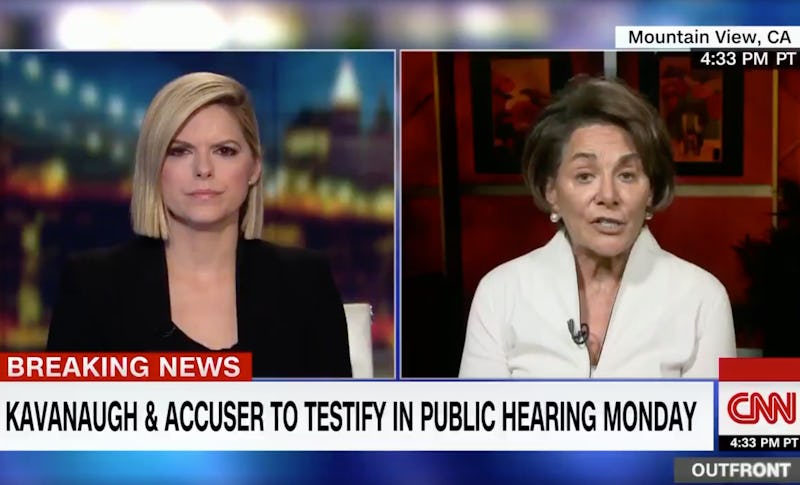 OutFrontCNN/Twitter
The congresswoman Brett Kavanaugh's accuser first confided in defended Sen. Dianne Feinstein (D-California) against criticisms that she mishandled the accusation on Monday. Rep. Anna Eshoo (D-California) said Christine Blasey Ford contacted her office months ago, and the two women met in July to discuss Ford's claim that Kavanaugh attempted to rape her in high school, which Kavanaugh has denied. But Eshoo assured CNN that her office didn't leak Ford's name to the press, nor did she believe Feinstein's office did.
"I think that my constituent all along had a tug-of-war going on inside of her understanding what privacy brought to her, but also the risks of moving over into the public square," Eshoo said on CNN's Outfront on Monday.
During their July meeting, Eshoo told Ford that it was up to her — not the congresswoman — what they did with the information Ford had presented her about President Donald Trump's Supreme Court nominee, according to the congresswoman. Their discussion ultimately led Ford to write a letter to Feinstein's office that Eshoo delivered in July. The letter's existence didn't become public knowledge until last week, however, when Feinstein issued a vague statement revealing that she "received information from an individual concerning the nomination of Brett Kavanaugh to the Supreme Court."
Although previous reports said Ford contacted Eshoo in a letter, the congresswoman told CNN that wasn't the case. Ford reached out to Eshoo's Palo Alto office requesting a meeting before they spoke in person for about an hour and a half over the summer, according to Eshoo.
Ford went on the record with The Washington Post last week after reporters started seeking her out. She decided "that she wanted her truth to come out and she would tell her story and not have others mischaracterize it," Eshoo told CNN. She later added, "I can tell you from the time that I spent with her and what she shared with me, it was self-evident that she had been scarred by this experience, and will be for a lifetime."
Despite the fact that Eshoo and Feinstein were the first members of Congress to learn about Ford's allegations, Eshoo denied that either of them released information about Ford to the public. A spokesperson for Feinstein told CNN that her office handed over Ford's letter to the FBI after reports began to surface, also denying that Feinstein's office leaked information.
Ford's letter to Feinstein alleged that Kavanaugh held her down and attempted to rape her at a party when they were teenagers, The New Yorker first reported. She claimed that Kavanaugh and another boy, both of whom had allegedly been drinking, turned up the music and covered her mouth so no one could hear them. Ford told The Post that she got away, but added that the alleged incident "derailed" her for four or five years. Kavanaugh said in a statement released by the White House that he "categorically and unequivocally" denies the accusations. "I did not do this back in high school or at any time," he said.
Both Ford and Kavanaugh will testify before the Senate Judiciary Committee on Monday, effectively delaying his confirmation vote.
If you or someone you know has been sexually assaulted, call the National Sexual Assault Telephone Hotline at 800-656-HOPE (4673) or visit online.rainn.org.