Republicans Are Defending Brett Kavanaugh In Statements People Are Calling "Tone Deaf"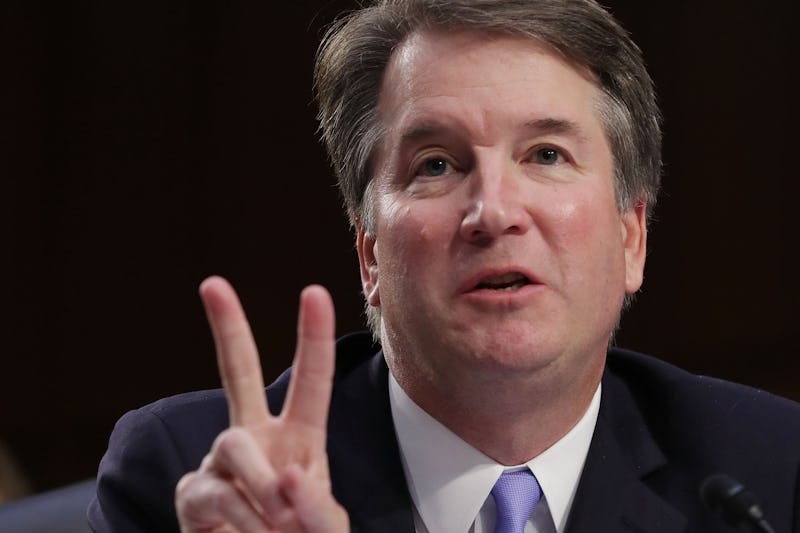 Chip Somodevilla/Getty Images News/Getty Images
Trump loyalists are determined to see the president's pick to the Supreme Court on the nation's highest court before the next term begins in October. In the last few days, Republican lawmakers have defended Judge Brett Kavanaugh in statements that have been widely shared across social media, with many users calling them problematic.
On Saturday, Iowa Rep. Steve King defended Kavanaugh at a gathering of Christian conservatives at a dinner hosted by the Iowa Faith and Freedom Coalition. King said that Dr. Christine Blasey Ford's accusation of sexual assault against Kavanaugh when both were teenagers amounted to "character assassination," according to the Des Moines Register.
Then, King said no man would be eligible for the Supreme Court in the future. "I'm thinking, is there any man in this room that wouldn't be subjected to such an allegation? A false allegation? How can you disprove something like that?" King told the dinner's attendees, according to the Register. "Which means, if that's the new standard, no man will ever qualify for the Supreme Court again."
King isn't alone. Senate Judiciary Committee member and Utah Sen. Orrin Hatch questioned Blasey Ford's memories. "This woman, whoever she is, is mixed up," Hatch said, according to The Atlantic.
Tennessee Sen. Bob Corker said he felt for Kavanaugh. "I mean, I can't imagine the horror of being accused of something like this," Corker said, according to ABC News.
Nevada Sen. Dean Heller told his state's Republican leaders during a conference call on Wednesday that he's confident that Kavanaugh will be confirmed, according to the Nevada Independent.
"I'm really grateful for the White House, for the effort of President Trump and what he has done, and the excitement that we have," Heller said, according to the Nevada Independent. "We got a little hiccup here with the Kavanaugh nomination. We'll get through this, and we'll get off to the races."
Heller is one of many Republicans up for reelection in November, and his Democratic opponent's campaign quickly responded to his "hiccup" comment. "I hope Sen. Heller knows that when he shamelessly dismisses allegations of this magnitude against a nominee seeking a lifetime appointment to the nation's highest court, Nevada women are listening," Rep. Jacky Rosen's spokeswoman Molly Forgey told HuffPost. "Make no mistake, we will hold Sen. Heller accountable at the ballot box."
In a statement to USA Today on Thursday, Heller walked back the statement, saying he was referring to "how poorly the Democrats have handled this process."
South Carolina Sen. Lindsey Graham, another member of the Judiciary Committee, has been somewhat sympathetic to Ford's allegations. "They've had tons of time to do this. This has been a drive-by shooting when it comes to Kavanaugh," Graham told the Washington Post on Tuesday. "I'll listen to the lady, but we're going to bring this to a close."
On social media, people have called the lawmakers' comments "tone deaf" and expressed disbelief with how lawmakers are approaching Blasey Ford's allegations. Lisa Banks, Blasey Ford's lawyer, said these kind of comments show a degree of prejudgement by those on the Judiciary Committee in a statement on Wednesday to HuffPost.
"The rush to a hearing is unnecessary, and contrary to the committee discovering the truth," Banks told HuffPost.