Tamra Judge's Support For Shannon Beador During Her Separation Will Please 'RHOC' Fans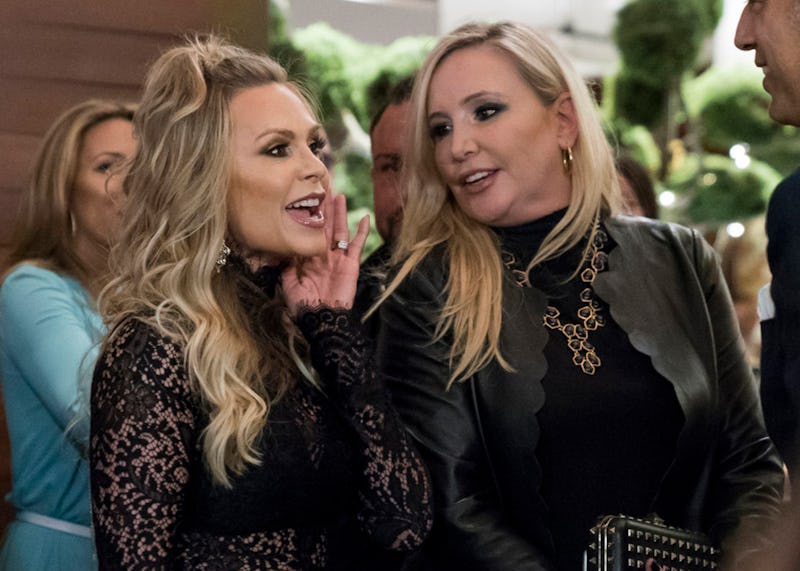 Nicole Weingart/Bravo
Last Friday, Andy Cohen and the stars of The Real Housewives of Orange County carried on a time-honored Bravo tradition. Oh, yes. It's RHOC season, y'all. Though it'll be a few weeks before the special airs, one major reunion detail has already surfaced: Shannon Beador announced that she and David Beador have separated after 17 years of marriage. And like the real-deal, viking helmet-wearing friend that she is, Shannon's closest co-star Tamra Judge has already posted a supportive message about the news. After the reunion, Judge shared a bunch of pictures from that day on Instagram, writing, "Emotionally exhausted. Think I'll lay in bed all day. Prayers for my bestie @shannonbeador."
Speaking of Shannon, please take a look at what she wrote on Instagram after the reunion wrapped:
"Reunion Season 12. Big hugs to @erickabrannon and @prive_shay for continual touch ups on a very emotional day. And a huge thank you to my cast mates and fans who are lifting me up with their love and support!"
Cast mates. As in, more than one cast mate. As in, Judge wasn't the only one. As in, maybe everyone lifted her up with their love and support at the reunion? Oh, let's hope.
Sure, she might just be talking about Judge and Meghan King Edmonds, her two best pals in the main lineup; Shannon isn't exactly on the chummiest of terms with most of her cast mates — and that's a gentle way of putting it. But maybe, just maybe, all of the OC Housewives will put their differences aside for a moment and band together at the Season 12 reunion to let Shannon know they're in her corner. And given how fractured and weird this season has been, it'd be a bittersweet moment. Of course, they would inevitably go back to yelling at each other about things like the rumors about their husbands, group text snafus, and medical records, but for a fleeting moment, the cast could all be on the same team.
In her four seasons on the long-running reality show, Shannon's marriage has been through the ringer: There's been divorce talk, an affair, therapy, a macabre relationship exercise that involved a "funeral," and a vow renewal ceremony. However, just as the Beadors thought they were out of the woods, they stumbled into another forest of resentment right before Season 12 began taping; whenever Shannon and David appear onscreen together this season, the scene is rife with tension. It's been a bummer, to say the least.
And it looks like Season 12 was the beginning of their relationship's end. As the cast was busy taping the special last Friday, People revealed that the Beadors split up over a month ago, adding that Shannon shared this news with her cast mates at the reunion. In a statement to the publication, Shannon said,
"It's heartbreaking for me and my daughters that this is the road that had to be taken but it's the only way. I felt alone in my marriage. You can do what you can to keep your family together, but you have to have willing parties. You need two people to make a marriage work, and that just wasn't happening in our relationship."
She added,
"I'm a strong person. At this point it's scary, when you're 53 years old, to be out there on your own. But I intend to show myself and my daughters that it can be done. I'm ready to get the old Shannon back, that's for sure."
Over the last couple of years, Judge and Shannon's friendship has been one of the few constants on RHOC (oh, how far we've come from Season 9, eh?), so duh, of course the former's going to show the latter support during this complicated time. But does that make the gesture any less nice? Uh, is an orange an unhealthy post-reunion snack? There you go.