Rihanna Wore A Flask Bracelet To Coachella Because She DGAF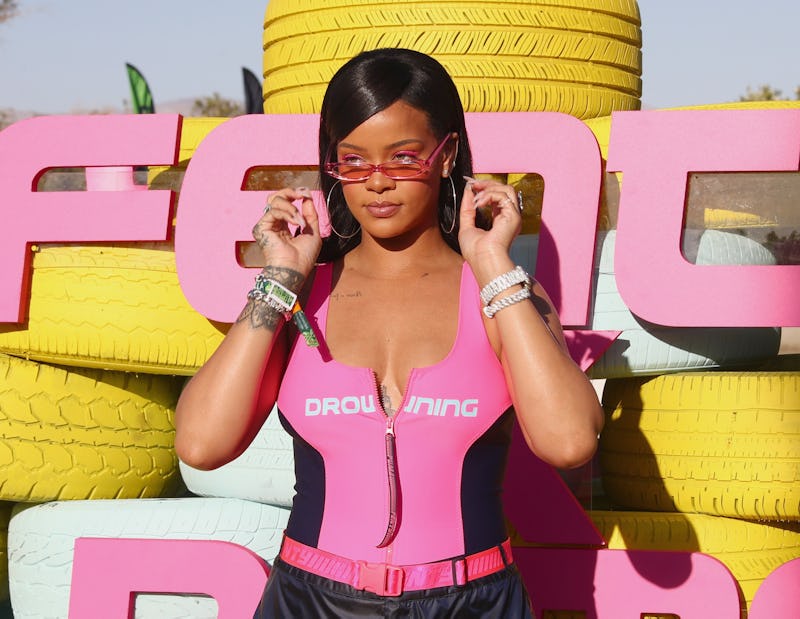 Joe Scarnici/Getty Images Entertainment/Getty Images
Celebrities love to wear over-the-top accessories that are super impractical. This is not one of those times. As The Cut found, Rihanna wore a flask bracelet to Coachella. It might just be the most practical purchase that she has ever made, and it just so happens to be super affordable.
Rihanna had a very interesting Coachella outfit. She hit the music festival wearing a balaclava with earrings attached to the outside, boots that came all the way up to her waist, and a button-up underneath of a sweatshirt. As if that wasn't enough, the singer also piled on the accessories. One of which was a very important add-on — the flask bracelet.
Yes, Rihanna actually wore a bracelet that can store alcohol. According to The Cut, it was the Amzwt Hidden Flask Bracelet Bangle Cool Jewelry for Women. The accessory stores 3.5 oz. of alcohol, which equals out to three and a half shots — aka enough to get you through one performance.
You can buy the exact same bracelet for $22.99 to $31.99 on Amazon. Alcohol not included, of course. You can also stock up on the bracelet in ten different color combinations. There's everything from holographic to rose gold, so you can get one to match every single outfit.
The design works pretty simply. Each bracelet is thick and hollowed out to store the booze. The jewel-encrusted ball on the top unscrews to be the spout of the flask. No need to carry a purse or even have pockets in your pants to carry your favorite alcohol around. It doesn't get easier than that.
At first glance it looks like your typical bracelet. Honestly, if Instagram user Nicholas Grimshaw didn't post about it on his social media, the world might have never known that it was there. Thankfully, the world does and it's about to make this summer's family reunion a whole lot more tolerable.
You can carry this bad boy anywhere you want. Sneak it into work, go to a festival, or just wear it out on a weekend to save some money on drinks. The possibilities are pretty much endless.
Don't say that Rihanna never helped you with anything. Not only did she break the ceiling on the diversity in the beauty world, but she's also giving you a foolproof way to get drunk.
If you can't wait to get your hands on this bracelet, there is some good news for you. The flask accessory is available on Amazon Prime, so you can get one sent to you in just two days. You might want to stock up on a few colors, because there's no telling how fast these will start flying off the virtual shelves.
It seems like wherever Rihanna goes, she has a flask with her. She's always willing to go above and beyond to try and camouflage the alcohol holder as well. As The Cut noted, she carried a jeweled flask to the Grammys as well. Who knows when else she was sneaking in booze without fans noticing.
According to a quick Google search, there are some other online options for the wearable flask as well. The Knot has one that you can personalize for a cool $17.99. You can also get a similar design from Walmart for $15. The colors and sizes are endless for this quirky accessory.
At first glance, this looks like your typical gaga gift, but this accessory is anything but. It's a way to stay hydrated and chic all at the same time. Rihanna just made it a seriously legit fashion statement, and this is one celebrity trend that you're going to want to get behind.