Rihanna Wore The Biggest Uggs You Have Ever Seen To Coachella & Looked Glam AF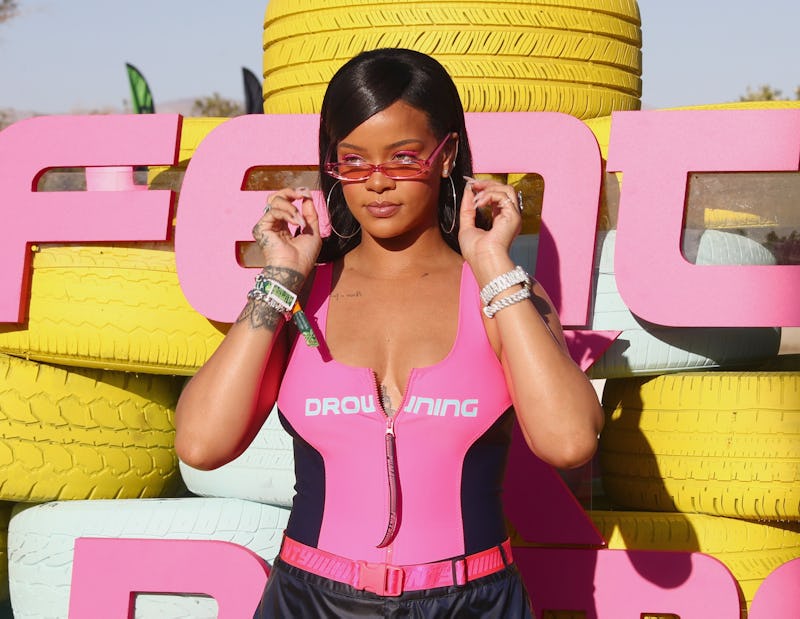 Joe Scarnici/Getty Images Entertainment/Getty Images
Coachella is just as much about the fashion as it is about the music, and no one brings the sartorial looks harder than the A-list celebs in attendance on the festival grounds. And one of those celebs to watch is Rihanna, and this year she debuted a memorable look. Rihanna wore thigh high Uggs to Coachella, and she's probably the only person on the planet who could pull them off so nonchalantly.
While most festival-goers opt for thong denim shorts, flower crowns, and head-to-toe crochet, Rihanna went the opposite route and made a sartorial statement by wearing head-to-toe Uggs. Unexpected? Yes. Unforgettable? You bet. While Uggs are known as the winter staple of just about every college girl alive, they also have a more sartorial side that doesn't make it into the public eye as often as their leggings-and-North-Face pairings. Case in point: RiRi wore the Y/Project x Ugg collab, which is probably one of their most avant garde collections yet.
Y/Project is a Parisian brand with a penchant for slouchy, unisex designs. Creativity is the driving force of the label, where they come up with tinfoil looking bubble coats matched with slouchy snakeskin thigh high boots, mitochondria shaped sweaters, and tulle scarves that make you look like you're wearing spun cotton candy around your neck.
The designer behind the brand, Glenn Martens, created an androgynous line of boots for Ugg this year in the hopes that it would push the iconic brand's boundaries.
"The UGG Classic boot is one of the most recognizable shoes in history. It's timeless and challenging design made it a worldwide statement. Y/Project is about challenges. Since launch we've been twisting the grounded codes, we challenged the acceptable and triggered people by putting focus on the unexpected," Martens said in a release. And when there is something unexpected, Rihanna is just around the corner.
She debuted her Ugg-inspired Coachella outfit on Instagram, where she was wearing the designer for the entire look. The first thing that catches your eye is the sheer scarf-like dress that she has on, which made it down the runway during the Autumn/Winter 2018 Paris Fashion Week. What looks like an extra-long sheer scarf knotted and twisted into a flowing caftan, it's an experimental piece that she accessorized with a diamond choker and glittering hair clip.
But the shoes are what stole the show. The particular style that she wore was the "Classic Extra Long Stiletto" in a chestnut color, which is a baggy thigh high boot with scrunched folds that create volume, along with a lethal four inch stiletto heel.
"Putting on Uggs is like putting your foot in a warm pot of butter, and I thought why not elevate that and immerse your full legs!" wrote Martens. "So we decided to design an Ugg boot that climbs up to the crotch and covers the whole leg."
Does it vaguely remind you of a Shar-Pei dog? Yes, yes it does. Is it still stylish as all hell? Yes, yes it is. She was spotted wearing this outfit while front row at Beyoncé's historic headlining performance, so you know she brought her sartorial A-game.
This isn't the first time that Rihanna stepped out in a Y/Project creation, either. A few months ago she stepped out in their ruffled denim wire boots, where they looked like Victorian pantaloons, just made out of jeans.
She also wore another denim number from the brand in March, but this time instead of shoes it was an oversized denim jacket with a duvet-like shawl wrapped around its shoulders. Suffice it to say she loves the out-of-the-box silhouettes the brand specializes in.
If you have a couple of Ugg boots in your collection, maybe its time to consider expanding your collection to the more high-heeled, slouchy territory of this new collab.